Free influencer calculator: What is your Instagram channel worth?
The most successful Instagram stars today earn many thousands of euros with their postings. Whether it's a story or a single picture, with each individual posting earning Instagram Stars, earn as much in a month. But it is not just the absolute top stars, but also smaller channels. Even with a few thousand fans, you can get a lot of money on your Instagram Channel.
Influencer Price Calculator: Instagram Posting Calculate Prices
Today we discovered a new free online tool that allows everyone to calculate the value of their Instagram channel! Free and within seconds. The Influencer price calculator looks no longer at the fans, but also at the Likes, the comments under the individual postings as well as the entire commitment rate. Especially the engagement rate is very important for many of your customers, it shows how active the interactions of your fans are.
Why is the engagement rate important?
In its simplest form, the engagement rate is calculated as follows (for a posting): Follower / (Likes + Comment).
If an Instagramer has an engagement rate of 5% with 100,000 fans, then 5,000 people actively give a like or a comment.
If an Instagramer with 10,000 fans has an engagement rate of 12%, reaches the 1,200 people.
Although the first influencer has a lot more fans in total, the smaller influencer sees relatively, more people to deal with the picture (and the fire). In the end, it can be said that she or she is "more enthusiastically". If a company is an influencer for an upcoming advertising campaign, the portfolio will build up effectively as many people as possible. Thus ranges are scattered on "smaller" Influencer. Rather than on a large distributor, one will then put on many small ones for more interaction of the fans and followers. As a result, companies have gained effectiveness for their brand or product.
Advertising has long since discovered Influencer Marketing
Many large and international companies have discovered Influencer Marketing for themselves. Influencer Marketing is not only on Instagram, but also on YouTube and on Facebook many influencers are on the road. The greatest prices take or earn the most Youtuber. For a single Youtube video the prices are fast five to ten times as high as why is it so?
Influencer Marketing on YouTube
With Influencer Marketing on YouTube, companies not only have the advantage that they reach many people, who in turn interact with the video and thus also deal with the product. YouTube "holds" much longer than Instagram Postings or Insta Stories. That's why Youtuber are worth a lot of money and many book a single YouTube video on Instagram instead, because it is available for a very long time. If it's the blogger itself does not delete even forever. Many people know when they are looking for a video on YouTube. Here in the search results still videos are spent, which are five or six years on YouTube. Even before the new videos. Because, it's like clicked videos and people like their content, so they still consider Youtube relevant. If a brand has skillful placements in such a video, it gets an extremely high long-term effect. Also from SEO view (search engine optimization). This is exactly where Youtuber scores in negotiation talks with customers. In Instagram the hold time is just 48 hours and the stories just 24 hours. This is exactly the case with Snapchat, information is only available for a short time and makes these social media channels for potential customers relatively less interesting for long-term campaigns. For Campaigns with Impact or other concepts, the criteria of Instagram and Snapchat are more appropriate.
Book packages: win-win for customers and influencers
For customers but also for the bloggers themselves it is worth to agree on packages. In packages one has an absolute win-win situation, the influencer gets more money for a job and the customer has more of its placement because the attribution or the placement of the product is more frequent. As in classic advertising, on TV at the time, or even on YouTube today, it's just a matter of mentioning or hearing the name as often as possible. You all know a very classic example! What do you ask if the nose is running when it's autumn again? The answer is most likely a "tempo". The more frequently a name is called, the more anchored in the minds. That is why you are valuable as an influencer for companies. Therefore you also have to calculate your prices for Instagram.
Instagram has a lot to offer!
Also on Instagram you can earn good money as an influencer and blogger with his channel, if one is sent and also proves a negotiation skill. On the one hand, if you want to become a blogger, you should of course have fun on the subject and post for yourself first – not umbedingt "for the others". If you want to become an influencer, just to be an influencer, it will be very difficult and perhaps you will not manage it at all. Bloggers have fun with what they do, they like to share, produce videos and are most active in the media world. Perhaps they would have become filmmakers, writers, editors, or an advertising agency. Today, they are bloggers and with sufficient reach they rise to the influencer.
Influencer classification and categorization: PAM factor
The classification of influencers  can be classified, for example, using the PAM factor. He classifies Influencer by their total range and also gives students and universities the possibility to carry out an exact categorization, for example, for bachelor's studies. In this infographics you see the division of the influencers into groups: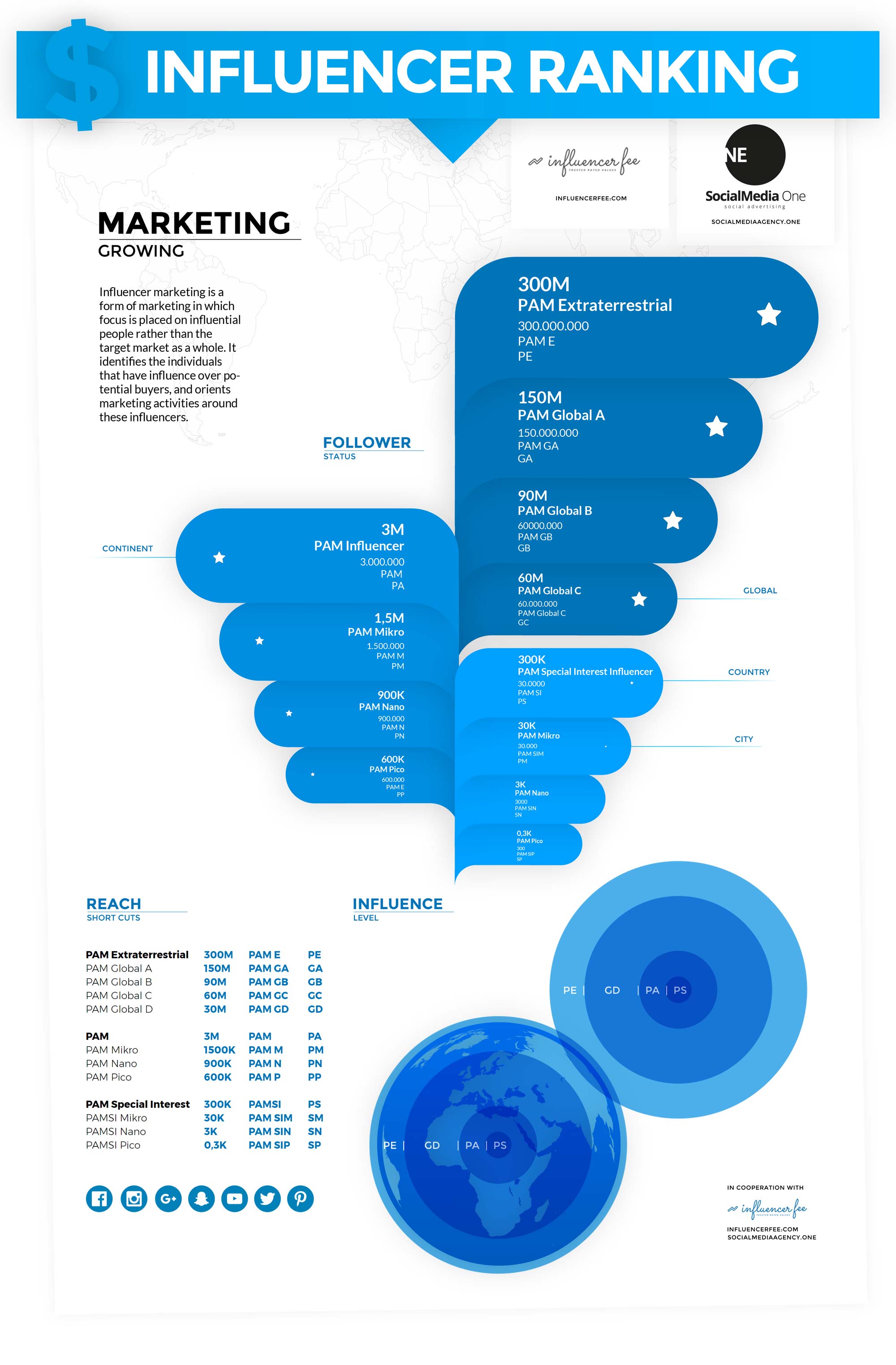 Infographic by socialmediaagency.one
The Influencer market is hotly contested!
The older a social network, the more difficult is the rise. Social networks are always "fuller" with the weeks, months and years. More and more people are joining. Friends follow friends and turn friend friends and their friends. At some point, a social network of people is overrun and, of course, by bloggers. Increasingly, it is becoming more difficult to build up a long range. While you still have a lot of chances at the beginning, it becomes more and more difficult. If you look at one of the oldest networks like Facebook, then not only ordinary people, but also hundreds of thousands of companies, as well as different groups, project pages, fan pages and much more.
On younger networks such as Snapchat, on the other hand, people are still more private, while on Instagram, many companies are already running around. These create new pages and bloggers also create more pages for their dogs, as pairs, for their brands and so on. There are constantly more pages and each one becomes less relevant.
If you look at new projects to the musical.ly, you can still get an absolute million number here, even if you are a new blogger and maybe just 13 or 14 years old. This makes musical.ly z.b. also for the coming years and for the trends and social media marketing very interesting. Not only in the case of influenza, but also in advertising agencies. New markets always promise risk but also good profits.
Negotiation will give you higher prices for your postings
The better you can assess your own market value, the better you can sell yourself. That's why the Influencer Calculator helps you because it summarizes the different statistics and gives a realistic price estimate for your Instagram Channel – free of charge. Of course you can also print the different statistics and evaluations, eg. directly into a PDF. So you have a basis for an offer with your customer and your suggested prices do not look so out of the "open sky". Customers always want to see why they need to pay something, so you can go directly and say a single of my postings just gets on average x Likes! My engagement rate is 10%, so I get all the anticipation X Likes and X comments on the package. So you can convince a customer and also raise your own prices a bit. So you can always live better from your own Instagram Channel!
With these tips and the practical price calculator you have everything at hand to work even more professionally!
https://fivmagazine.com/wp-content/uploads/2017/10/influencer-calculator-instagram-marketing-free-tool-blogs-worth-price-costs.jpg
600
1200
Stephan
/wp-content/uploads/2020/07/fiv-magazine-news-instagram-youtube-tiktok-influencer-fashion-interior-jewelry-real-estate-tips-help-logo.png
Stephan
2017-10-20 21:16:41
2021-06-24 11:42:11
Free influencer calculator: What is your Instagram channel worth?