Combin: Digital Social Media Manager – Software for Interaction and Followers
Instagram Marketing – Little Break from Daily Instagram Marketing? Many wish for their own start up or as independent software instead of a social media manager. Whether for reasons of time or cost it doesn't matter, just at the beginning start ups have to turn every cent around. Practical would be a tool for Instagram that automatically sets qualitative likes and comments. What's the matter with you? Get range! The more interaction, the better. To employ your own social media manager is still unthinkable for many. Not only in start ups, even larger companies prefer to create another job in sales, rather than for "likes and comments". The community and reach on Instagram is so important. Here's the alternative: Combin 2.0
Combin for your Start Up: Software instead of Social Media Manager
In our XXL interview on Instagram Tips, we've talked a lot about community management and maintenance so far. Interaction is an extremely big buzzword for social media managers and, of course, social media agencies. You yourself probably won't have much time (just as a founder) each day to go on other Instagram Channels, look at new photos, liken them or comment on them. Combin provides the alternative, automatically or semi-automatically, the tool actively posts likes and comments to previously selected accounts and postings. It can even follow other people if you wish. Everything almost 100% automatic. Anyone who saves three or four hours a day as a result will quickly have a few working days a month that can be used for something else – an unbeatable advantage.
That's why today we take a close look at what Combin 2.0 can do, in the big test report.
Test report: Combin 2.0 – New functions and updates
Basic technical features:
Advanced Instagram Search
User search analysis
Follower Management
Simple communication
Sort + Preview
Activity Statistics
Free account
1 Instagram Account is 100% free
Daily limits ofikes: 250
Daily limit of comments: 150
Daily maximum Follows: 150
Why is the Pro Version worth it?
The upgrade at a glance:
New Issue!
#26 with San Diego Pooth
- Newcomer now in Tampa / USA
Manage up to 15 Instagram accounts (5 inclusive, 10 extensible)
No in-app action limits
1,000 search results per page
Update search results
Installation and setup of the App
If you are new, you have to download the Combin App once and log in with your own Instagram account.
Download the app
That's how it works:
Download Combin App; currently available for Windows, Mac OS and Linux
E-mail address must be entered; then the download starts
Installation after downloading the file (.msi); the installation takes about 15 seconds (4 steps)
Login to one or more instagram accounts
Combin (Windows, Mac OS, Linux): Download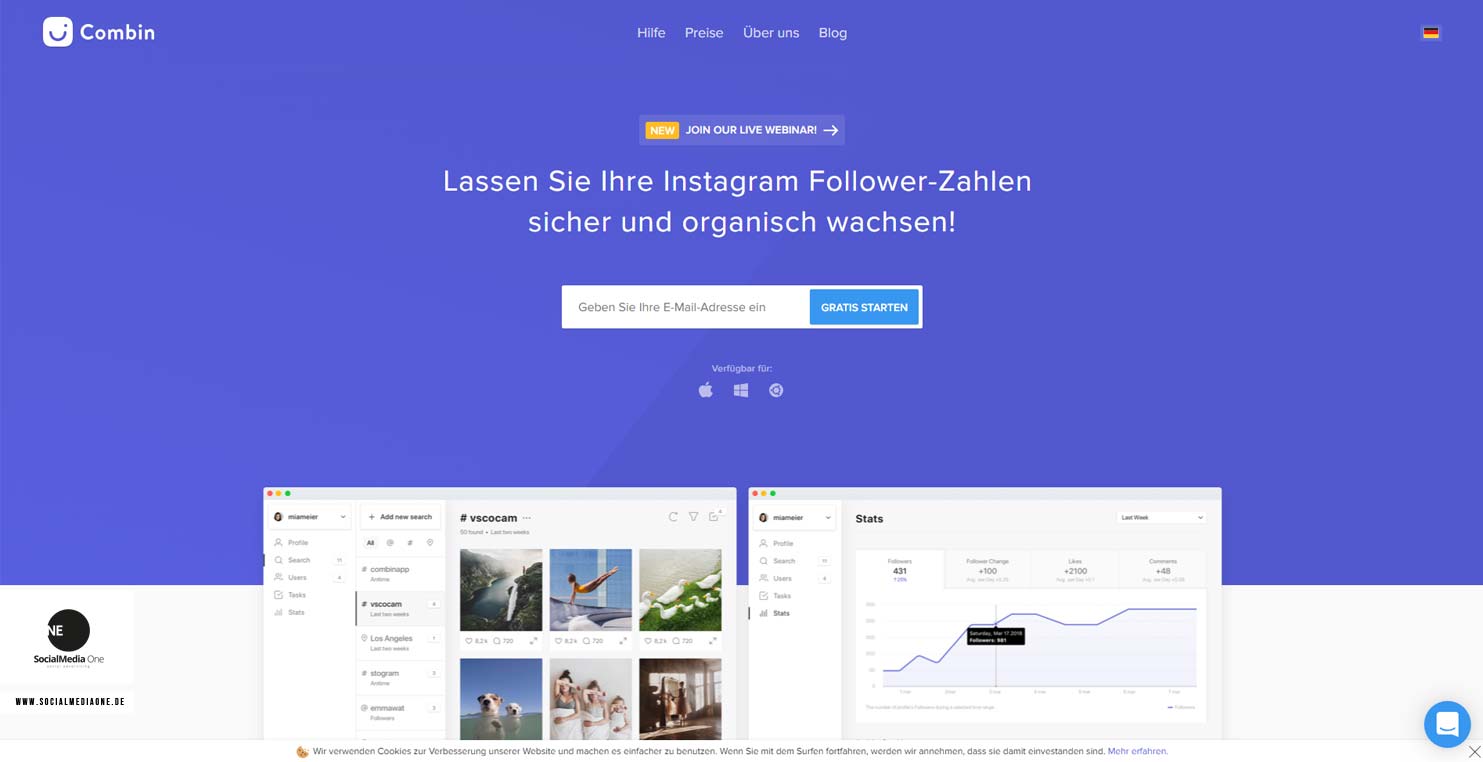 start the app – test it for free
After login all photos and videos of the Instagram channel
will be displayed.
Here you will first find an overview of the most important information and can also compare many postings with each other, which is difficult on the instagram.
Number of contributions and possibility to compare
number of subscribers / subscribed and the ratio (the smaller the value, the better)
Single postings can be opened in Pop Up to take a closer look at comments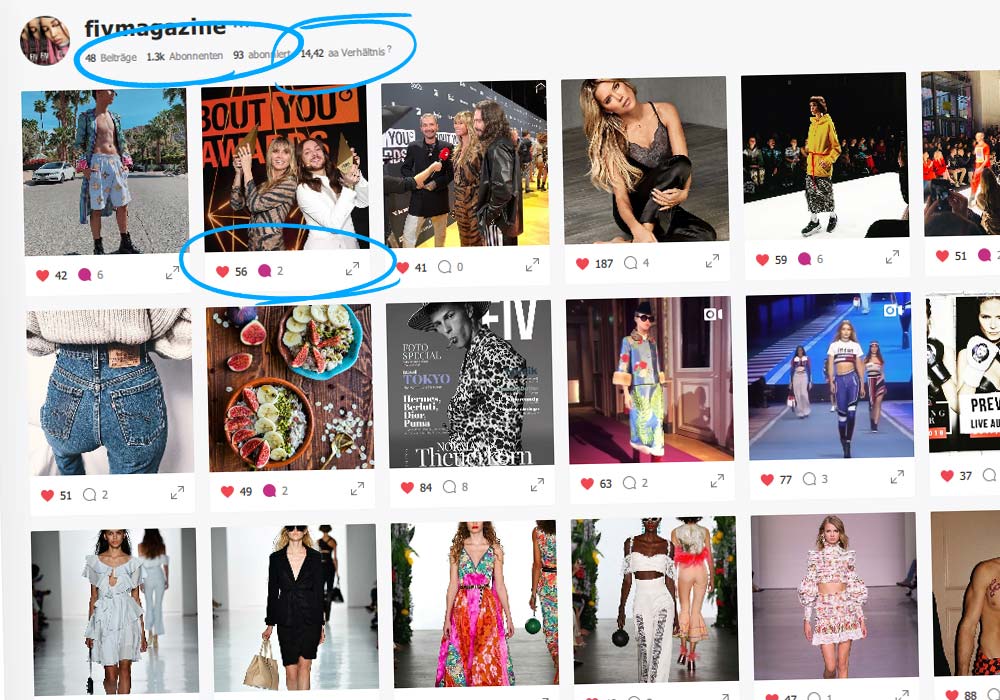 Analyze Postings
Which of the current photos and videos on your Instagram channel work well and which don't? Just find out by sorting the likes and comments by number. This gives you a quick overview of your most successful postings. With the new data you can draw conclusions for your social media strategy and optimize your new postings. The filter function can be found on the start page (top right).
Search function at a glance: Find successful postings
After the analysis of the own channel, it goes now to the competition analysis.
Finding successful postings to optimize your strategy
What the social media concept costs a lot of time for Instagram is the conception of the content. What do you see in photos? What's in the description? Do we use galleries? Use the knowledge of many: Crowd sourcing. What do people like on Instagram? Find out by using Combin's search function.
The search feature allows you to search content on Instagram, using hashtags, locations, and subscribers of your competitors. In this way, popular postings can be found on competitors' channels. Especially for social media managers a strong tool to find successful content to optimize their own strategy. Summarized allows the search function:
Get range through Likes / Comments from smaller Instagram Accounts (Pay attention)
Combined search with hashtags, locations and subscribers of competitors possible
Selective search for content from competitors / other channels
Help for inspiration and optimization of your own strategy
Start search: Set filter and go
Let's start by entering our desired parameters in the search mask. In principle, two functions are available. Filtering by posts, which means which posts are popular for a particular topic? More precisely, which contributions are popular in a particular place? More precisely you can also say, which contributions have managed to get more than 10,000 Likes or comments in the XY section? This is a quick and easy way to find the strongest postings on Instagram.
Search filter for posts
Search filter for posts includes various parameters. The Hashtags are particularly important of course.
hashtags
location
period
Number of Likes (from / to)
Number of comments (from / to)
In addition, there are now even more advanced analysis functions such as:
Gender
language
User must have been active last week
Number of subscribers (from / to)
number of subscriptions (from / to)
Search filter by user
The search filter for users is very interesting, because here you can search the user accounts directly! This includes the following parameters:
Search for: subscribers, subscriptions, commentators (!), likes, bio, user list
In addition there are extended analysis functions like in the article Search filter:
Gender
language
User must have been active last week
Number of subscribers (from / to)
number of subscriptions (from / to)
Fun Fact! For every VIP and Boulevard magazine a dream (by commentators), because now you can for example easily and quickly see where certain people have left comments, even for a long time. Who's talking about who? Quickly solved thanks to Combin.
Infographics: Instagram Bot vs. Combin – Quality Interaction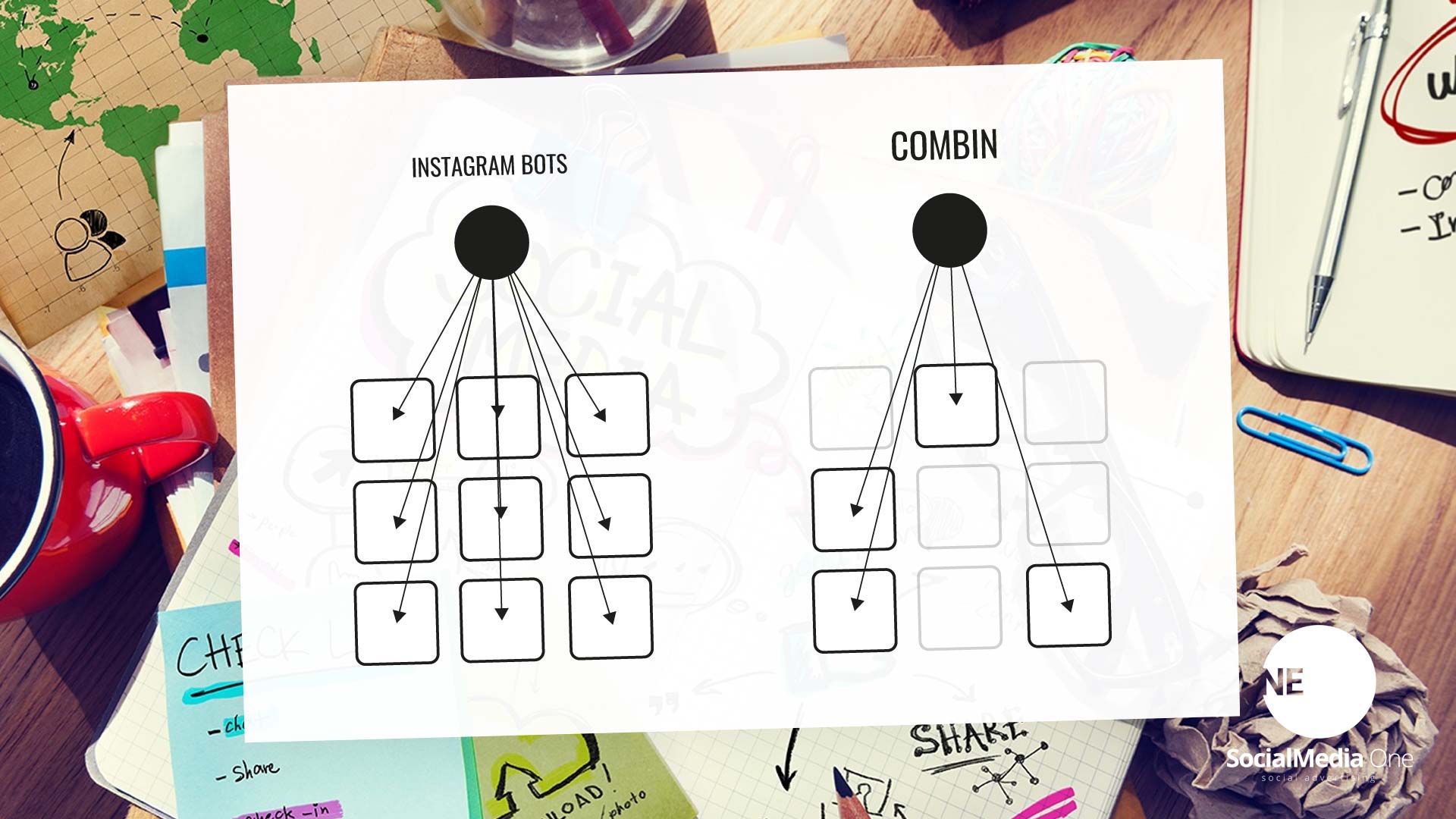 Search filter for posts:
Search filter by user:
evaluation, analysis and results
As a fashion magazine we naturally take a look at the topic: Beauty. Let's take a closer look at what's currently in vogue in the eyeliner segment.
Option 1: Trend analysis – filter by hashtag #Eyeliner and setting of 1.000 – maximum Likes
There is also the possibility for start ups and self-employed to get more reach by commenting on smaller accounts or postings of the accounts or by giving a like.
Option 2: Get attention / range – filter according to Hashtag #Eyeliner as well as setting from 10 – 50 Likes
Which Hashtag is really interesting for you and your Start Up? You can find out how to do it here: Instagram Tips.
After Analysis: Likes, Comments and Follow (Interaction)
After the analysis of the contributions, the interaction can begin! Combin operates fully automatically or semi-automatically as required. Automatic means that you interact with each posting step by step. Here comes another advantage of Combin, which many other social media tools do not offer in comparison, the selection can also be made manually, Combin then only goes through the selected images. After this decision we can start
Tip to get more range: If you go specifically to postings, with few likes, smaller users will be quicker to notice you and your company. If postings get a lot of likes, your like on the photo or video won't stand out that much.
Now all you have to do is decide whether Combin should work automatically or semi-automatically. If you prefer to make a manual preselection now, just mark your favorite photos and videos. Then you can start with a click on the icons (below)!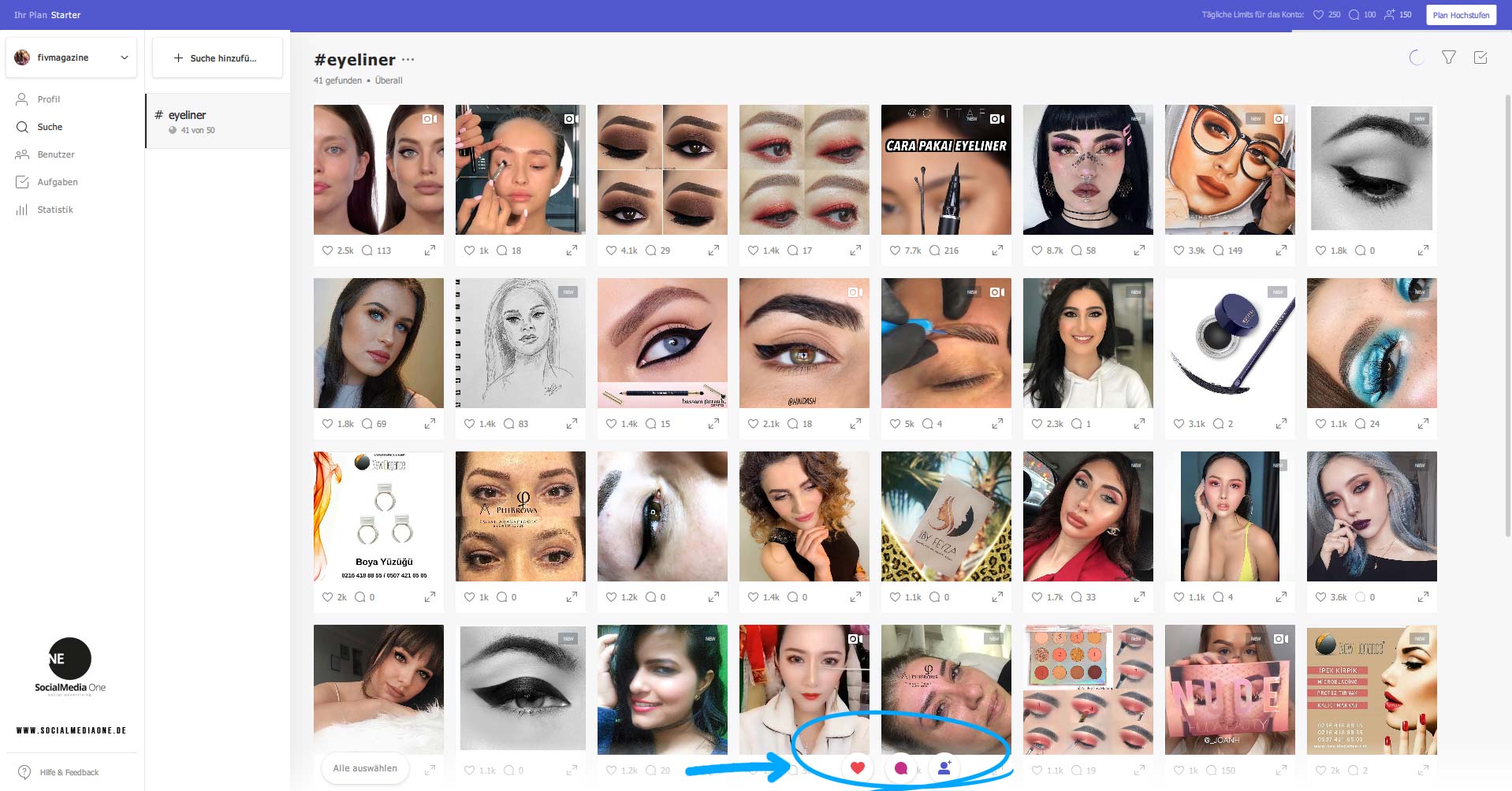 Finding influencers with Combin
Lifehack! Combin already used as Influencer search engine? In the search for the right influencer, many people always have the problem of finding the right people. The search is demanding and is usually done manually by hand. Profile by profile is viewed and the results are also transferred manually into an Excel table. Combine as an influencer search engine, how ingenious is that?
If you are looking for a specific type of influencer, you can easily find different (similar) user profiles through Combin. By simply using a certain hash tag in your search function and setting the number of subscribers parameter. Through Hashtag + number of subscribers Combin limits the results exactly. Tip: Use hashtags in the local languages to find bloggers from a specific country. Of course, you can also do this with the location, but then the people must also have marked themselves on the spot. Since influencers are on the road a lot, I find the search with hashtags in a certain language, e.g. French, Italian or German much more practical.
Tasks Assistant and Monitoring
Of course, you can not only perform analyses and actions, Combin also allows classic monitoring (performance measurement). You can find the monitoring of your own instagram channel in the menu under "Statistics". Under "Tasks" you will find all jobs you created before, e.g. Likes on Hashtag #XY, comments on Hashtag #ABC and Follows on Hashtag #DEF, but only if your account has a maximum of 500 followers. Smart!
Combin saves a lot of time before monitoring. The advantage: No well paid social media manager has to waste his or her time with elaborate likening and commenting of content, instead you rely on Combin for automatic commenting, likening and following – with quality.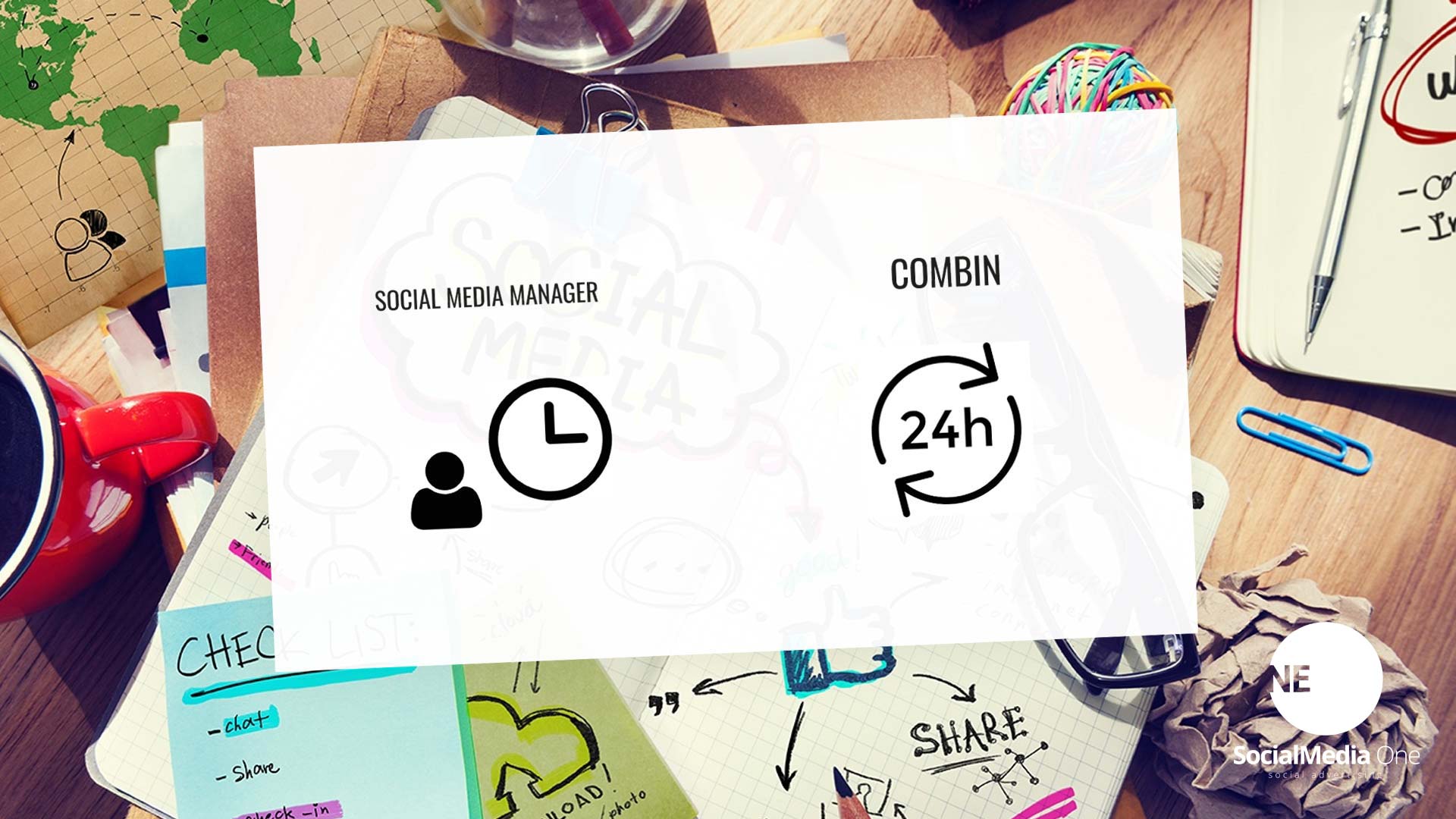 advantages: Analysis and interaction through Combin
Extreme time savings, thus also cost savings
Automatic interaction instead of manual mail for mail
Social Media Manager works much more effectively
More time for more important things than Likes and comments
Instagram Marketing also in Start Up / self-employed possible
Price
If you want to upgrade your package, you can do so in the app (top left) by clicking on your user account. After that you will be forwarded directly to the subscription page with a choice between monthly and annual billing.
Free account
1 Instagram Account is 100% free
Daily limits ofikes: 250
Daily limit of comments: 150
Daily maximum Follows: 150
Why is the Pro Version worth it?
The upgrade at a glance:
Manage up to 15 Instagram accounts
No in-app action limits
1,000 search results per page
Update search results
direct to Combin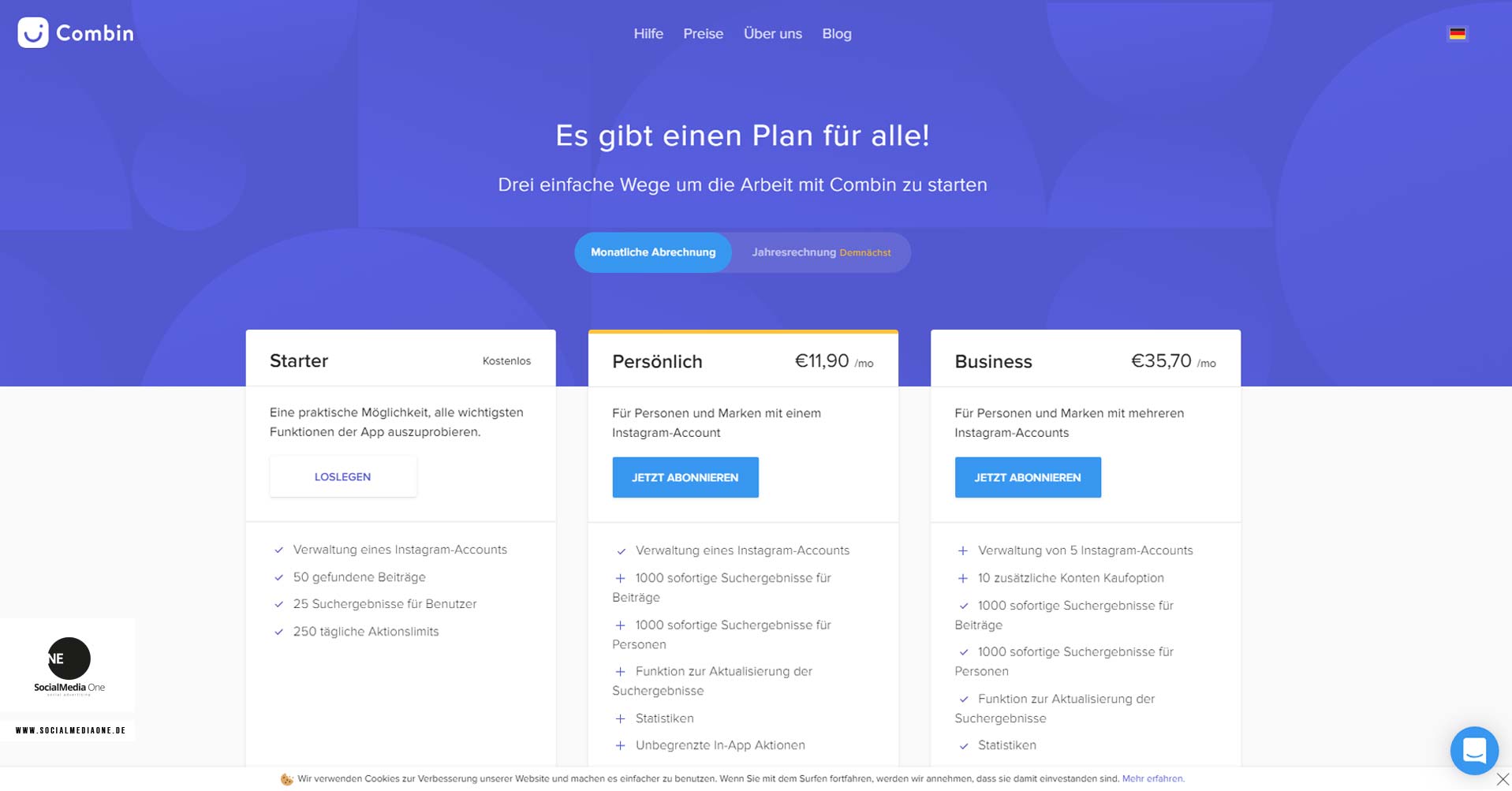 Information about the price per month / per year (04/2019):
Private: 11.90 Euro / month includes 1 channel
Business: 35.70 Euro / month includes 5 channels, option on 15
Questions and Answers: Instagram Marketing DIY
Here we have all the important questions and answers about Instagram Marketing for you:
How to write on instagram?
Instagram has a very young target group, so in 98% of cases the address is "you".
When is the best time to post to Instagram?
The best time is before and after the regular working hours (companies but also pupils, students). That's usually 7:00 in the morning and 5:00 in the evening.
How can I connect two Instagram accounts?
You can't connect two accounts to one.
Can I add a second account?
Yes, it is possible to manage up to 5 accounts simultaneously on the smartphone. Adding an Instagram account goes like this:
Open the app
Change to your profile (bottom right)
Tap on the gear symbol (iOS) or the Menu Button (Android); (top right)
Scroll to the bottom, to "Add account"
Enter name and password for second account
Done – To change your account, open your profile and tap your username, a tag will open to change
What is the feed for Instagram?
The feed consists of postings, individual photos and videos, which are compiled in the feed. Each row in the feed consists of 3 media, sorted chronologically, from new to old.
https://fivmagazine.com/wp-content/uploads/2019/05/software-test-check-social-media-marketing-instagram-like-follow-kommentare-interaktion-hilfe.jpg
550
1200
Stephan
/wp-content/uploads/2020/07/fiv-magazine-news-instagram-youtube-tiktok-influencer-fashion-interior-jewelry-real-estate-tips-help-logo.png
Stephan
2019-05-02 10:52:30
2021-07-08 11:45:55
Combin: Digital Social Media Manager – Software for Interaction and Followers