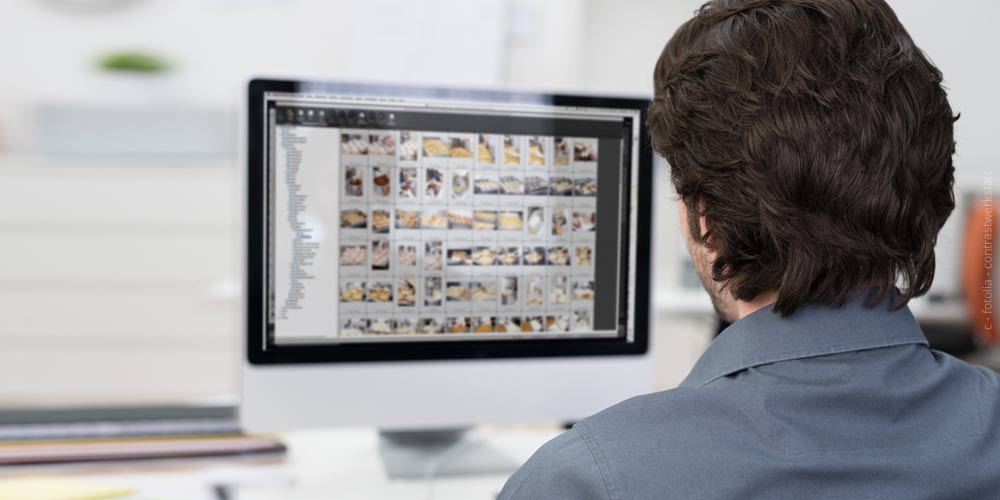 Photographers portfolio – select photos, create portfolio, design application
Your own portfolio is crucial for your customers, business partners and any contact in your profession. Surely you can convince with a live performance personally and "in colour". Nevertheless, you should give an insight into your work in advance, and whether you believe it or not: the Portfolio Folder becomes your most important working tool.
A well sorted portfolio
As a model, make-up artist, photographer or graphic artist your pictures speak for you. The question of how you should populate your portfolio portfolio and what content you should incorporate into it would thus be answered. In favor of the haptics you should do without a "virtual portfolio folder" and not appear with the tablet, but with a real folder made of cardboard with real photos made of paper at the appointment. A well-stocked and lovingly designed folder gives information about the seriousness of your work and shows your counterpart how much you value your own work and the cooperation of others.
After all, you don't just present a simple picture on a photo, you present a lot of work in post-processing and exposure, a lot of patience in selecting the effects and thus all your skills and interests. As a model, photographer or make-up artist, the portfolio focuses on your personal specifications. A portfolio is the representation of your work and gives information about your personal style, the variety of your possibilities and the thoroughness in your profession. It stands for your own image, serves as illustrative and presentation material and provides the first impression.
Since there is no second chance for a first impression, you should pay a lot of attention to the design and development of the portfolio and use your portfolio to create a basis for future business relationships and orders. As far as design is concerned, you have a free hand and can decide for yourself how your first impression will look and how much you would like to reveal about yourself, your experience and diversity in your profession. It is recommended to use the portfolio folder to present all your skills and to get the chance for more and better paid orders.
Size and image selection
The portfolio folder is your staging of all skills and knowledge, all experiences and tasks in your profession. The more versatile and varied your portfolio, the more attention you will get from your counterpart and the better the job offers will be. For the size, or the amount of content of photographic portfolio folders there is no specific requirement. This gives you a free hand in the decision and weighting of personal accents.


FragranceTip.com by FIV
We recommend a folder and a picture size in DIN A4, as its practical size makes it easy to transport and take with you to any appointment. While some pictures could also be meaningful and goal-oriented in DIN A5.
Care and protection
Protective films are an advantage, as your portfolio is passed through many hands and is presented at each appointment in the first meeting. To avoid fingerprints or grease stains in your portfolio, you should choose a special folder to leaf through and with included protective foils. Alternatively, you can design the folder yourself and buy individual sleeves if, for example, you are not sure about the amount and number of images in your presentations, or if you don't want to exclude the possibility of expanding your portfolio. A simple yet modern design suggests your setting and is the best choice for portfolio folders.
Jessica Kobeissi: My Photographer Portfolio!
Fashion & Portrait photographer Jessica Kobeissi presents her portfolio of photographers and explains the structure, selection and design of the images.
https://fivmagazine.com/wp-content/uploads/2016/09/fotografie-Daten-Cloud-speichern-sichern-hobby-fotografie-app-handy.jpg
500
1000
Lisa-Marie
/wp-content/uploads/2023/08/fiv-magazine-logo-news-influencer-fashion-interior-travel-real-esates.svg
Lisa-Marie
2019-09-18 07:00:33
2020-11-11 10:17:57
Photographers portfolio – select photos, create portfolio, design application