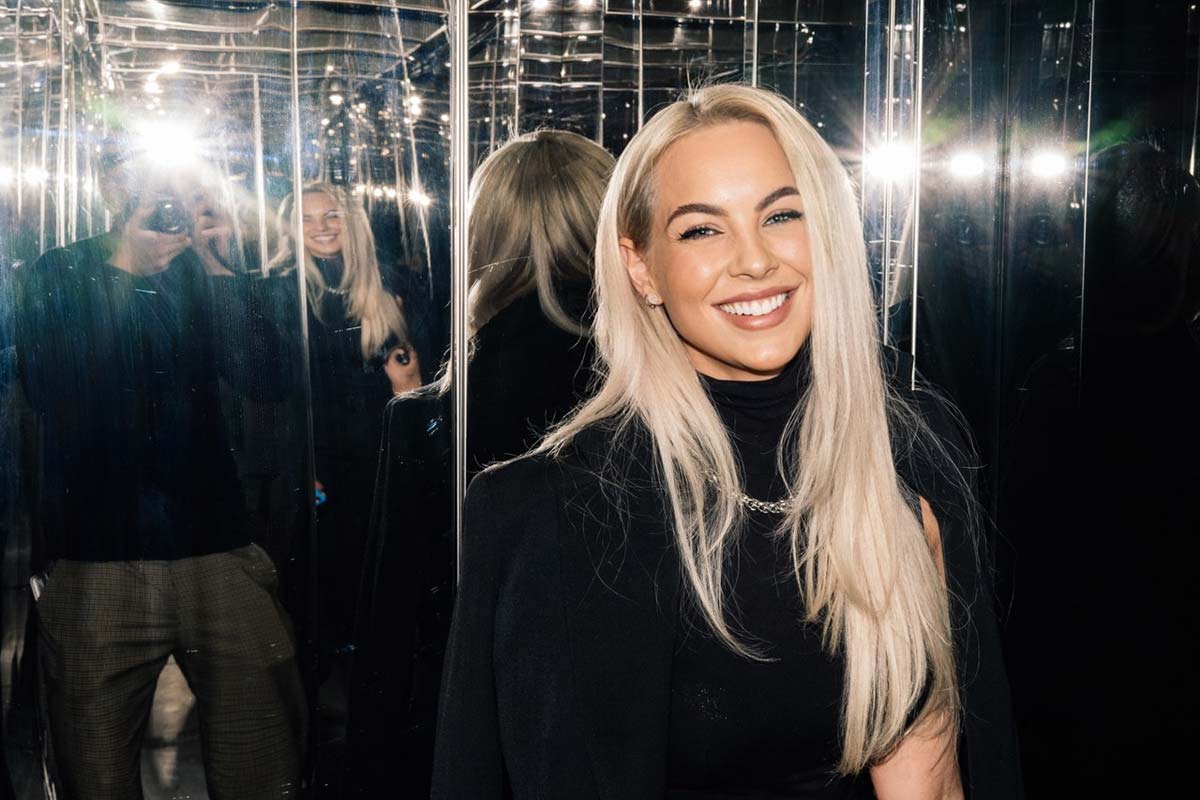 Kasia Lenhardt (†25): New life as a mom, between fitness and travel – Interview
Kasia Lenhardt started modeling at the age of seven and became a young mother at around 20. However, she never neglected her job as a model. She built her own community on Instagram and has now become a role model for many young people. Besides the modeling business, sports and stressful university life, she also manages the household, cooks and lovingly takes care of her son Noan. We interviewed Kasia for you and asked her questions about her well-planned life.
+ AD + Kennst Du schon?
Kasia Lenhardt (†25) young mother, found dead
Only a few months ago Kasia told us how she would like to make a backpacker trip around Asian. But on 09 February 2021, the 25 year old was found lifeless in her apartment. A news in which we are at a loss for words. What Kasia had to go through in the last few days is unimaginable. A breakup with publication of private messages and intimate details, from her ex-boyfriend Boateng, made it hard for her. She had to fight against harsh bullying in the social media.
We wish the family and friends much strength during this difficult time.
Formative trip to Paris and backpacker trip
FIV: Hey Kasia I'm glad you found the time to do an interview with me. Looking at your Instagram feed you always seem to be in beautiful places and above all you are very sporty. Tell us what was the most beautiful trip you ever took?
Kasia: It's hard to say, because I have already made many great trips. But the most beautiful and formative was when I was alone in Paris. There is something very mystical about travelling alone.
Asia soon? New travel destinations as a mom
FIV: There are many beautiful places in the world and much to discover. Which destination would you like to travel to?
Kasia: There are a few, but I am mainly interested in Bali and some regions around Asia and Indonesia. I would like to do a backpacker trip, where I carry only the bare necessities with me and the focus is entirely on my surroundings.
FIV: You are also a mum, does your son always come along on your trips?
Kasia: That always varies. Of course, I try to have him with me on most trips. However, since I share Noan's upbringing with his dad, he is often with his dad too.
Nutrition and a lot of discipline: recipe for success
FIV: You are a role model for many young girls. How do you find the time to do sports and what motivates you?
Kasia:
I love to play sports and exercise!
It's the best way for me to unwind from the hustle and bustle of everyday life. When people ask me how I integrate regular gym visits into my everyday life, my answer is always: Plan the sports sessions into your daily routine! Sometimes that means getting up an hour earlier in the morning or doing a home workout before bed. You decide how far your discipline will take you.
Quick workout tips from Kasia!
FIV: Would you have some workout tips for our readers that have helped you a lot yourself?
Kasia: Exercise bands have helped me a lot. They fit in any bag and you can take them with you when you travel. I would also advise everyone to read up on bodyweight workouts. Then the excuse that you couldn't make it to the gym doesn't count anymore 😉 I also think the exercises are great and highly effective!
FIV: I've seen you post mostly high protein food and also prepare it yourself. What's your favorite thing to eat after your workouts?
Favorite food? Oven vegetables, prawns, salmon, spinach
Kasia: That's right, I try to eat a lot of protein. This way I make sure that my muscles are well supplied and their development is promoted. I'm always very hungry after a workout and prefer to eat oven vegetables, shrimp, salmon, spinach, etc. I like to serve it as a bowl and top it with lobster. Gladly dressed as a bowl and top it with hummus, feta and seeds. I love to just eat it!
Jerome Boateng: friend and football star
FIV: Your friend Jerome Boateng is a successful footballer. Sport seems to be very important in both of your lives.
Kasia: Yes, that's true. But in Jerome's life, sport is of course even more important than in mine. He motivates me a lot – his discipline is enviable!
(At this point, it's worth noting that as of January 2021, Kasia Lenhardt and Jerome Boateng are officially no longer a couple).
Kasia at home! What do you do in your "everyday life as a mum
FIV: My last question would be: What's a typical day like for you? Can it be very stressful with your son Noan?
Kasia: My everyday life is very well timed and planned. I get up around 6:00, make breakfast, take Noan to daycare and go to university. In the afternoon I pick him up again and try to do something nice with him (playground and other things that children of that age like to do).
When we're home, I cook, do the housework, go about my jobs as an influencer and model, do a home workout if necessary, serve dinner, and then put Noan to bed. Once the little one is asleep, I study for college. On the weekends, Noan is almost always with his dad. I use this time to just switch off, or devote myself to things like studying and working. It's a lot at the moment, but I generally "function" better when I have a lot to do and I'm also very grateful for all the opportunities that come my way.
Now also in the magazine: Kasia Lenhardt
You can also find the interview with Kasia Lenhardt in the magazine! Now on fivmagazine.com, read the whole magazine online:
+
https://fivmagazine.com/wp-content/uploads/2020/11/aleksander-ziarnecki-kasia-lenhardt-interview-fashion-fiv-model-gntm-instagram-jeromeboateng-fitness-lifestyle.jpg
800
1200
Lisa-Marie
/wp-content/uploads/2021/10/logo-2021-fiv-magazine-fashion-interior-vips-celebrities-modemagazin-magazin-prominente-mode-einrichtung-immobilien.gif
Lisa-Marie
2021-02-10 12:00:38
2021-10-18 12:22:33
Kasia Lenhardt (†25): New life as a mom, between fitness and travel – Interview