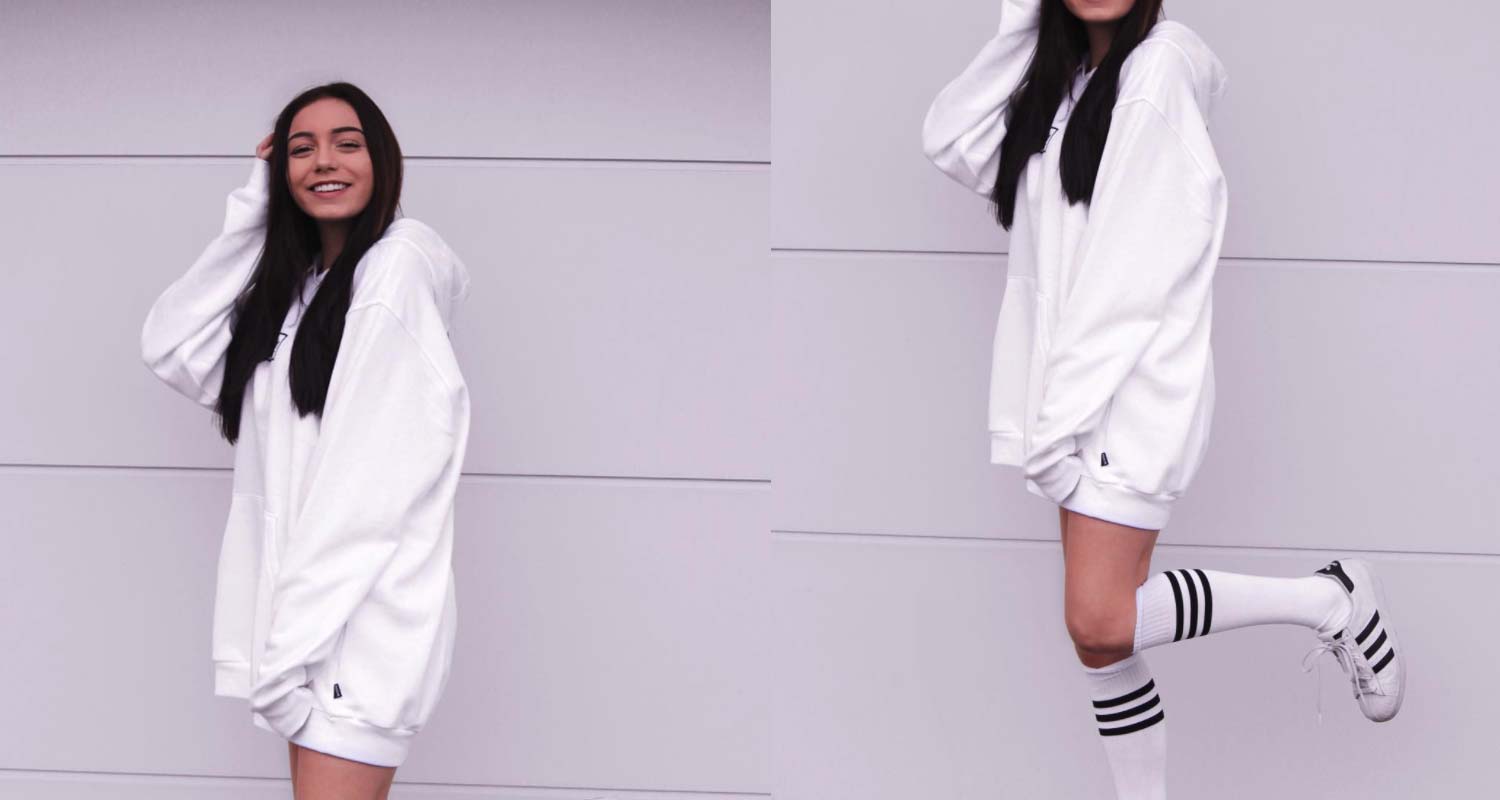 From fangirl to Youtube star: Tina Neumann about Youtube, Musically and her styling tips!
Youtube, Musically, Instagram – Tina, who just turned 16, is taking off! The cute Austrian talks to us about her relationship with Youtuber Liont, her planned acting career and arguments between the musicians.
Tina, you've been uploading videos to YouTube regularly for just over a year and already have over 100,000 subscribers. But what's behind the sweet 15-year-old who loves to entertain her fans? Tell us a little bit about you and your content on Youtube.
I love to shoot and edit videos, it makes me incredibly much fun to bring people to smile or to express my opinion. I'm really happy that so many people are interested in my life even though I'm still a teenager myself. I like to make myself up, but I also like to show my community the reality of life, that not everything is as perfect as the internet makes you think. I want my community to accompany me through my life that's why I upload a video on YouTube every day!


Germany - Spain - USA
You are known through Musically. How did you come to focus so much on Youtube and what do you enjoy more – the more personal videos on Youtube or the short entertaining clips on Musically?
I enjoy both incredibly much! For a musical.ly I don't really need a long time and I can't really give people anything so I would say YouTube at the moment although I really like musical.ly too!
You're still very young. You just turned 16! How did your parents react when they found out that you are so successful and have built up such a big fanbase?
Internet is as good as new territory for my parents. I had to explain to them several times what I do and why. Slowly they have understood it then and are now already real professionals:) they are very interested in what I do on the Internet and often help me take pictures. Among other things, they watch my YouTube videos every day. They are thrilled!

From fangirl to Youtube star: Tina used to have a fanpage for Youtuber Liont
A little birdie told me that you are a huge fan of Youtuber Liont and even dedicated a fanpage to him in the past! Now you're in the spotlight yourself, thousands of young girls look up to you and you're already a kind of role model at the age of 16. How does it feel to go from admirer to star yourself? Are you still excited when you meet other bigger Youtubers or has it become a daily routine for you?
Really fan I am of Timo no longer because I now do the same as he! We had also written more often and see him now more as a buddy! I'm not really excited when I meet YouTuber because they are just as normal people. Of course it's crass to be seen as a role model by a typical fangirl all of a sudden, which I often still can't believe now.
Vegetarian's favorite food – pasta dishes and PIZZA!
In my research, I found out that you are a vegetarian – and have been for 8 years! Are you concerned about the animals or just the taste? I'm interested to know what your favourite food is and if your parents don't eat meat either?
I have never really eaten much meat! Of course I feel sorry for the animals but that wasn't the main reason. I don't really like meat and fish and that's why I stopped eating it at some point. My parents are not vegetarians but my sister doesn't eat meat either. Phew, I don't really have a favourite food but I do have a thing for pasta and pizza.

Tina's absolute fashion must-have? A denim jacket
Your style is casual, sometimes sporty, sometimes sweet – but everything is always skillfully combined. What are your absolute fashion must-haves for the coming spring? Which piece could you not live without?
That is difficult! I actually always wear what I like and is partly not matched to the season but I would definitely say denim jackets because I find that super casual and you can combine them with EVERYTHING.
With the cold at the moment, many have problems with dry skin and redness, do you have some beauty tips for my readers? What are your favorite skin care products?
I have been using products from the pharmacy since new.

Is a starring role in a feature film coming soon?
I was born for the camera!
You once said that you had a small role in a feature film and would like to play a leading role in a feature film in the future. Tell us about your acting experiences so far!
I used to have a few theatre gigs, that was always a lot of fun! I don't have much experience with it yet but I think I was born for the camera otherwise I wouldn't do YouTube!
Competition between Musically Stars? Tina remains unimpressed
I do my thing and that's how it fits!
In my interview with One Hamudi, I was told that there are often fights or arguments between Musically stars – usually rather behind their backs. What are your experiences? Do friendships form quickly or does it often remain superficial or does competition arise?
Of course there are disputes but I always try to keep out of it. Of course there are now and then also once differences but I think you should have such things privately. I don't see anyone as competition. I do my thing and so it fits.
What else can we expect from you in the future?
You still have a lot of plans, you say you want to make a trip around the world, live in the USA for a while or maybe even move to Germany. But what are your plans for this year? Are there any exciting events or trips already planned?
Yes, I'm definitely at the start of events, for example at the GLOW and the Videodays. There are also some trips planned but I'll tell you more about them on YouTube!
FIV thanks Tina for the nice interview!
https://fivmagazine.com/wp-content/uploads/2018/03/tina-neumann-musically-youtube-instagram-star-hut-stylen-fashion-outfit-pink-sweater-fiv-magazine-interview-2.jpg
800
1500
Lisa-Marie
/wp-content/uploads/2023/08/fiv-magazine-logo-news-influencer-fashion-interior-travel-real-esates.svg
Lisa-Marie
2018-03-13 16:54:19
2018-03-13 16:54:19
From fangirl to Youtube star: Tina Neumann about Youtube, Musically and her styling tips!