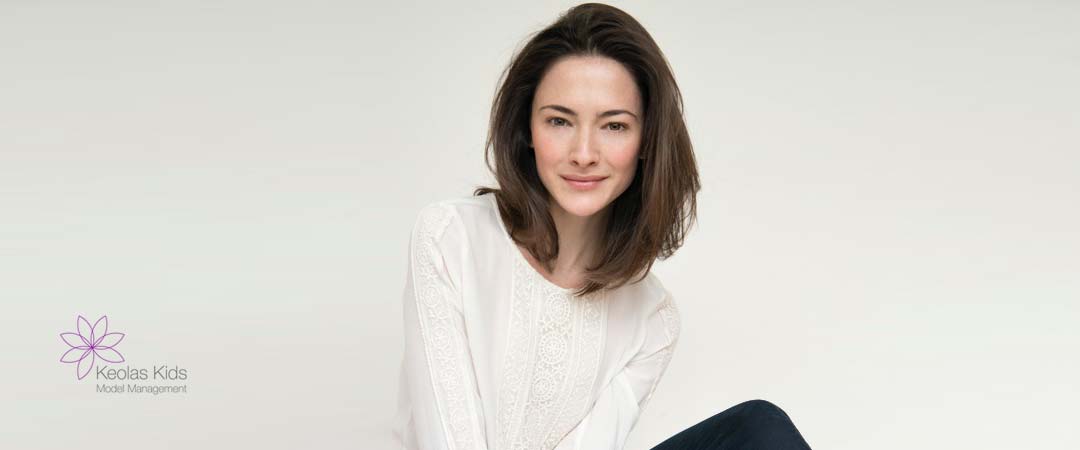 Kids Models! Interview with model agent Ellen from Keolas Kids
Small, cute, lively! Child models are something very special and the icing on the cake of any advertising campaign. After meeting models like Angelina Kirsch, Shermine Shahrivar and Alessandra Ambrosio, today we wanted to learn more about the smallest models. Because for child models, choosing the perfect agency is very important!
FIV: Hey Ellen! With Keolas Kids, you help young child models get booked for photo shoots, ad campaigns and commercials. Tell us, how did it come about that you started a modeling agency for kids?
Ellen: I was 15 the first time I stood in front of a professional commercial photographer's camera for a big client. I loved that job and still do today. Every photo job was exciting in a new way. Nevertheless, after graduating with a degree in business, my path initially led me to the sales department of a language company. Maybe just to confirm what I already knew: 'Groundhog Day' – doesn't work for me.


Germany - Spain - USA
Everything but everyday life! 2014 Ellen founds her child model agency Keolas Kids
Ellen: Starting my own little agency, that's what I wanted to do. Preferably in the industry that had inspired me since I was a young girl and in which I had already been at home for a long time. On top of that, children's models were becoming more and more in demand in advertising and manufacturers, not least due to the rapid growth of social media, were recognising the high value of children in their advertising. I couldn't stop thinking about my beginnings and the passion I had for the job I was so keen to pass on to kids. In May 2014, I founded "Keola's Kids Models."
FIV: Are there differences to the adult model world? What prerequisites do the children have to bring with them?
Ellen: The kids have to have fun! That is the most important thing. It's not good for the client, the photographer, the agency, and least of all the kids if they have to struggle to get to a shoot. After all, they are not little adults, but children! Kids between the ages of 0 and 16 can apply to us. We can then place them until they look like adults, after that we are happy to recommend one or the other "continuing" agency.
The parents should also meet certain criteria, such as reliability and the flexibility to accompany their children to shoots during the week. In addition, we don't like it when the impression arises that the parents want to earn money with their children or they consider the modeling career of their little ones as self-realization. Otherwise, kids of all skin and hair colors are welcome, with or without freckles, with big or small ears.
We cast in the regions of Düsseldorf, Hamburg, Berlin and Munich and are always happy to welcome special new talent.
FIV: As I said in the first question, you place kids for shoots and more. In short, what kind of jobs do the kids usually do?
Ellen: Our jobs or clients are very diverse. From photo shoots to commercials & film shoots to fashion shows, everything is represented. Especially nice are of course big fashion spreads in magazines like "Marie Claire Enfants", or "Kids Wear Magazine". Here the kids get wonderful material to enhance their sed cards and thus get more jobs.
Film shoots are also becoming more and more interesting for us and the kids, as the acting interest & talent is quite strong in many kids. How often a child is booked a job is as different as with adults … some work more, some less.
Castings for child models in Düsseldorf, Hamburg, Berlin and Munich
FIV: After the casting, do the kids have a guarantee to get jobs?
Ellen: No! The agency's job is, of course, to promote their kids, which means regularly creating new photo material of them, keeping the clients up to date when the kids change and suggesting the kids when we get requests. However, this is still no guarantee that the kids will get assignments with us. Sometimes it takes a while to get the first job, but sometimes it happens very quickly. It all depends on which client is looking for which child for their new campaign and ultimately chooses them. We, as an agency, decide who we propose for a job, but we usually have no influence on the client's final decision.
FIV: There are always prejudices against models, like the classic "models are too thin! Have you ever been confronted with such prejudices in your field?
Ellen: The prejudice that "models are too thin" is something we can put to rest from the outset with a clear conscience. With children, it's not about their figure, but about the fact that they are the way they are – children! A healthy diet is always important, whether it's for the big ones or the little ones.
If we talk about another prejudice, such as the over-motivated beauty peagent moms from the USA, then I can only say: So far I have been very lucky! Of course there are always "black sheep" among the parents who take the modeling activities of their children a little too seriously, but we quickly bring them back down to earth. Some things are just not the same as with adults. During the initial interview and during the creation of the sed card, we take a very close look at the children in order to find out whether modeling is really the right thing for them. Most of the time we succeed, but with little ones you never have a guarantee that they won't have a bad day and prefer to be cuddled up in mommy's arms. Therefore, dear customers: we always recommend booking a backup child, just in case.
FIV: You started your child modeling agency in 2014. After the first two years in the industry, where do you see your model agency in 5 years?
Ellen: In 5 years I see Keolas Kids Models as a fixed institution among the children's model agencies in Germany and I can't imagine the market without it. In addition to the locations in Düsseldorf, Hamburg, Berlin and Munich, which are currently being set up, I would like to open branches in other European countries. I could very well imagine Keolas Kids in Amsterdam or Paris. In addition, there will most likely be an expansion of the card index, which I am very much looking forward to … it remains exciting!
FIV: Thank you so much for your story and your answers!
Keolas Kids is also in the top ranking for child model agencies! You can find more about Keolas Kids here:
https://fivmagazine.com/wp-content/uploads/2014/10/kindermodel-agentur-inhaberin-ellen-doerflinger-models-interview-modelagentin.jpg
450
1080
Stephan
/wp-content/uploads/2023/08/fiv-magazine-logo-news-influencer-fashion-interior-travel-real-esates.svg
Stephan
2016-10-05 22:12:53
2016-10-05 22:12:53
Kids Models! Interview with model agent Ellen from Keolas Kids