Fashionweek Milan: Shows, Designer, Key Looks and Places to go!
Milan Fashion Week was impressive!  We collected a variation of highlights from the runway of designers like Pedro Pedro onto show pictures of  Tommy Zhong. Go and take a look at all of the new Spring/ Summer 18 Fashion of Milan Fashion Week! If you want tips where to go in Milan and which attractions you should see go ahead and enjoy!Milan or "Milano!", how the Milanese would say.  If you think of Milan, you imagine the taste of amazing italian food, excellent Art of long gone centuries and the amazing Architecture hidden at every corner of Milan. Milan is a beautiful city that is waiting for you to visit and explore. It has a lot to give from Museums to it's own lombardian cuisine. We made a guide for you to get to know Milan, the city of fashion and design. If you have new highlights, get in touch with our editor Hanna!
Attractions of City Milan that are top on your to visit list!
Duomo di Milano / Milan Cathedral / Piazza del Duomo
The Duomo is the third biggest cathedral of the world and got started to be build in 1386. A Visit to the Duomo Rooftop is never a bad idea, especially when the sun is out because it offers a beautiful view. If  you get a pass to the rooftop  you will have amazing opportunities to take some pictures that you will never forget! It is easy to find and the place infront of it is very beautiful too. This is the place where all Models, Influencers and Celebrities take pictures when they are in Milan for Fashion Week.
 Galleria Vittorio Emanuele II aka the place of high fashion and dining
The Gallerie is from the 19th Century and the worlds oldestest shopping mall. It is located next to the Duomo and has a great architectured glass roof that looks pretty impressive. The shopping mall not only contains Stores like Prada, Armani and Gucci, but also a nice little tradition that the tourist and milanesians like to do. The mall has on the ground a bull that has a superstision of bringing fertility to men and women when you touch or turn yourself on it. The mall is very pretty and offers great fashion stores from Prada to Versace and many high class fashion oportunities more. It is the perfect place for a high fashion shopping trip and nice dinnig that is either near the mall or directly offered there.


Germany - Spain - USA
You have to see the Navigli district. It reminds of venice with restaurants directly at the water. Navigli is the heart of milan with a lot of possibilities to enjoy the cafes, museums or clubs and the great nightlife of milan. Just go and enjoy the youthful vibes, the nice food and the just all around awesome atmosphere of the life in milan.
Fashion Week Milan – Where Fashion is born
The Milan Fashion Week belongs to the Big Four of the Places where Fashion is born. It is four times a year and sets the trends for men and womenswear on the rank even before New York, London and Berlin Fashion Week. Italian Fashion is known for it's excellence and can be seen all around the world in brands that everyone knows like Armani, Dolce & Gabbana or Fendi. The Fashion shows are held at Piazza del Duomo which very easy to find. We collected for you a few runway shows and designers you should know about! Go and see all of our collected designers and shows of Milan Fashion Week.
Pedropedro

The Designer began his career in 1996 and has since then shown the World his brand at Portugal Fashion events. He presented his new spring / summer collection under the new vision of the 80s. The fashion line shows bright colors and comfortable pieces, geometric prints all to give the feeling of freedom and a back to basics vibe! Go and see all of the Highlights of the PedroPedro Spring / Summer Show 18.
Alberto Zambelli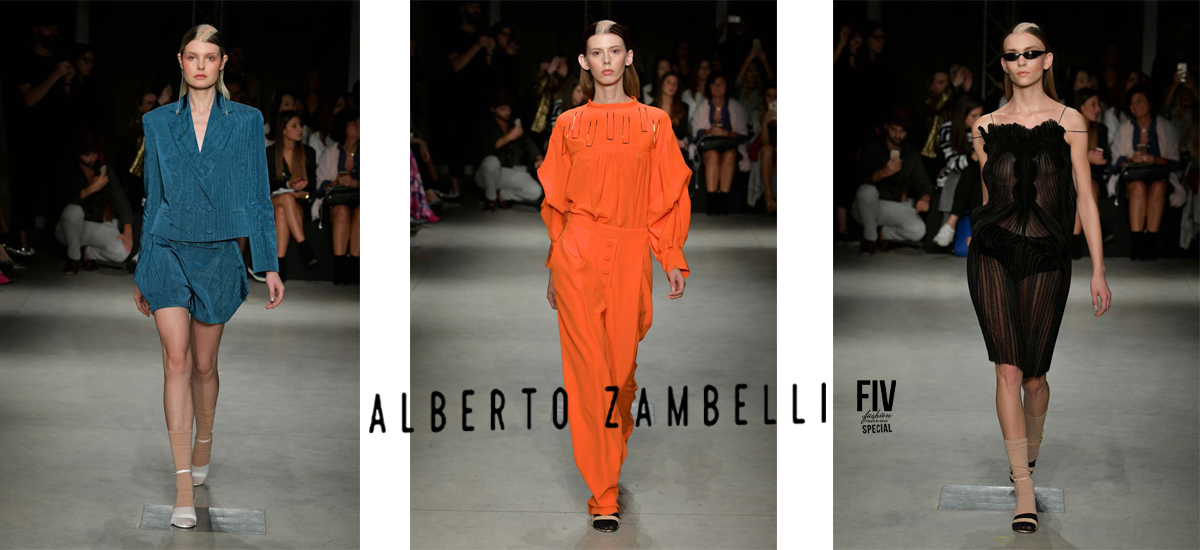 Alberto Zambelli's Milan Fashion Week Runwayshow a variety of lines, materials and colors. The Collection shows a meting of horizontal and vertical, square and rounded lines that are highlighted from colors like salty white, blue laoon or pink. He wants to show the women with a positive simplicity and energy and plays with materials and shapes to emphazise that. Go and see how he presented his Runway Show of Spring / Summer 18.
Delfrance

Delfrance studied fashion design in Milan and had the opportunity in London to work with Vivienne Westwood. In 2008 he launched his first prét-à-porter collection. In his new Spring/ Summer line he wants to show the kind of women that inspires him. A women that has new awarness about her sensuality but keeps a desire to stay young. Colors like yellow, fuchsia and flower prints were shown with diferent materials to tell a story about every womens individualism. See more of the diferent styles that were presented at the Delfrance Show of Milan Fashion Week!
Tommy Zhong

The Brand Tommy Zhong was founded by the duo Jiaqi Zhong and Jennifer Nelson in 2015. They represent a mix of chinese and western cultures and showed at Milan Fashion Week their concept of complemantary facets of difference. The palette of pink, black and white interuppted by orange. Eveningwear, seperates and casuals are the mix in the collection that express mix of techniques worked onto the Fashion. Go If you want to see more of the images from the Thommy Zhong Milan Fashion Week Presentation.
Cristiano Burani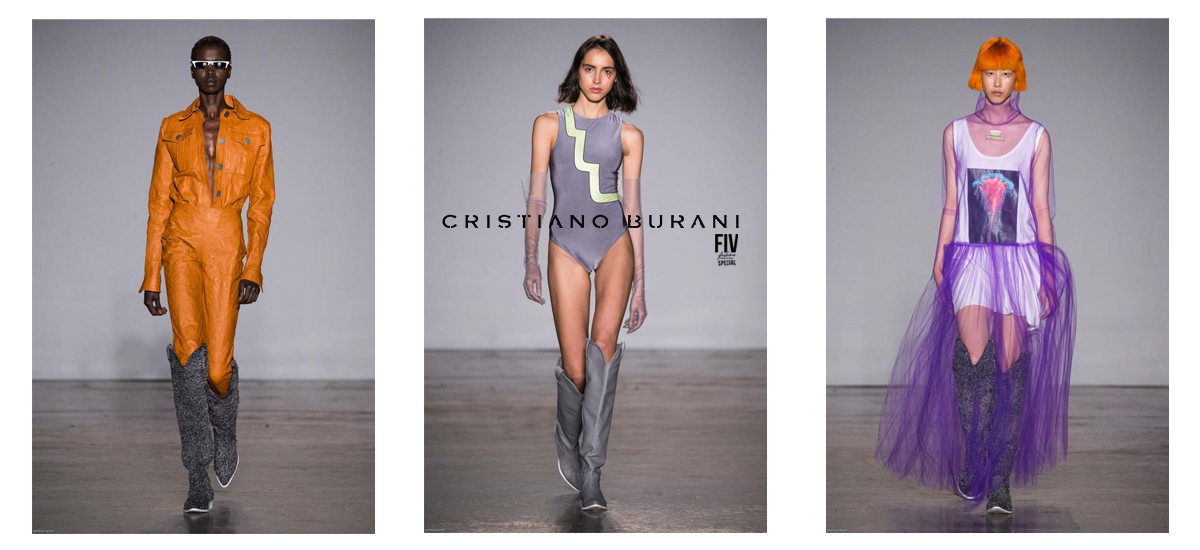 Christiano Burani has had more than 4 collections over the after him named brand and demonstrated in the Spring / Summer collection of 18 called Electro Hawaii his new interpretation of femininity and coolness. Fabrics as silk, nylon and pleated organza are shown with geometric embroidery. Neon colors and grey are used to give a feeling of vibes that are perfect to present the name Electro Hawaii. The pictures give you a good resemblance of what his Fashion Runwayshow is about : fun and new individual pieces. Go and look at all of our collected highlights of the Cristiano Burani Milan Fashion Week Show.
Carlos Gil

The Spring/ Summer collection of Carlos Gil is under the name Tropical Urban. It's inspriation is from the athleisure aesthetic. The colors and patterns are vibrant and the key elements of the line are geometric shapes and organic appereances. Carlos Gil wants for this Runway Show to invite you to live in a tropical urban state of mind with wear that matches fashion in a chic but casual way of dressing. Go and see the Runway Show of Carlos Gil at Milan Fashion Week.
Atsui Nakashima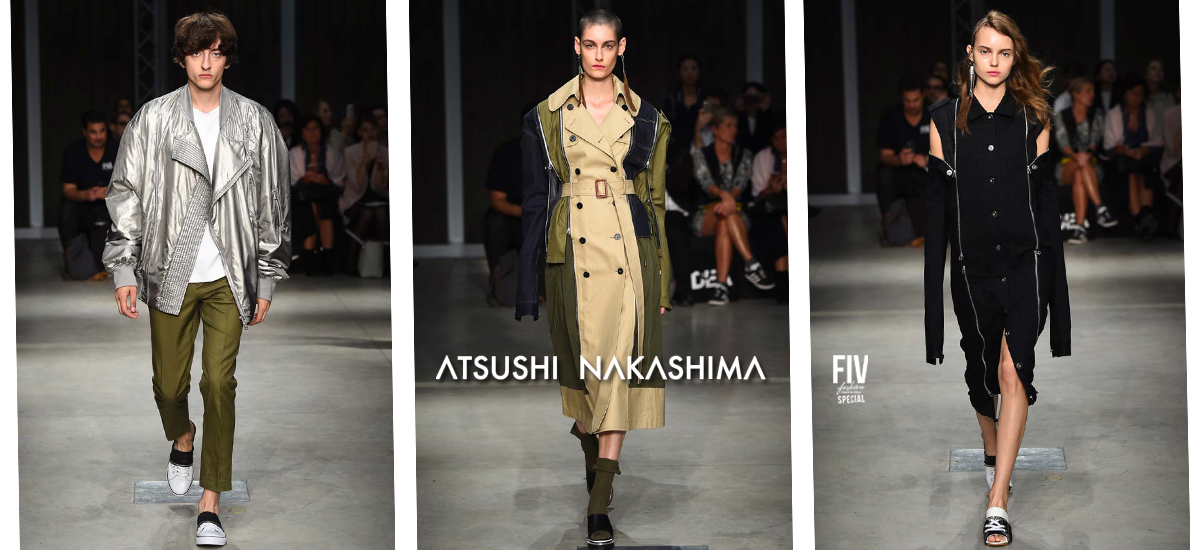 Scouted by Jean Paul Gaultier, Atsui Nakashima worked 2004 as his assistant and been in the fashion world ever since 2001. His Milan Fashion Week Runway Show presented a line of classical items that are cut off like hoodies, trechcoats and demin jackets. The models present the geometrically and reconstructing concept of the line that are customized by colors, patterns and different materials. Go and make yourself a impression of the new Spring / Summer collection 18 of Atsuki Nakashima from the Milan Fashion Week.
https://fivmagazine.com/wp-content/uploads/2017/10/milan-fashion-week-models-runway-spring-summer-18-trends.jpg
580
1200
Lisa-Marie
/wp-content/uploads/2023/08/fiv-magazine-logo-news-influencer-fashion-interior-travel-real-esates.svg
Lisa-Marie
2017-10-18 14:26:52
2021-07-08 11:18:21
Fashionweek Milan: Shows, Designer, Key Looks and Places to go!