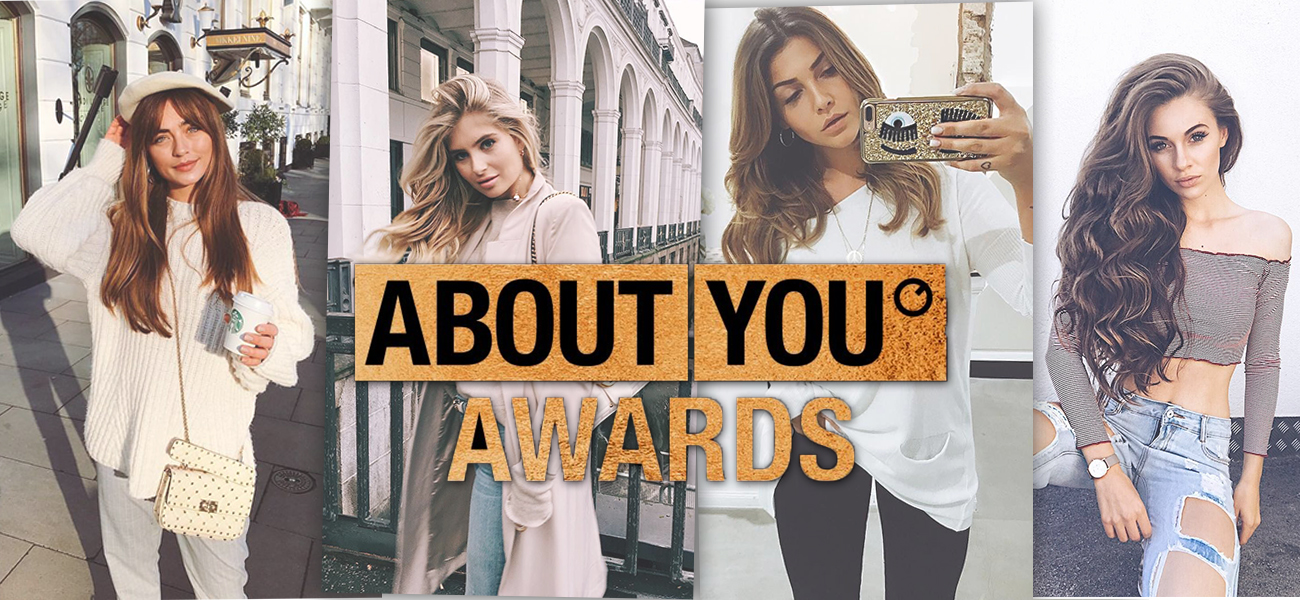 About You Awards: The biggest Influencer Event in Germany + BACKSTAGE VIDEO
The About You Awards are coming up again and the German Instagram scene is looking forward to the ceremony of Germany's biggest influencer award. Although the event itself is still quite young and the awards have only been presented since 2017, the spectacle will even be broadcast on Pro7 this year. But who is nominated and how do you get tickets?
About You Awards – The most important award ceremony for influencers
About You itself is an online shop that has been active in Germany since 2014 and has its headquarters in Hamburg. The special concept includes the personalized offer, which is specifically adapted to the previous buying behavior of the user. About You has always worked closely with influencers to address a young audience in particular with their concept. Only since one year, About You also awards prizes in categories such as lifestyle, fashion, beauty or fitness. The event went through the roof due to the opulent application of many influencers and is even broadcast on Pro7 this year.
Backstage from the About You Award 2018
IVAIVA & XKAE meet Riccardo Simonetti, Xenia Overdose, and many more!


Germany - Spain - USA
The nominees – who has a chance to win the popular prizes
In the different categories everyone could vote between different nominees to get his favorite in the top 3, because only these have a chance to win the award at the awards. Also Erik is back, who we could already ask questions last year, here you can read again in the interview with Erik Scholz! In the weeks leading up to the awards, influencers spurred on their fans on social media and people were voting for all they were worth. These have finally made it:
Nominated for category Fashion: Anuthida, Xenia Overdose and Riccardo Simonetti
Anuthida
The beautiful ex-GNTM candidate already won the prize in the category "UPCOMING" last year. This year she is competing in the fashion category.
Xenia Overdose
The fashion starlet in Instagram heaven is arguably unbeaten Xenia, who has already become a trendsetter with her extraordinary styles and inspires over 1 million followers.
Riccardo Simonetti
The presenter, entertainer & blogger Riccardo Simonetti inspires his followers with his open and honest manner. His style is daring and extraordinary, just like him. With his self-confidence and his statements, he is a role model for many and is not afraid to be himself. He was also nominated last year.
Category Beauty with Mrs. Bella, Marvyn Macnificent and Novalanalove
Mrs Bella
The pretty blonde inspires her over 1.4 million fans with beauty and lifestyle pictures.
Marvyn Macnificent
The exceptional talent inspires his fans not only with extraordinary and colorful make-up tutorials on YouTube, but also shows on Instagram very beauty enthusiastic.
Farina Opoku (Novalanalove)
The pretty Cologne native not only inspires her fans with fashion, beauty & lifestyle pictures on Instagram, but also lets her followers participate in her life through her blog and her open nature.
YouTube category: Julien Bam, Dagi Bee and Ishtar Isik
Julien Bam
With funny videos, tips & tricks & his special way Julien Bam has become very big not only on YouTube but also on Instagram. On YouTube, he also likes to work with other famous faces, such as Dagi Bei.
Dagi Bee
One of the old hands on YouTube, Dagi Bee not only shares makeup videos on YouTube, she's also at the forefront on Instagram where she shares her life with her fans.
Ishtar Isik
The 22-year-old Berlin native not only inspires her over 1.1 million fans on YouTube with lifestyle videos, but she has also become an influencer on Instagram.
Category Lifestyle with Elena Carrière, Lisa Marie Schiffner and Matiamubysofia
Elena Carrière
The ex-GNTM contestant has started her career on Instagram after being kicked out of the casting show and has been really successful. She inspires her almost 490,000 followers with fashion and lifestyle posts.
Lisa Marie Schiffner
The chick among influencers. Lisa, who is just 16 years old, inspires her almost 800,000 fans on Instagram with daily lifestyle posts and updates about her life.
Matiamubysofia
The vivacious Sofia posts daily updates from her life, fashion & beauty pictures. Besides Instagram, the beautiful brunette is also a model.
Nominated for category Fitness: Sophia Thiel, Dominic Harrison and Ivana Santacruz
Sophia Thiel
The fitness role model that has mastered the path to her dream body, and thus inspired thousands. On her social media channels Sophia shows her fans not only the latest workouts but also sportswear & fashion.
Dominic Harrison
The sports enthusiast (since recently) father, shows his fans not only workouts tips and his trained body, but recently also the life as a new dad.
Ivana Santacruz
The spirited Mexican inspires her fans especially with her hip swing, because besides her fitness enthusiasm, her passion is dancing.
Category Music: Moritz Garth, Joel Brandenstein and KSFreak
Moritz Garth
The young singer + songwriter inspires his fans not only with great pictures, but also with his voice. His girlfriend Lisa Marie Schiffner is nominated in the category Lifestyle. The perfect Instagram couple.
Joel Brandenstein
The singer not only inspires his fans on Instagram with videos of his German songs, but he also shares his lifestyle as a musician with them.
KSFreak
The Influencer inspires his fans on social media with fitness & lifestyle pictures, but his voice should not be underestimated in all this. On YouTube he shows covers of famous songs and shows himself from a completely different side.
Category Upcoming with Charlie Weiss, Erik Scholz and Anh Phoenix
Charlie Weiss
The beautiful brunette shows a very creative feed on her Instagram channel. She inspires with her detail shots, her fashion posts & her beautiful face.
Erik Scholz
The young social media star shares fashion inspirations and lifestyle shots on his channel. He was already interviewed by us, which you can find here: Erik Scholz in the interview!
Anh Phoenix
The ex-GNTM contestant is now not only active as a model but also as an influencer. She inspires with great fashion & lifestyle posts on her channel.
The winners – these top influencers were honored for their work
Category Fashion – Riccardo Simonetti
The exceptional talent Riccardo deservedly won the award in the fashion category and shot a video directly for his fans during his acceptance speech on stage. Full in his element and always with the right words on his lips, he thanked for the award. We also spoke to him after his win. Check out our video to see how he felt about the show live from the stage.
Category Beauty – Novalanalove
The pretty brunette rightly won the award in the beauty category and set a sign that everything is possible on social media and not only the size 0 can be successful in such a business. She also thanked with touching words to her fans & her family, who supported her live on site.
Category Lifestyle – Matiamubysofia
The woman with the special voice, so she was also anmoderated by Stefanie Giesinger, but the model does much more special than her voice. She deservedly won the Lifestyle Award because she shows her followers every day how important it is to enjoy life to the fullest.
Category Fitness – Dominic Harrisson
The new dad won the award in the category fitness and was not only cheered by his family incl. wife Sara Harrison, but also by the rest of the audience. The well-trained Dominic is a role model for many and also thanked his loyal fans in his acceptance speech.
Category YouTube – Ishtar Isik
Shirin David announced her as a force to be reckoned with in the YouTube scene and the beautiful Youtuber proved that not only by winning the award. Self-confident and down-to-earth, she held her closing speech and thanked her fan base.
Category Music – Moritz Garth
He presented his new single "Boomerang" and convinced the audience. Girlfriend Lisa Marie Schiffner (nominee in the category Lifestyle) watched her boyfriend with tears in her eyes during the acceptance speech and also emphasized afterwards once again how proud she is of him.
Upcoming Category –

Erik Scholz
The country boy, as he calls himself, is proud to have made it. The award honors him especially, he emphasized in his acceptance speech. As a male fashion blogger it is not easy in the scene, which is why he can be all the more proud to have prevailed against 2 female nominees.
Category Idol of the Year – Stefanie Giesinger
The only award that was not voted by the audience went to Stefanie Giesinger this year. Her fighting spirit, her self-confidence, her will and especially her power, for which not only Caro Dauer honored her in her laudation, but also About You with this special award. Her acceptance speech moved the whole audience to tears while her boyfriend Markus Butler (Youtuber) proudly watched from the audience.
The event Behind the Scene – what happened before the award ceremony
The event was not only marked by the presentation of the awards and the subsequent celebration of the winners, but even before the shooting happened backstage a lot. Since only invited guests had access, and these consisted almost exclusively of influencers, About You organized a whole program in the run-up to the show. A Great Hall filled with booths from sponsors who came up with a lot for the guests. From the wheel of fortune at the Got2Be booth to self-designed t-shirts at Levis, personalized socks at Nike or a ball pool at tigha.
McDonalds was also represented with the new McFlurry varieties and Oreo with the new Thin & Krispy. There was a goodie bag on top. In addition to small treats and great drinks at the bar, there was even a service from Hermes, with which you could simply have the goodie bag delivered to your home. The entire entertainment program, which was themed around connecting over canapés and prosecco, took up a lot of time before the show. After the shooting of the show, the same premises with DJ and Absolut Bar were available again to heat up the aftershow party. A thoroughly successful event that was probably a lot of fun for all guests!
https://fivmagazine.com/wp-content/uploads/2018/04/aboutyou-awards-preis-nominierte-verleihung-fashion-beauty-lifestyle-music-youtube-instagram-influencer.jpg
600
1300
Lisa-Marie
/wp-content/uploads/2023/08/fiv-magazine-logo-news-influencer-fashion-interior-travel-real-esates.svg
Lisa-Marie
2018-05-13 12:32:15
2018-05-13 12:32:15
About You Awards: The biggest Influencer Event in Germany + BACKSTAGE VIDEO