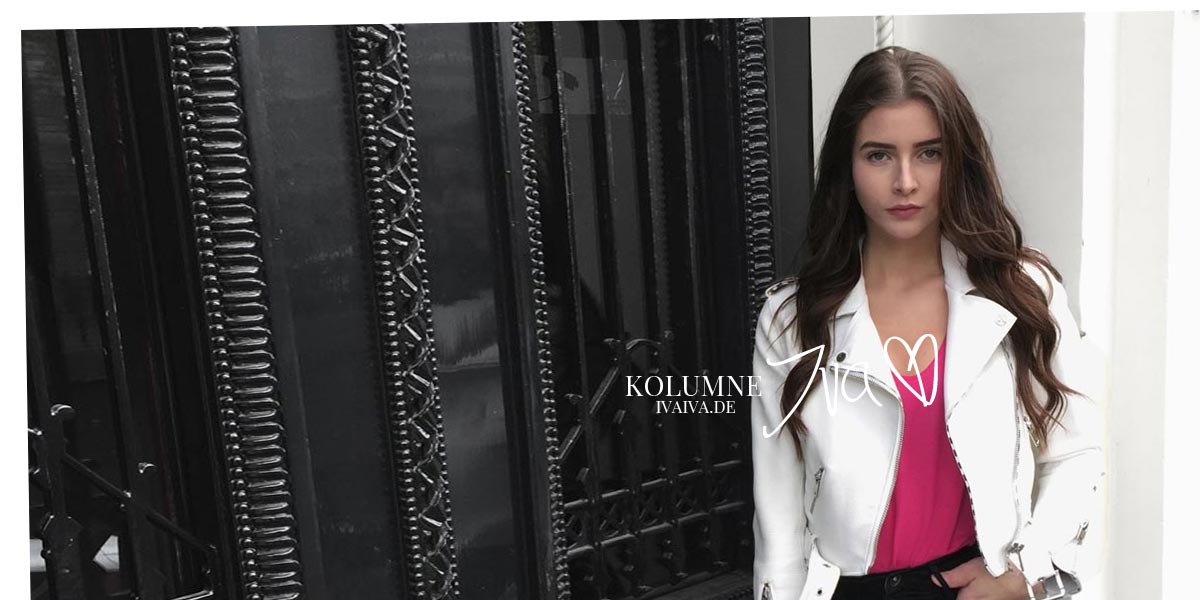 Travel Tips Amsterdam: PINK! The new trend color of spring
Hello my dears, I hope you had nice Easter days! I spent mine with my family in Holland. Even though I'm not really a fan of the Netherlands, I let myself be persuaded to drive again. We lived in a small house near Zandvoort. Advantage? It was right on the sea and lay between dunes, so real holiday feeling + It is only half an hour away from Amsterdam. Disadvantage? It was icy cold and very windy, so you lost this summer feeling as soon as you left the house.
Our trip started on Friday morning, when my step brothers collected me here in Cologne and we drove on towards Zandvoort. Once there, the whole patchwork family was waiting for us. Of course, then first a beach walk in icy temperatures was announced. Not necessarily my highlight of the trip, but apart from the temperature and the wind very nice. Saturday we spent our day in Amsterdam. The city is really beautiful and I have a little bit in love with the old houses with huge windows, but also here it was very cold and how could it be otherwise, windy. What I have to let the Dutch, but nowhere else does the pancake taste as good as there. Of course, we also enjoyed it directly in a 'Pannkokenhus'. I do not know what the Dutch do differently, but somehow they manage to make the pancakes delicious and yet very different. Of course I could not take a little shopping. For such a day full of shopping, sightseeing and running around, the right outfit has to be found. I have for you one or the other Outfitalternative detained.
Black and White – Chic but still warm!
This outfit looks both chic and elite but is also very practical as it keeps you warm at the same time. The sweater by Zara is super warm and super comfortable. Due to its white color and a zipper on the back, it still looks very stylish. For this I have combined a black basic pants Reserved. Since there is a lot going on during a sightseeing / shopping tour, I exceptionally left the high heels at home and put on my Adidas Superstar glitter. The outfit is completed with my bag by Fashion Drug, which is not too big but still big enough so that I could take everything necessary. If that's still too cold for you, you can also combine a white leather jacket on the sweater (pic 2).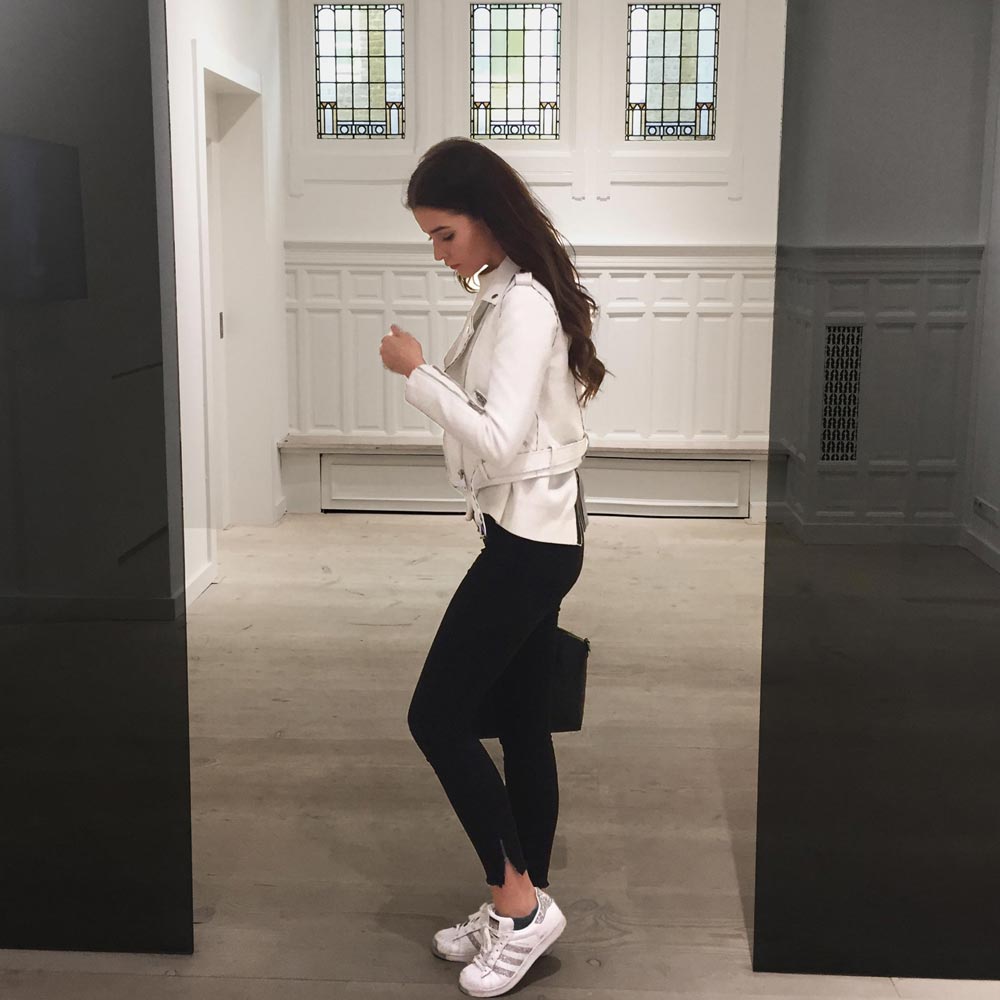 PINK! The new trend color of spring
This outfit is definitely not suitable for the chilblains among you, but you can combine it so great in the summer. It is especially suitable for city trips, as it does very little with very little. Soberly wired, it's just a top, a leather jacket and a pair of jeans, but it looks like much more with the use of colors and accessories. Since it is so simple, this outfit is super comfortable and uncomplicated. I fell in love with the color of the top. The Pink is super trendy this summer and fits particularly well with brown hair. If you like the color, you can find more great pieces in this color at Zara. Just like this top. The jacket, which is definitely my favorite part this spring, you can buy at Zara. These pants are again from Reserved and the bag from Fashion Drug.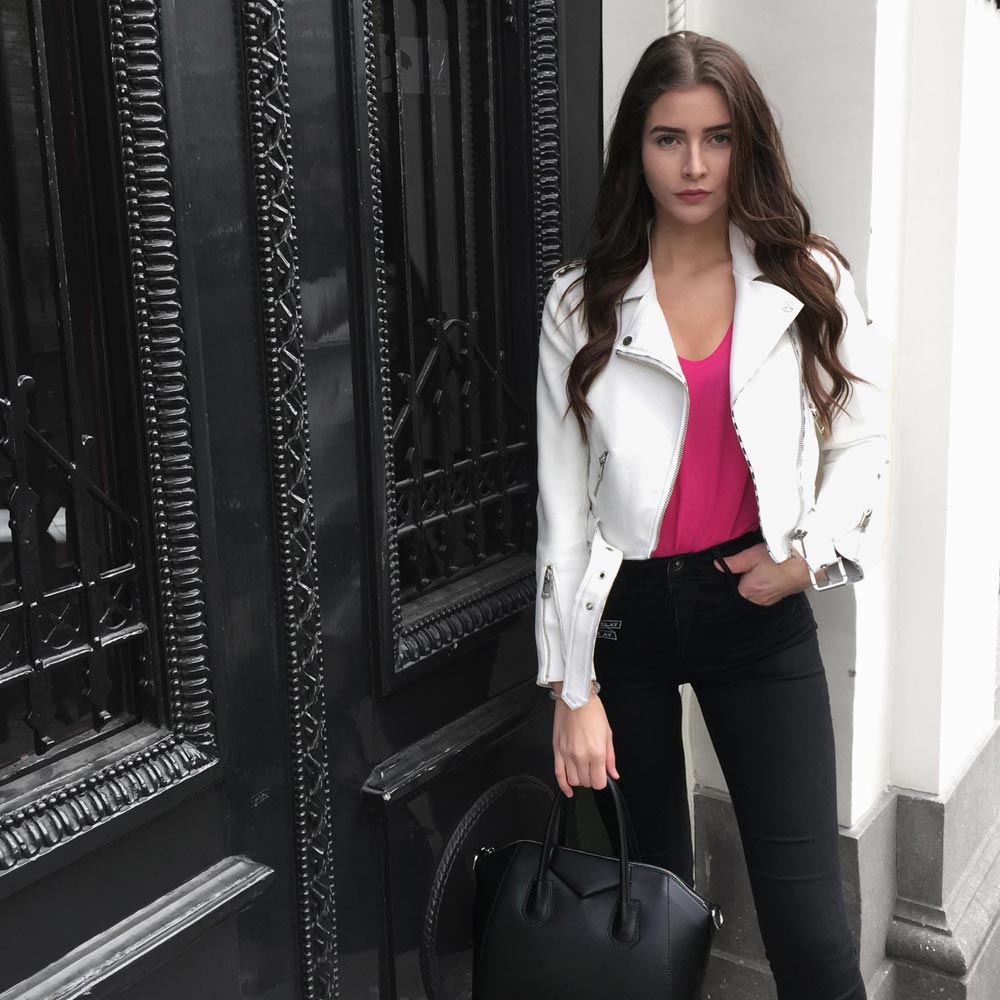 All Black Everything – Outfit Inspiration
As you have noticed by now, this bag is my absolute favorite. It simply has the perfect shape and size to take with you every day. Even with this outfit she manages to upgrade the whole look. The t-shirt is also one of my new achievements from my favorite new online store, Fashion Drug, which is also the bag. It is super comfortable and looks great by the cut and the print just by itself. In addition a black pants with cracks by Zara and your outfit is perfect. Since the temperatures are just a little too fresh for such an outfit, I recommend you to the Edgy look a leather jacket or a cool torn denim jacket. So you complete this look perfectly and have simply created a cool outfit.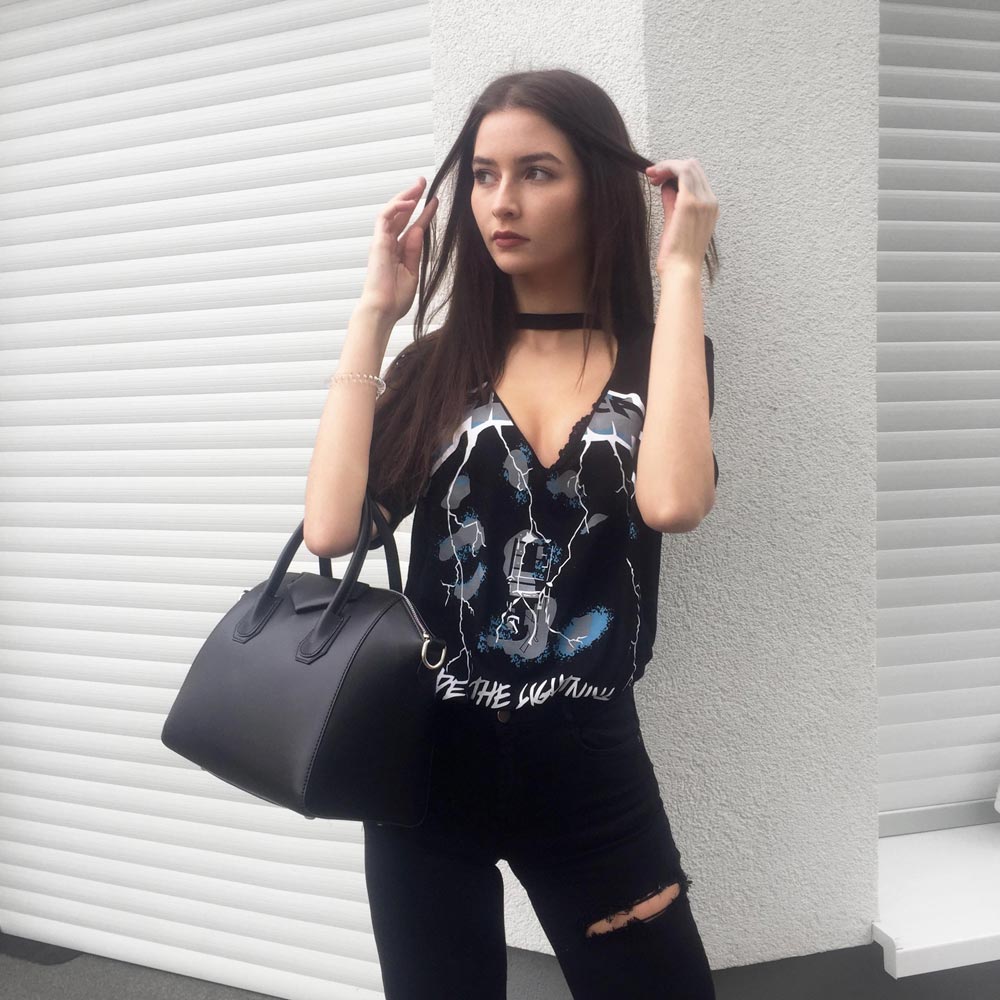 Perfect waves for a perfect outfit
As a last tip, I'll show you something from the field of beauty, with which you can easily spice up your look. The Perfect Beachwaves, as seen from the Victoria's Secret catwalks. Who does not dream of it? It is so easy to get the perfect waves. The nuts and bolts here are the curling iron. it shouldnt be too thin or too thick and should already meet a certain quality. It is also important that you will not get the perfect beachwaves with a flat iron, a curling iron is definitely necessary.
When you have found your perfect curling iron, there is not much left. Just divide your hair into two parts (I always divide them from one ear to the other) and put the top half away. Then you spray your hair with heat protection spray. I use guardian angels from Schwarzkopf got2b. If your curling iron is preheated (in my hair 180 degrees) you take a ca 5cm thick strand and wrap it around your curling iron. After about 20-30 seconds you can let go and continue with the next one. You do all this with all your hair and make sure you all turn in the same direction. When you're done, just spray your hair over the top with hairspray (extra volume) and set it up. If you want, you can also use a comb to go through your hair again. Your beachwaves are done. The whole thing looks like my own.
Such a hairstyle enhances your outfit enormously and makes you look super elegant.
Sunday it was already back home and I was able to rest a little and relax the rest of Easter.
I hope you liked my blog this week and you were able to take some great new Outfitideas / Beauty Tips with you. Who wants to go to Amsterdam, I can only recommend a boat trip through the canals and definitely a Pannkokenhus. I still wish you a great week and a good start to the day! If you have suggestions / suggestions or ideas for a blog post, feel free to write me in the comments!
Your Iva ❤
https://fivmagazine.com/wp-content/uploads/2017/04/travel-amsterdam-outfit-beauty-chic-schwarz-weiss-adidas-superstars-glitter-highheels-ivaiva-kolumne-magazin-mode-deutschland.jpg
600
1200
Lisa-Marie
/wp-content/uploads/2020/07/fiv-magazine-news-instagram-youtube-tiktok-influencer-fashion-interior-jewelry-real-estate-tips-help-logo.png
Lisa-Marie
2017-03-18 12:53:20
2020-02-10 14:43:35
Travel Tips Amsterdam: PINK! The new trend color of spring