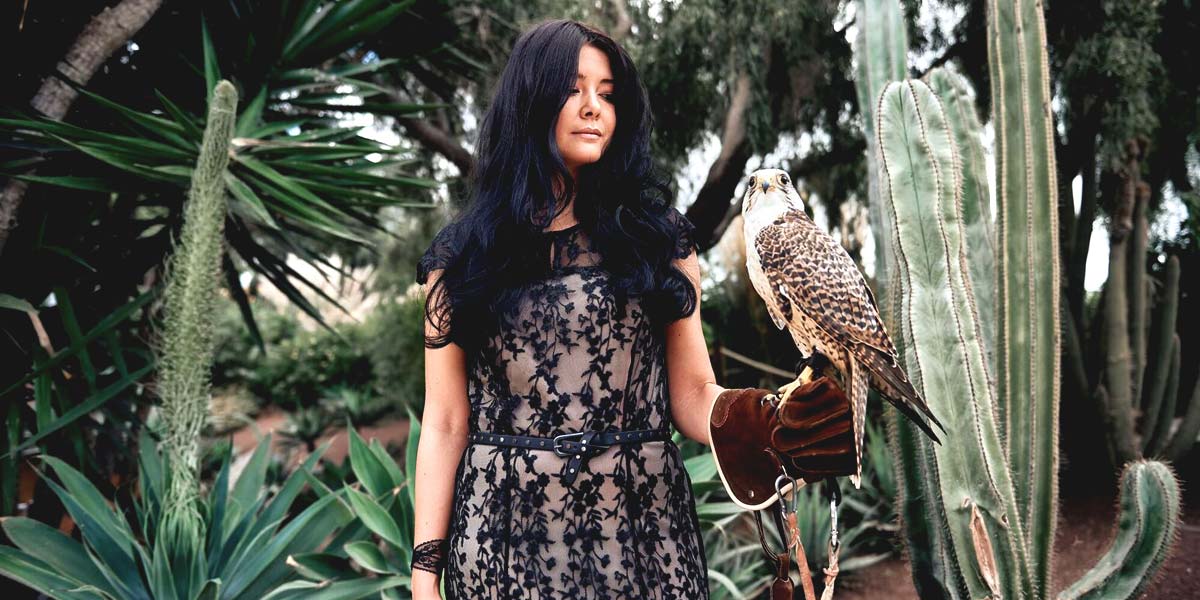 Blogger Irina Engelke about fashion, travel and her interesting side job!
Irina Engelke from Munich not only works successfully as a fashion, beauty and lifestyle blogger, but is also committed to educating schoolchildren about the risks, dangers, but also opportunities that the Internet brings with it. We talked to her about her part-time job at the Hanns-Seidel Foundation, her private life and of course her great passion – fashion.
At home Irina can relax
FIV: Irina, tell me you are a really busy woman. You run the fashion and travel blog "Fashionambit", you are a lecturer for the Hanns-Seidel-Foundation and you also work as a social media consultant. But which woman is really behind all these activities? What kind of person are you in private and how would your friends describe you?
Irina: I love my job. The opportunity to be versatile and to be able to slip into different roles is great. In my private life, however, I tend to be a quiet, balanced person. Because of my job, I have to be very communicative. At home with my family, I enjoy the quiet. My friends would describe me as humorous, helpful and down-to-earth. I like to be alone in between to recharge my batteries.


Germany - Spain - USA
FIV: Despite your very high reach on Instagram (288k subscribers) not all of my readers will know you, introduce yourself, who are you and what does your content on Instagram and your blog consist of?
Irina: I would love to: My name is Irina Engelke and I am a full-time blogger/influencer. My main platforms are my blog www.fashionambit.com and my Instagram account @fashionambit. I like to present my daily outfits from the latest collections of different brands from H&M to Diesel to my followers for inspiration and give styling tips. Besides fashion, beauty and lifestyle topics on the latest novelties of the season can be found. Furthermore, I take my followers on my travels and shoots via Instagram, such as the last trip to Lanzarote for a shoot for C&A where we were photographed with other bloggers with exotic birds.
FIV: Luxury, fashion and travel are very important parts of your life, which you like to share with people. If you had to choose one of these things for the rest of your life, which would it be?
Irina: Hmm, that's a tricky question. I love to travel and discover new cultures. I love the fashion world even a bit more. I think that if I had to choose one of these things, I would definitely choose fashion. Thankfully, I don't have to though and I can enjoy life to the fullest.
"Love makes us truly happy"
FIV: Most young girls dream about your job as a blogger, the luxury and the publicity. Of course you love your job, but what makes you really happy?
Irina: Important for me is the option to live out my potential, to try out different activities and to grow beyond my limits. For me, happiness means not only personal development but also a strong family bond. At the moment I am single and my family is very important to me. Of course, I dream of starting a family of my own someday. Love makes us truly happy.
FIV: You regularly post new outfit ideas on your blog as well as on your Instagram account, which serve as inspiration and to style after. It's certainly not easy to create a completely new outfit every day, where do you get the inspiration for your looks?
Irina: To be up to date, I get inspired daily by outfits on relevant social media channels. Every season I watch the fashion shows from Milan, New York, Paris and London. Fashion magazines also serve as a source of inspiration for me. Another habit or almost an addiction is to browse the "New In" category at different online stores. That way I know exactly what's currently hot.
"Even basic t-shirt and simple jeans can make the complete look different with unusual shoes as well as bags"
FIV: You constantly have to follow the latest trends and yet all your outfits have a personal "touch". In your opinion, what should not be missing in a woman's wardrobe?
Irina: It's important to develop your own touch. Even if you try out different styles. But what always enhances an outfit are extravagant shoes and accessories. Even a basic t-shirt and simple jeans with unusual shoes and bags can make the complete look different.
Carrie Bradshaw or Irina Engelke?
FIV: As a blogger, you also have to deal with styling for different seasons. Which season do you like styling technically best? It's already winter by now. What do you think the perfect winter look looks like?
Irina: Actually, winter is my favorite season for styling. Because it gives us the chance to put together different colors and materials in a layering look. I especially love the combination of knitwear, suede and smooth leather. I combine casual cardigans and overzised biker jackets or fake fur coats with elegant dresses. That's how I create a style break á la Carrie Bradshaw.
"Besides skincare products, I value inner beauty".
FIV: Under the category "Beauty" you can also find some entries in your blog. Now let's get out of the sewing box, do you have some insider tips against dry skin in winter for my readers? What are your top 5 beauty essentials that you would never survive the winter without?
Irina: My personal winter beauty essentials are hand cream, lipstick and a good moisturizer – and I use these beauty items throughout. My tip: In terms of care, everyone should develop a routine for themselves to protect and strengthen the skin and hair from the outside and inside. In addition to skincare products, I value inner beauty. For clear skin, I eat oatmeal every morning. Four tablets of brewer's yeast a day guarantee healthy hair and stable fingernails.
FIV: In your job you have to deal with a lot of people from the fashion industry. Among all these people you often notice outfit combinations that you don't like at all. Explain which pieces/colors you should never combine with each other and what is the biggest fashion sin of 2017 for you?
Irina: An interesting question: I am a tolerant person and accept my fellow men as they are. For myself there are almost no no-go's than the usual ones like if you show cleavage you shouldn't wear a miniskirt in parallel, etc. In my opinion, following the 'classic' styling rules is already enough. I am a fan of 'flashy birds' and welcome standing out from the crowd. Everyone should reinvent themselves regularly to create their own style and stand out from the crowd.
Work as lecturer at the Hanns-Seidel-Foundation
FIV: As already mentioned, you not only work as a fashion blogger, but also as a lecturer for the Hanns Seidel Foundation. How long exactly have you been involved with the foundation and what does your work there consist of?
Irina: I have been involved in this project for almost a year. My task in the workshop is to educate students aged 11 to 14 about social media platforms, especially Instagram and Snapchat. Specifically, this means that we point out the risks of the platforms and make them aware of how to protect their privacy. Furthermore, we teach the students how to deal with the issue of bullying. Of course, I also give lectures about the opportunities in professional terms: how to use the channels to earn money. Be it from the perspective of a business consultant or as a self-employed influencer.
FIV: In this field you work with children and young people. What advice would you give them for a "career start" on Instagram or their own blog?
Irina: In my workshops I explain to the students how they should ideally deal with these channels and about the ways of monetization. It is important that the young students understand that it takes certain basics to understand the economic processes. In order for them to actually make money from the account, the right education is necessary. Training, apprenticeships or a well-rounded degree, such as in business management, are definitely beneficial.
Moreover, image quality is of great importance on Instagram as it is primarily a visual platform.
FIV: As a blogger and influencer on Instagram, you are very much in the public eye and are certainly invited to special events and constantly planning new trips. Do you have anything special coming up in the near future?
Irina: I recently went to Lanzarote with the brand C&A. It was one of the most exciting and beautiful photo shoots this year. We shot New Year's Eve as well as holiday outfits with three other bloggers. The most stunning locations were chosen for the productions. From beautiful volcanic soil landscapes by the ocean to clean as well as minimalist hotel atmospheres and posing with hawks or parrots. The whole team as well as us bloggers were thrilled by the breathtaking scenery and the final motifs.
In December I'm planning smaller trips to Berlin, London and within Germany. I'm looking forward to taking my followers on my trips via Instagram stories. Stay tuned and follow me!
https://fivmagazine.com/wp-content/uploads/2017/12/irina-engelke-influencer-blogger-frau-indigo-falke-natur-gruen-tier.jpg
600
1200
Lisa-Marie
/wp-content/uploads/2023/08/fiv-magazine-logo-news-influencer-fashion-interior-travel-real-esates.svg
Lisa-Marie
2017-12-06 18:00:09
2017-12-06 18:00:09
Blogger Irina Engelke about fashion, travel and her interesting side job!