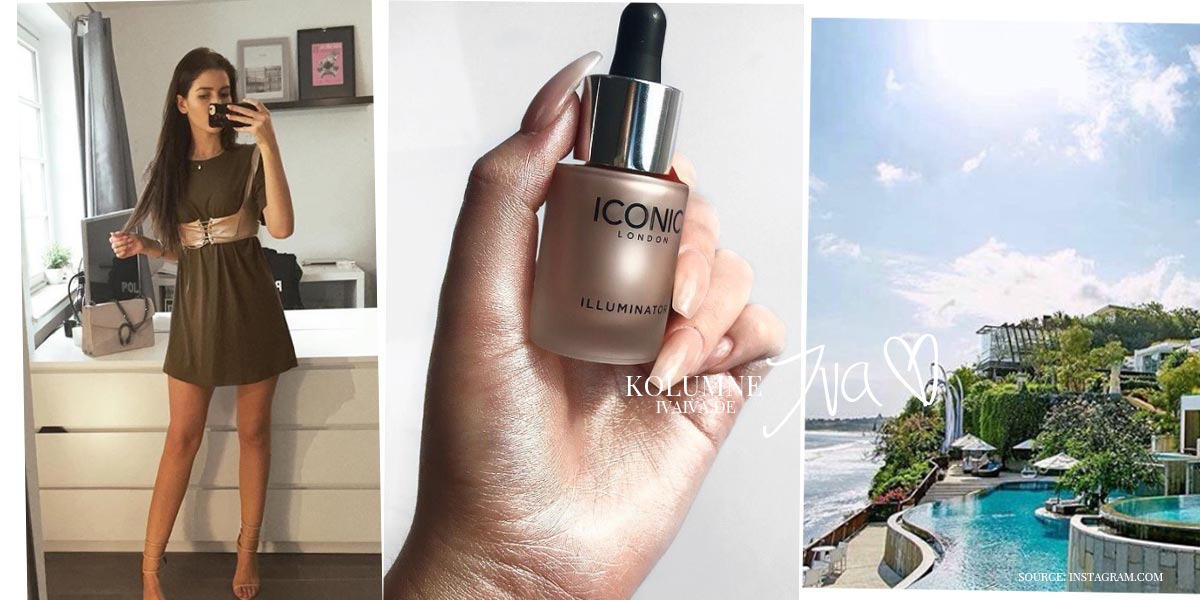 Spring is here! Top 3 Fashion, Beauty & Travel Trends for Spring 2017
Hello my dear! Some of you may already know me from my Youtube videos with Soraya. I am Iva, 19 years old and currently living in Cologne. I love fashion and beauty and now I got the chance to start my first own column and blog about fashion, beauty, travel and lifestyle for you! In time for the start of spring and the slowly but surely rising temperatures, I've put together my top 3 spring favourites and the latest trends in fashion, beauty and travel. I hope you enjoy reading and keep following my now weekly column! Click here to go straight to each of the spring trends:
Fashion Trends: The Come Back of the 20th Century!
Colourful embroidery – brands like Zara and Co. take you into a fashion fairytale world
Flowers and bright colors. Spring shines not only at the front door, but also on the clothes. Floral print fabrics and especially embroidered flowers are mega trendy! You can see them everywhere at the moment. On pants, tops, bags and even on shoes. Such an it-piece can be combined super and the details directly enhance every outfit. Inspired by the big names like Gucci and Valentino, fashion brands like Zara are now taking their customers into a blooming fantasy world.
Waist belts, corsages and lace-ups – the 80s are back in fashion
A trend that I personally love! The 80's are back and wide waist belts are back in style! However, the trend is not limited to belt buckles like in the 80s, but is combined with another trend in 2017 – lacing! So, who would have thought it, corsages are coming back into fashion. But instead of wearing them under your clothes, like in the 16th century, the garment that actually belongs to the undergarment is misappropriated and worn over your clothes. So at the moment a mixture of waist belt and corset are mega hip. Best combined on blouses, dresses or sweater dresses.
However, lace-ups are not limited to belts. They are everywhere at the moment. On pants, skirts, tops, dresses and shoes. I love the trend and wear it myself very often. You can combine the parts super and they thus not only in everyday life, but also to go out or party on pull!
Fishnet tights come back! – The taboo topic becomes a mega trend
Formerly frowned upon and not liked by society, fishnet stockings have made their breakthrough in the fashion world. Whether fine mesh or very large, the fishnet stockings are currently very trendy and not only under dresses and skirts, but also under pants, so that only a part at the ankle shines out, or simply combine a crop top with pants, and wear the fishnet tights over the waistband, so that it is still visible there. A super trend, as I've always been a fan of the tights as they show off the leg beautifully! Other plus point, they are airy and do not keep warm, like normal tights, thus super also in the summer combinable.
Beauty Trends Spring 2017 – The latest beauty products and insider tips
Summer Glow – The Make-Up Trend from the USA
Have a beautiful, fresh complexion like summer already in spring? After the highlighter trend, it is now in combination with this trend that the face gets a natural glow. This is possible, for example, with the Illuminator from Iconic. Simply mix a few drops under the make-up and your skin will shine in a summery tanned complexion.
Blush up your life! – The new blush trends 2017
Cheeks as if kissed by the sun. You can enhance your flawless, summery complexion with a pink blush. The Baked Blush by Milani Cosemtics not only gives you a touch of pink, but also an extra glow!
Glowing hair colours – How to let your hair shine in new splendour
Whether brown or blond, radiant hair and fresh colors bring back the spring feeling. Who does not want to go directly to the hairdresser, can also find great helpers in the drugstore, which brings the hair color to shine and refreshes this and the whole without your hair by color to attack! The products of John Frieda, for example, help your hair to a new shine!
Travel Trends Spring 2017 – Cheap and still like in paradise!
Whether beach, city or rather wellness? Spring is a great time to go on vacation and relax. My favorite will always be the beach vacation, but especially in spring, city trips are also very popular! It's not too hot and not too cold to go sightseeing or just take a sight seeing bus through the city and enjoy the first rays of sun on your skin! If you're a winter fan, you can also take advantage of the last chance to unpack your skis and hit the slopes, as the ski season ends soon. If you don't have a big budget at the beginning of the year or want to find great deals, I can only recommend the site Secret Escapes! Not only great prices, but also exciting trips all over the world! I am currently planning my trips for 2017 and will certainly book a trip there!
I hope you liked my top 3 from fashion, beauty and travel and maybe one or the other tip helped! If you have other Spring favorites, travel tips, suggestions for improvement or wish topics for my next column, write me everything in the comments I'm happy about any feedback from you!
Have another wonderful day and a great start to spring!
Your Iva ❤
https://fivmagazine.com/wp-content/uploads/2017/03/fruehjahr-reise-trends-taillenguertel-korsagen-schnuerungen-netzstrumpfhosen-tabu-mega-accessoire-reisetipp-blogger-ivaiva-kolumne.jpg
600
1200
Stephan
/wp-content/uploads/2023/08/fiv-magazine-logo-news-influencer-fashion-interior-travel-real-esates.svg
Stephan
2017-03-09 12:18:02
2017-03-09 12:18:02
Spring is here! Top 3 Fashion, Beauty & Travel Trends for Spring 2017