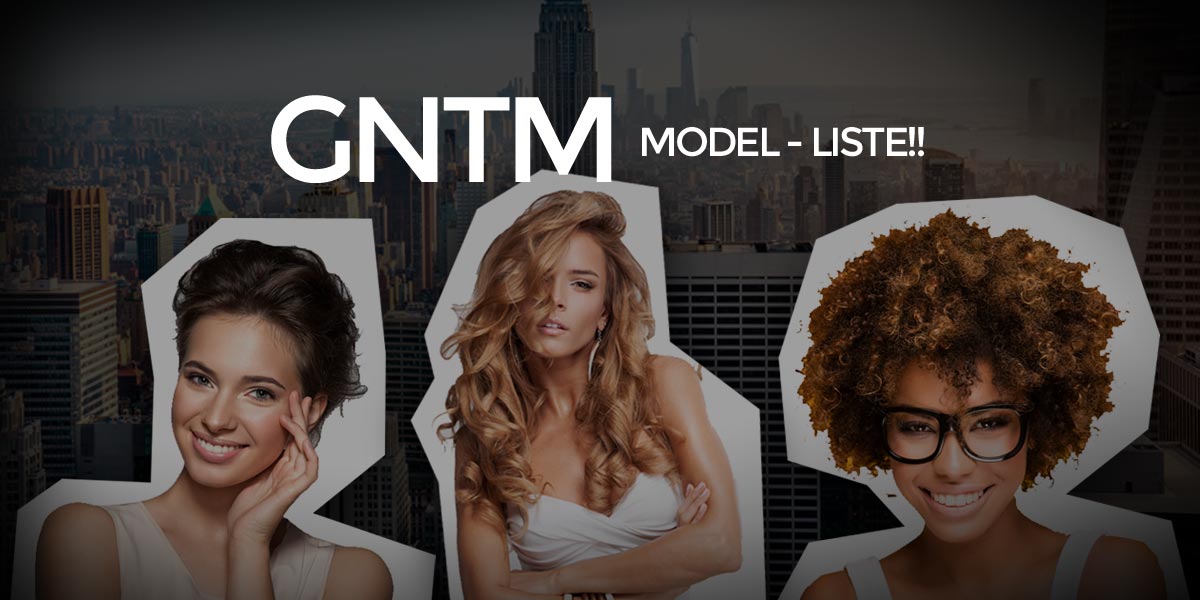 GNTM Model List – 12 seasons, 24 candidates
So often the question comes up. What actually happened to the candidates and winners of the past seasons of Germany's next Topmodel? I recently asked myself this question and compiled a list for you in which I show you 24 candidates from 12 seasons who are still standing in front of the camera and modeling today. I was very surprised to find one or two names that I had completely forgotten about and then others that you don't even associate with the casting show anymore because they have built their own name. From Jungle Camp to the catwalks in Milan, Paris and New York, you can really find everything among the ex-candidates. Therefore, I present you here my top 24 ex GNTM contestants.
Here you can find all the new GNTM contestants 2020
Season 1
Lena Gerke – From casting show to mega star
Lena Gerke is the poster child for what you can do with a casting show win. Since her victory in 2006, she is now not only a sought-after top model, but also a presenter, actress, it-girl and jury member on other casting shows. The beautiful blonde has achieved what probably all participants in Germany's next Topmodel will ever dream of.


Germany - Spain - USA
Micaela Schäfer – the somewhat different model career
As the eighth placed contestant of the first season of Germany's next Topmodel, Micaela Schäfer also built up a name for herself until today. The now 34-year-old has taken part in many reality shows, with formats such as Big Brother, I'm a Star, Get Me Out of Here and the Cinderella Experiment of course not to be missed. She is an erotic model and also attracts attention with skimpy outfits and a lot of revealing in her performances as a DJane. You can't say she wouldn't have made it as a C-list celebrity, but whether this is the modeling career the other Germany's next Topmodel contestants dream of is questionable.
Season 2
Fiona Erdmann – From crybaby to jungle camp
After finishing fourth in the second season of Germany's next Topmodel, Erdmann worked on various TV formats, such as 'Anna und die Liebe' on Sat. 1 or 'Ich bin ein Star, holt mich hier raus'. With the modeling, she never really started through. The highlight of her modeling career was probably her appearance in the German edition of Playboy in May 2008.
Barbara Meier – Lost and yet successful
After winning the second season of Germany's next Topmodel, she continued to work a lot as a model. She appeared on many covers of German and international magazines, but is also the face for brands like Pantene, C&A, Yogurette and Müller Milch. In 2008 she got her first role as an actress and was even signed to an acting agency afterwards.
Season 3
Gina-Lisa Lohfink – From model dream to reality star
The next Jungle Camp contestant. Yes, also Gina-Lisa the care child and the crybaby from season 3 of Germany's next Topmodel landed in reality TV and took part in the usual formats 'I am a star, get me out of here' and 'Promi Big Brother'. Together with ex-candidate Micaela Schäfer she hosted the erotic fair Venus and the 'Miss Venus 2012' competition. So you can't really talk about a model career with her either.
Season 4
Sara Nuru – the first dark-skinned winner
After Sara Nuru won the 4th season of Germany's next Topmodel she continued her career as a model mainly on the big catwalks of this world. Whether Milan, Paris or New York, she walks everywhere and that for famous designers, such as Roberto Cavalli. However, she continues to model and is the face of big companies like Maybeline Jade, Rebook, Lascana or Lufthansa. She is also a presenter and actress. She has also managed to create her own name in the industry.
Sarina Nowak – From Size 0 to Curvy Model
Sarina Nowak makes headlines. After she finished 6th in the fourth season, she disappeared from the scene for the time being. In the spring of 2017, however, she returns as a Curvy Model. She now wants to really take off with her curves and conquer the model world.
Check out this post on Instagram
Larissa Marolt – Jungle Camp and Jury Appearances
Larissa Marolt won the first season of Austria's next Topmodel in 2009 and then came eighth on Germany's next Topmodel. Since then she is mainly active as an actress, presenter and jury member of some Austrian TV formats, but also participated in the German reality show 'Ich bin ein Star, holt mich hier raus'. Her modeling career has not taken off.
Season 5
Alisar Ailabouni – Winner and still a model
I also thought she had disappeared. However, closer investigation revealed that Alisar is still modeling successfully today. After ending her winning contract with ONEeins Management early, she moved on to top agencies throughout Europe and America. Eskimo Models, City Models Paris, Elite Models Milan, Elite Models London, PARS Management in Germany and Mc2 Modles in New York.
Season 6
Rebecca Mir – Topmodel. Presenter and A-list celebrity
Although Rebecca Mir was only second in the sixth season of Germany's next Topmodel, her career took off after the casting show. Catwalk jobs, covers for magazines, presenter at ProSieben. Currently she is under contract with B M W Communications and hosts many TV formats, models and is in a relationship with the dancer and celebrity Massimo Sinató.
Jana Beller – winner and still no steep career
Although Jana was the winner of the sixth season, her career is not as successful as that of Rebecca Mir. Nevertheless, she still models today and is, among other things, the face of the make-up company Misslyn. She is represented by Louisa Models in Munich, View Management in Barcelona and Elite Model Management in London.
Season 7
Louisa Hartema – Winner and Top Model
This winner of Germany's next Topmodel has also made it. She lives in New York City, is under contract with the biggest model agency in the world (IMG Models) and is still the face of companies like Escada.
Season 8
Anna Maria Damm – From GNTM to Youtube star
Although she only placed fifth in the eighth season of Germany's next Topmodel, she has since taken off with her lifestyle and fashion blog. She also does YouTube and has become an Instagram star. The influencer has built up a remarkable fanbase of 935K Instagram followers and shows that despite no modeling career, she has a lot of potential!
Lovelyn Enebechi – youngest winner ever
Only 16 years old, Lovelyn won the eighth season of Germany's next Topmodel on May 30, 2013. She was dubbed 'Baby Beyoncé' by Heidi Klum and has been under contract with ONEeins Management since her victory.
Season 9
Stefanie Giesinger – Around the world as a top model
Stefanie Giesinger. She made it just like Lena Gerke or Rebecca Mir before her. She leads THE model life that every girl dreams of. She walks for all the big designers, is the advertising face of brands like Maybellin Jade and Co. and strives for the Victoria's Secret catwalk. She also travels the world and is newly in love with male model Marcus Butler. She has also built up an impressive Instagram fanbase of 2.5 million followers at just 20 years old.
Ivana Teklic – 3rd place and still top model
After her participation in the 9th season of Germany's next Topmodel Ivana started as a catwalk model. She walks at all the fashion weeks for all the big designers. She has also managed to make a name for herself in the industry.
Betty Dove – From Model to Instagram Star
After finishing fourth in the 9th season of Germany's next Topmodel, she took off as an Instagram star and presenter for Prosieben. Her Instagram fanbase of now 812K opens some doors for her of course also to one or the other model job. With her always positive manner she convinces her fans.
Season 10
Darya Strelnikova – Model and It-Girl
After finishing fifth in the 10th season of Germany's next Topmodel, she got herself a job or two in the modeling world. But mainly she lives her usual lifestyle full of luxury and shopping and lets her 186K followers on Instagram participate in it every day.
Anuthida Ploypetch – Model and Instagram Star
Anuthida has also built a fanbase on Instagram. She provides her 375K daily posts about her model life or lifestyle posts with other Instagram stars, like Caroline Einhoff or Elena S. Carrière.
Vanessa Fuchs – Winner and still a model
Vanessa Fuchs, the winner of the 10th season of Germany's next Topmodel is still under contract with the model agency ONEeins and continues to model after her victory. She has also built up an Instagram fanbase of 298K.
Season 11
Taynara Wolf – TV career instead of model career
The fifth placed of the 11th season of Germnay's next Topmodel was already seen in the same year of broadcast as a candidate of the TV format Deutschland tanzt. Shortly after the finale, she was signed by an agency for film and television and now only models on the side. Of course, the pretty dancer has also built up an Instagram fanbase of 287K.
Season 12
Greta Faeser – Good chances of winning through experience
Greta Faeser, candidate of the current season Germany's next Topmodel. She is the Zuscauer favorite and has good chances of winning, because the 21 year old is not completely inexperienced in the casting show. She convinces every week anew and has also won Heidi as a fan.
Giuliana Radermacher – First Transgender Model at GNTM!
Giuliana is the first transgender model to take part in Germany's next Topmodel. In the current season she is also a viewer favorite and brings every week anew top performances. She has a good chance to win, because she is great in shootings as well as on the catwalk. Find out more about Giuliana here.
https://fivmagazine.com/wp-content/uploads/2017/03/blogbeitragsbild-gntm-model-liste-ex-kandidatinnen-lena-gerke-stefanie-giesinger-sara-nuru.jpg
600
1200
Stephan
/wp-content/uploads/2023/08/fiv-magazine-logo-news-influencer-fashion-interior-travel-real-esates.svg
Stephan
2017-03-02 16:52:46
2017-03-02 16:52:46
GNTM Model List – 12 seasons, 24 candidates