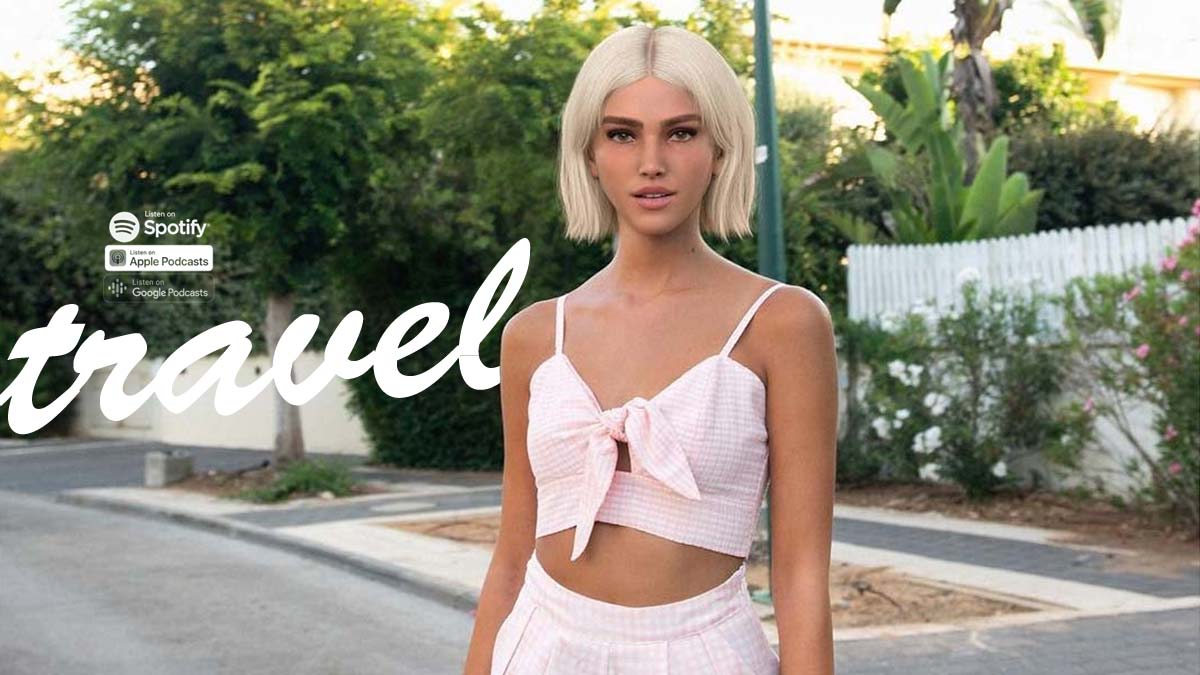 FIV Travel Podcast with Ella (German)! Now on Spotify, Deezer, Google, Apple & Co.
FIV Travel Podcast with Ella – Maybe you've heard of Ella the Virtual Reality Model because you've seen her on the virtual catwalk? Now, for the first time, you can hear her voice in the first AI podcast (with artificial intelligence)! Ella is no longer just at Fashion Weeks, she travels all over the world. She now presents the travel tips in FIV Magazine Germany. The best travel destinations in Europe and around the world, presented by an artificial intelligence! Let Ella take you to the most beautiful beaches in Spain and Portugal, the most impressive mountains in Norway, the best places to eat and party in Marbella and many more worth seeing corners of the world. Ella's travel tips are now available in English, presented by Zoe! You can stream her new travel podcast now, on Spotify, Deezer, Google, Amazon, Apple Podcast & Co.
Ella takes you on a journey
First, Ella makes her way through Europe! She has always wanted to explore southern Spain. From Marbella on through Spain to Portugal, via Paris and Brittany in France, Italy to Norway. Ella wants to discover the whole world. Of course, in her first Travel Podcast, together with FIV Magazine, she takes you with her on her travels. Get to know the most different places and cultures!
You can listen to the first episodes where Ella goes on a trip to Europe and many more episodes where she visits beautiful destinations around the world on all these platforms.
Listen to the first episodes of the new travel podcast! Here are the first 5 episodes for you.
Marbella insider tips: Juan's Restaurant – Episode 1
In the first episode, Ella takes you to Marbella. With these exclusive insider tips, you'll definitely experience everything the city has to offer.
Spain: beach vacation by the sea – episode 2
The second episode is all about the ideal beach vacation by the sea including hotel tips!
Portugal trip: Summer Parties! – Episode 3
Episode three is all about Portugal and the best places to experience the perfect summer vacation.
A tour of France – Episode 4
Besides the city of love, Paris, Ella shows you other popular destinations in France in episode 4.
Romantic vacation in Brittany – episode 5
Planning to spend some time with your loved ones? Ella introduces you to Brittany, where you can spend a romantic vacation in the vineyards.
Podcast in English with Zoe
Virtual reality is already amazing. First our VR model Zoe walks at Fashion Week in Moscow and Berlin, now she travels all over Europe and discovers the most beautiful places everywhere. On her trip she has collected a lot of great memories, which she then shared in our podcast. So get fascinated and listen to what Zoe has to say on Spotify, Deezer, Google, Amazon, Apple Podcast & Co.
https://fivmagazine.com/wp-content/uploads/2022/01/magazin-podcast-reisen-urlaub-strand-berge-tips-spotify-itunes-apple.jpg
675
1200
F_kinski
/wp-content/uploads/2020/07/fiv-magazine-news-instagram-youtube-tiktok-influencer-fashion-interior-jewelry-real-estate-tips-help-logo.png
F_kinski
2022-01-14 13:53:06
2022-02-26 17:30:14
FIV Travel Podcast with Ella (German)! Now on Spotify, Deezer, Google, Apple & Co.