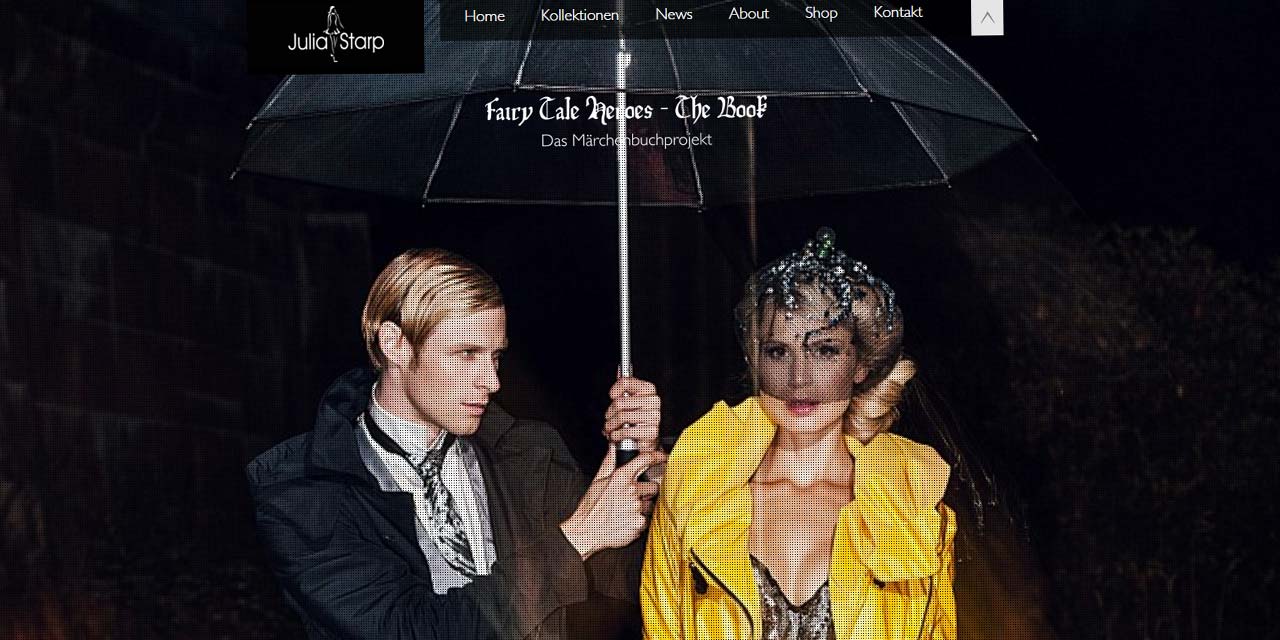 Designer Julia Starp – About her fashion style and sustainability
FIV: Julia, you founded your label in 2009 and are at home as a designer at Fashion Week Berlin. How did you manage to become so successful so quickly?
I was in the right place at the right time. At that time, sustainable fashion was hard to find in the luxury segment and I had a unique selling point, so to speak. Sponsors and customers, but above all my friends, believed in me. This encouraged me to be on the right path.


Germany - Spain - USA
FIV: How would you describe your fashion style and collections?
My style is elegant and detail-oriented. I love to play with the silhouette and thereby create completely new forms. This results in unusual collar constructions, sleeve shapes and functions that can completely change a garment with just a few hand movements.
FIV: You attach great importance to sustainability. What does that mean for your creations and why is that particularly important to you?
Freely according to the motto: What you do not want to be done to you, do not do to others. Especially in the fashion and textile industry fairness is unfortunately rather rare. Mass production and poor working conditions make the clothes cheap, but their value is no longer appreciated. I have smaller production runs, I know the production sites and their employees personally, because I am also on site (in Hamburg, at the disabled workshop Stiftung Mensch or in Poland) I select the fabrics according to similar criteria. Mostly certified according to the GOTS (Global Organic Textile Standard) or BLUESIGN.


Screenshot, Website Lookbook / 2016
FIV: What inspired you to become a fashion designer?
It must have been because I grew up in the 80s. I thought fashion was creepy as a kid. I sewed my own costumes back then (which in retrospect are probably not much less creepy now) I thought as a fashion designer I could do something about it and design things I liked better. In the meantime I don't find the 80s fashion that bad anymore, some people even tell me that my fashion goes in that direction.
FIV: Where do you get your ideas and motivations from?
I am a doll designer. That means I look for a fabric I like, throw it over the dressmaker's dummy and start draping. That's when I get most of my ideas, which I then develop further directly in my cutting program on the computer. But I also think that a lot of things flow in subconsciously, what surrounds me, where I am.
FIV: What do you enjoy most about your job?
That I'm free. I'm dividing myself up. I don't only make fashion, I get in touch with a lot of interesting and great people. I just spent a year working on a storybook for charity to give my collection a wider meaning than "just good to look at". It's so diverse and creative.
FIV: How does a fashion show work behind the scenes, from a designer's point of view?
The 20 minutes before it starts, everything is once again terribly hectic. Is everything ready? Has nothing been forgotten? And if so, how can it still be saved? When it finally starts, everything is in a state of flux. I always stand right before the catwalk entrance, have the last look at the models and try to remove the last fluff and straighten wrinkles. After 20 minutes it's all over and I ask myself how 4 months of work could scurry down the catwalk so quickly.
FIV: What is your emotional state before and after a big show?
It's still exciting. The first of the eight shows so far was definitely still the most knee-slapping. You can't deny a certain routine, but it's always new and different. That's why I'm very interested in creating a certain tension in the shows. I myself have watched many fashion shows, I often see the models "stalking up and down", with frozen emotions. Through music and certain choreography, fashion can tell a story. After the show, when (so far luckily always) everything has worked out well, the stones fall off and I'm just happy and glad.
FIV: Do you have "little helpers" at Fashion Week or other catwalks to make sure your fashion is presented in the "best light"?
A real little helper is my dear Aleksa, who has accompanied me to the shows for years and brings in great impulses as a stylist. As well as my circle of friends, who like to lend a hand when it comes to the trip with trailer to Berlin. Without them it would not work!
FIV: What is especially important to you when choosing a model?
Depending on the collection and theme, the right charisma and even more, a proper gait. The model can still be so pretty and graceful, if she can not set her feet properly is a blatant break. But it is also important to me that the model feels comfortable and confident with the outfit, the outfit is worn by the model, but often I see that the model is carried further by the outfit. That makes the appearance perfect.
FIV: What do you want to convey with your fashion?
Individuality, femininity and exclusivity. Fashion is zeitgeist, which can express so much. It can go out of fashion, it can become modern again or it is timeless. I am more for timeless fashion, which of course also fits best with the sustainable theme.
FIV: What role does fashion play in your private life?
I always go through different phases. Sometimes I want to be more elegant and then again casual. When I'm working on new collections, preparing projects and only in my studio, I'm happy to be able to pull something together from my wardrobe. On the road, on appointments and in meetings, however, I like to make sure that it fits a good appearance.
FIV: Soon it's that time again: it's time to celebrate into the new year. Preferably in a fashionable highlight. What is the perfect New Year's Eve outfit for you?
Since I celebrate quite ordinarily with my best friends, I go quite relaxed and well-dressed. The fashion highlights of my cocktail dresses are then used for the New Year receptions and balls 😉
FIV: Which designers and labels do you admire privately?
I have always been a fan of Issey Miyake and Yamamoto. Sculptural fashion, mostly rather less wearable but so great understood as art.
FIV: What are your fashion must-haves for winter/spring 2015/2016?
A knitted dress , cozy but chic combined with tights and boot tops or ankle boots. In addition, a short jacket in biker style and a cozy scarf.
FIV: How can we imagine your new collection that you will present at the next Fashion Week Berlin?
Since I'm busy with my current fairy tale book project this whole year, I won't show another collection until the summer fashion week. I already have a lot of impressions and ideas running through my head, which I will consolidate in January. But it is certain that I will do more in the area of menswear and expand the casual jackets and hoodie collection.
FIV: Thank you for the interview Julia!
https://fivmagazine.com/wp-content/uploads/2015/12/designerin-julia-starp-mode-stil-nachhaltigkeit-berlin-interview-models-lookbook-interview.jpg
640
1280
Stephan
/wp-content/uploads/2023/08/fiv-magazine-logo-news-influencer-fashion-interior-travel-real-esates.svg
Stephan
2016-02-09 18:23:23
2016-02-09 18:23:23
Designer Julia Starp – About her fashion style and sustainability