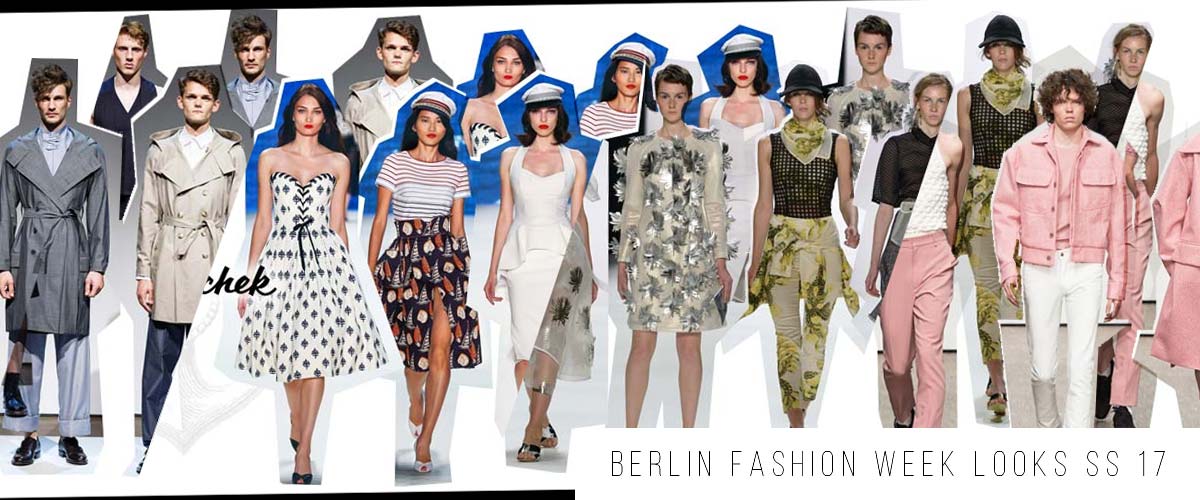 Berlin Fashion Week SS 2017: A short review
For the spring/summer presentation of the new collections many Berlin designers, but also international fashion designers and up-and-coming talents gathered at Designer for Tomorrow (by FashionID / Peek & Cloppenburg). However, two heavyweights took over the opening and closing. Harald Glööckler and Michael Michalsky. This season's fashion week in Berlin ran from 27 June to 01 July. At the beginning and end of the week the big names were on the show stage. Harald Glööckler and Michael Michalsky. Already one day before the official start star designer Harald Glööckler invited to his exclusive fashion show in Hotel de Rome. With numerous, dazzling personalities from the media industry, media and press representatives celebrated the new "Pompöös" collection. Even VIPs like… walked the catwalk. Here you can find the whole article + photos of the show: Harald Glööcker fashion show Fashion Week. Of course in a high class ambience, as well as Michael Michalsky, who brought this year's Berlin Fashion Week to a close with his "Stylenight". With classical music, baroque walls.
Berlin Fashion Week 2016 – The old, new location
This season the Berlin Fashion Week runway shows moved from the Brandenburg Gate back to the Erika Hess Ice Stadium. The start of the Fashion Week was Tuesday morning at the Erika-Hess-Eisstadion. As we already wrote in the article Berlin Fashion Week SS 2017. Due to the European Football Championship, the location changed again this year from the Brandenburg Gate to the Eisstadtion. Also due to the continued high payment for the city location. Ie. this year it went from Mitte to Berlin Wedding for the fashion world. A good decision? A look at Berlin Wedding quickly shows that the district is multicultural, but does not offer any internationality for a fashion week. The only small minus point of an otherwise great organized Fashion Week.


Germany - Spain - USA
Every day has its fixed schedule. For the first show, all visitors have to wait in front of the runway location. Here they meet, smoke a cigarette, talk about the previous day and look forward to everything that is coming today. Then it's off to the open lounge area. Decorated in white and grey, it invites you to linger, especially in the sun. In the foyers, visitors, models and bloggers can look around. Here, various companies and producers present their products. Among them are companies from the beauty sector, classics like Maybelline, but also newcomers like Quickcap, with smart drinks for beauty and attention.
Lena Hoschek – Ahoy sailors, set anchor, cast off
Absolute highlight as so often, Lena Hoschek! Set anchor, cast off! A highlight of the Berlin Fashion Week is Lena Hoschek. All editors, bloggers and celebrities are looking forward to the new collection of the extraordinary designer from Austria. This time Lena Hoschek takes us to the coasts of the Baltic Sea during the Mercedes Benz Fashion Week Berlin. Those who know her know that she designs her fashion in a very secluded way, far away from the hustle and bustle of the big cities. Maritime influences, refined cuts and vintage: all this we see today in the new AHOY collection.
Dimitri – Draped dresses for the female silhouette
Like every season we also celebrate Dimitri. Already last season we accompanied the fashion designer at Berlin Fashion Week and met him for an interview. Now Dimitri presents his new collection for the upcoming spring/summer season in summery Berlin. Already in the run-up to the show, Dimitri's runway show was celebrated by the audience as a must-see of the fashion week. We were there. In the packed Erika-Hess ice stadium, with VIPs and celebrities.
Stein Rohner – Now it's … different. Cactus.
The young label Stein Rohner showed itself a little different, a little more 'offbeat'. Steinrohner, that's Inna Stein and Caroline Rohner, who met during their fashion design studies at the Kunsthochschule Weissensee and won the Young Designers Award in 2015. The new edition "CACTUS" tells the story of the drawings "Blühende Kakteen" (1901-1921) by Julias Neumann in their very own way.
Ivanman and Brachmann menswear for spring / summer 2017
For men there are often only a few real highlights at Berlin Fashion Week. That's why we visited two great fashion labels: Ivanman and Brachmann.
"Out of Rosenheim" from 1987, starring Marianne Sägebrecht, is the linchpin of this collection. In the film, as in the fashion, different world views come together. Directed by Percy Adlon, traditions and modern life collide purposefully. In reference to this wild and twisted world, new colour constellations, shapes and appearances were created in the IVANMAN spring/summer collection 2017.
A lot of preparation – A little insight into the editorial office
If you've ever wondered how newsrooms prepare for all those shows, you need to know that planning starts weeks in advance. Why? No one can dance at every party. The shows take place at different locations, very closely timed. That's why every editor has to prepare well for each event. The second step, however, is a lot of spontaneity. Once you're in Berlin, you quickly make new contacts with other magazines, creative art directors, models, and so on. This is how a small world of fashion victims is created for a few days. Before the first show days of the Berlin Fashion Week, all appointments are precisely recorded, planned and organized. Of course, this includes various notebooks, chargers, portable power stations, the obligatory SLR camera and much more! Planning and organizing a fashion week like this is a lot of work.
Fashion for men: Still a real insider tip at Berlin Fashion Week. That's why we are very happy to be part of the current collection presentation of Brachmann. On the last day of Berlin Fashion Week, after many shows and aftershows. But, it is worth to have a look at the progressive label for menswear. Brachmann modernizes menswear classics with a playful approach to hybrids, details and silhouettes inspired by architecture, modern art and pop culture.
Stress pays off: Newcomers at Berlin Fashion Week
After all the hard days and weeks of preparation, one looks forward above all to new designers. Like Philomena Zanetti. The name of the label comes from South Tyrol.
https://fivmagazine.com/wp-content/uploads/2016/07/berlin-fashion-week-mode-kollektion-fruehjahr-sommer-2017-trend-outfit-rueckblick.jpg
500
1200
Stephan
/wp-content/uploads/2023/08/fiv-magazine-logo-news-influencer-fashion-interior-travel-real-esates.svg
Stephan
2016-07-31 18:29:06
2016-07-31 18:29:06
Berlin Fashion Week SS 2017: A short review