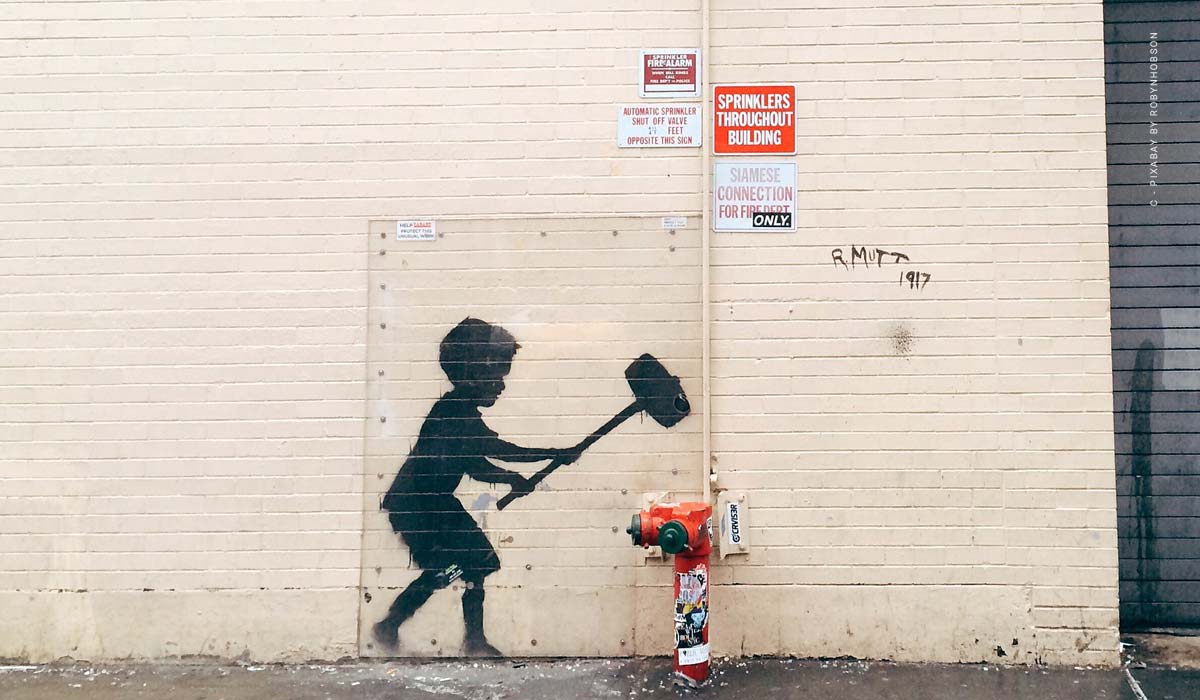 Banksy: The icon unrecognized at the Venice Biennale
For all street art fans Banksy is one of the great icons. A few days ago was one of the big art festivals, the Venice Biennale. Imagine Banksy was there and nobody saw it! Banksy is the most famous street art artist in the world, not only that he attracts attention by spectacular actions, especially the small artworks in the big cities of this world, from New York to London and Paris, distinguish the artist. Now Banksy has ventured to the Venice Biennale, with his own stand.
Venice in oil – Banksy art in Venice streets
As Banksy has now posted in his official and Instagram account, he was a guest at the Venice Biennale. But not with an official invitation, because he has never received one. Although he is one of the most successful artists in this world. In the middle of St. Mark's Square in Venice, the exceptional British artist set up his stand. And in the end, no one recognized him!
His last big action was in spring, in one of the biggest auction houses in the world. You might also remember his last big art action, in one of the most prestigious auction houses in the world, one of his works was auctioned off, for an incredible 1.2 million dollars. Immediately after the auction ended, a hidden mechanism activated, which immediately shredded the artwork.


Germany - Spain - USA
With this Banksy shocked the entire art world. Not only that the question was, is the artwork now destroyed? Is it even worth anything anymore or is it even more valuable now? Once again, Banksy has the art world completely bamboozled. 1, 2 million, shredded within 2, 3 seconds.
Now Banksy drew attention to himself with a new action, Venice in oil. This was written on a small sign, next to his stand in Venice, Italy. At his stand he has several photos to a collage also hung, together they make a large cruise ship in Venice. His criticism, Venice is very threatened by the many cruise ships of tourists.
Although Banksy sits openly on the street and is even approached by the police, who ask him to clear the stand, no one recognizes him. As you can see in the video on his official Instagram account, there are even visitors at the stand. A few even comment that it's the most beautiful booth at the Biennale. In the end, he had to pack his things without even one person recognizing him. What a lost opportunity?
https://www.instagram.com/p/BxzKb6TgXGU
Who's Banksy?
Banksy is a pseudonym. The British street artist is best known for his stencils, at that time in London and Bristol. His true identity and his civil name he keeps strictly secret. Through his international activities, however, he has become extremely well known over the years. He was probably born around 1974, and after his work with stencils became more and more famous, at some point it went to museums for him. Not only in the UK, the whole world travels around his art.
One of my absolute favorite projects of Banksy in recent times was this one, in reference to one of my absolute idols, Jean Michelle Basquiat. His signature symbol, the crown, is included here. Jean-Michel Basquiat was a student of one of the most famous artists of modern times, Andy Warhol. Unfortunately, he died very early, in his early 20s. However, he left behind a lot of artwork and inspired many up-and-coming artists. Not only up-and-coming artists, even today absolute icons like Banksy.
https://www.instagram.com/p/BZJELJiAmb5
Girl with balloon
One of Banksy's most famous motifs worldwide is the girl with balloon.
But Banksy also deals with current topics, here for example still very topical to the British EU exit.
https://www.instagram.com/p/BVKLbgpjljJ
Through his art, of course, thousands of other artists around the world are inspired. Not only worldwide, of course also in his home country Great Britain:
https://www.instagram.com/p/Bj47OxbBUNj
Banksy does a lot of socially critical projects, but also of course just small, beautiful drawings that take you away from everyday life, e.g. here in the middle of Paris.
https://www.instagram.com/p/BkfvMgjBDR0
Here is one of the works from the street that make him so well known for street art.
https://www.instagram.com/p/e7ojjeK-2j
https://www.instagram.com/p/fu5ObkK-xN
https://www.instagram.com/p/BprkQBplwQ4
https://fivmagazine.com/wp-content/uploads/2019/07/banksy-bilder-affen-poster-art-venedig-new-york-identity-werke-wiki-steckbrief.jpg
700
1200
Stephan
/wp-content/uploads/2023/08/fiv-magazine-logo-news-influencer-fashion-interior-travel-real-esates.svg
Stephan
2019-10-15 07:00:58
2019-10-15 07:00:58
Banksy: The icon unrecognized at the Venice Biennale