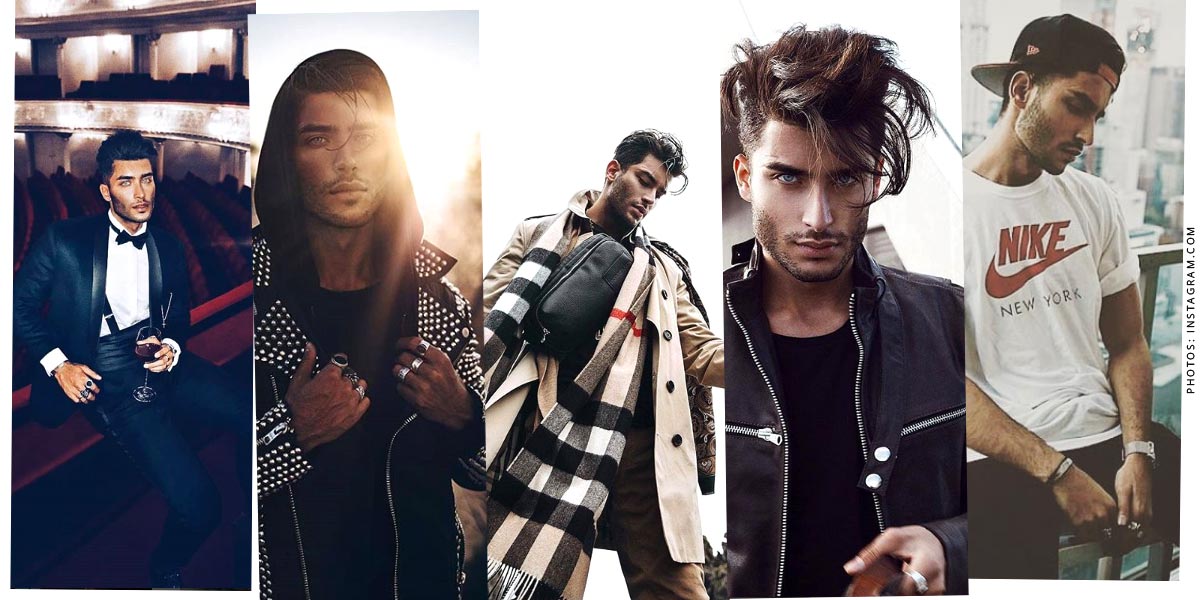 Toni Mahfud: From photographer to model
The 23-year-old is the absolute leader among male influencers in Germany. For he not only convinces with his beautiful appearance, but also enchants his fans with his art in the form of photography and drawings. Not to forget Toni is also characterized by his casual style and his cool personality. All of this ensured that the pretty artist, photographer, communication designer and model now has 3.5 million subscribers to Instagram and 148 thousand fans to YouTube.
To the point: Toni's origin and nationality
Toni Gabriel Mahfud was born in Hamburg on 2 December 1994. However, Toni's parents are originally from Syria, which should solve the mystery of his even complexion and black hair.
Is Toni available twice ? All about his brother
Toni Mahfud grew up with his twin brother Jan Mahfud. The brothers cultivate his very intimate relationship, but they live their lives differently, because unlike Toni, Jan prefers to live in seclusion and not like his twin brother in the worldwide limelight.
The rapid construction of his career
The 1.85 metre tall Hamburger uses the social media to show his talent to the world. He used YouTube, Facebook and Instagram and already shared photos of his artworks in the form of photos and drawings during his graduation. It didn't take long and Toni also gained recognition beyond Germany. Because he not only put nature and the like in the right light, but also himself, top agencies like Givenchy and Tommy Hilfiger quickly became aware of him.
Art: Drawings and Photography
Already at the age of four Toni discovered his passion for art and started to draw his favourite cartoon characters on blank paper. Modelling and creative art fascinated him the most. When he began to spread his values publicly in 2011, it didn't take long until he received countless positive feedback.
Drawings
Toni publishes speed drawings of actors and musicians such as Channing Tatum, Cara Delevingne and Adele on his YouTube channel Toni Mahfud Mahfud. These videos are the main reason for Toni's rapid mega career.
photography
Nature, countries, cultures. Toni Mahfud is inspired by this. His heart beats not only for the art of drawing but also for the artistic representation of objects through photography. Toni not only likes to stand in front of the camera, but also behind it. He loves to travel in order to be inspired by foreign cultures in different countries. He loves to express the beauty of nature through his photos. He also enjoys capturing everyday moments photographically. With the help of Fotoshop he gives free rein to his creativity. The Social Media Star also shares the resulting works of art on its social networks.
<font color="#ffff00″>-=https://www.instagram.com/p/Bb9-V6IgqU7/?hl=- proudly presents
Modeljobs
After he drew attention to himself with his drawings, the first model agencies approached Toni. He worked together with IMG Modelagentur and started his first advertising campaigns. Over time, he modelled for well-known brands such as:
Tigha
Nike
Hugo Boss
Adidas
G-Star Raw
Tommy Hilfiger
Gillette
Edited
Daniel Wellington
OnePiece
Filling Pieces
ALLSAINTS
Question of all questions: Does Toni have a girlfriend ?
One look into Tony's eyes and pretty much every woman gets weak. Of course, the question immediately arises whether this handsome man is already in steady hands or not. His Instagram Page is decorated with many photos of beautiful women, but of course this does not stop with a model. At the moment it is not known whether Toni Mahfud is forgiven or not. But there are no suspicious photos among his posts that could give the impression of a new love. So girls: Open your eyes, maybe you'll soon have the chance to convince the successful hamburger of you.
All facts at a glance
Here again a short video, in which all important facts about Toni Mahfud were summarized.
Toni Mahfud: Instagram
Toni Mahfud: Youtube
https://fivmagazine.com/wp-content/uploads/2018/09/toni-mahfud-fashion-model-drawing-photography.jpg
600
1200
Lisa-Marie
/wp-content/uploads/2020/07/fiv-magazine-news-instagram-youtube-tiktok-influencer-fashion-interior-jewelry-real-estate-tips-help-logo.png
Lisa-Marie
2018-10-29 07:00:39
2021-07-07 10:13:38
Toni Mahfud: From photographer to model