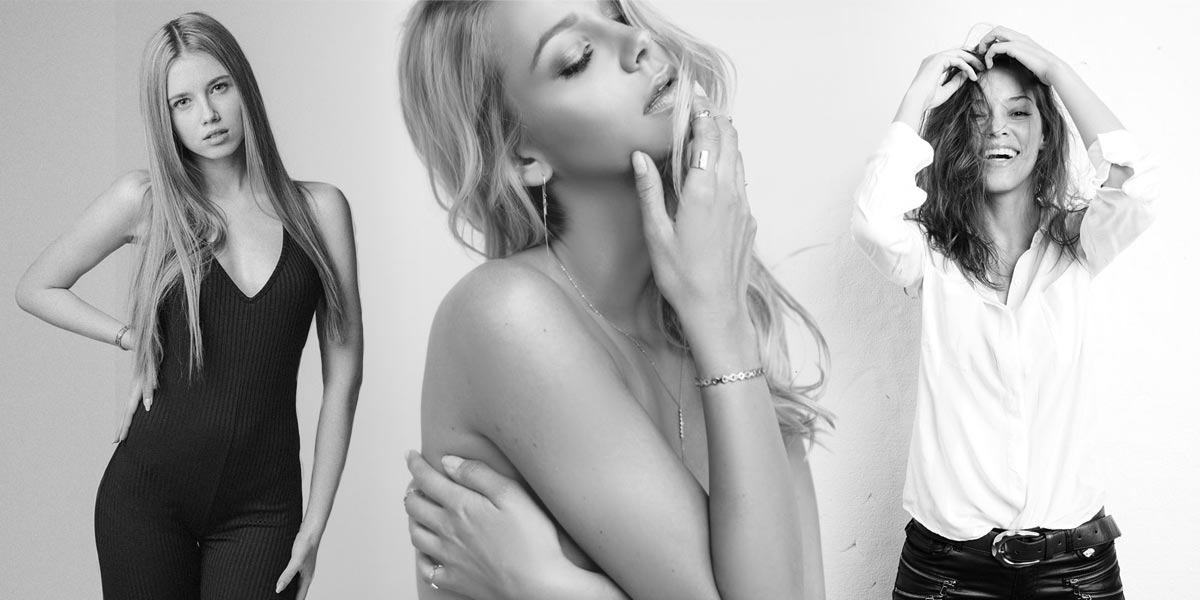 Set-up for model chicks – agencies, test shoots and co.
Becoming a model. Many young women dream of floating down a glittering catwalk like Victoria's Secret angels or modeling for big brands like Tommy Hilfiger and Co. like Gigi Hadid. But not everyone has what it takes, and in real modeling life there's a lot more to it than the things that formats like GNTM show us. To bring a little clarity into the requirements and the real model life, I have summarized the most important facts here.
Fact #1 Requirements for Models
Of course, the cliché is a bit true that all models have to be thin, because except for the curvy models, you should be in shape as a model. But what is important, the so-called hunger models nowadays no agency wants to have more. It is now much more about living healthy, athletic and balanced. As a model you need certain measurements of course. 90-60-90 is not so outdated in the model business. But for the German market models can also be 'curvier', which means that a 94 hip or a 65 waist are perfectly adequate. The reason why there are these measurements is only the fact that designers for their shootings or catwalks usually tailor to a certain size, in which the models must then fit.
The problem with the measurements is usually that many of the bone and body structure are not even designed to achieve these dimensions. Therefore, you must not be too strict with the dimensions, because the size is sometimes eclipsed by a beautiful face. Of course, size is very important, but there are also many professional models who are actually too small, but who have such an expressive face that they still work well. So, in summary, it's all about the mix when it comes to modeling. The measurements should be right within a certain range, the height should not be under 1.71m for women and the face must be convincing. It is also important – model does not mean beautiful. There are many models with an androgynous or special face, which we would not classify at first glance as beautiful, but which still work great as a model!
Fact #2 Model agencies and how do they actually make their money?
Model agencies are the be-all and end-all for aspiring models. They help you find photographers for first test shoots, arrange jobs and organize everything around modeling. But which agencies are good and professional and which should you rather avoid? There are some key data by which you can identify a good agency. A professional agency will never take money from you. Even if this is fixed in the contract, this is not legal. A good model agency will also not tell you that you have to starve yourself or force you to do things you don't want, for example a haircut, self-tanner or other things.
A good agency will not let you sign a contract with a minimum duration or that states that you are not allowed to work for other agencies. As a professional model it is normal to be represented by several agencies from different countries. So-called 'exclusivity contracts' are not legal, because you are self-employed and can be represented in as many agencies as you want. Important, when you apply, you don't need a big portfolio of you. Simple polaroids are enough. But how do agencies actually earn their money now? That is quite simple, because model agencies mediate you to jobs and get from the customers 20% agency commission of your fee, so to speak, as an agency fee. So if you earn 400.00 Eur net on a job, your agency gets 80.00 Eur from the client. Important, nothing will be deducted from your fee, but the customer pays the commission, not you!


FragranceTip.com by FIV
Fact #3 Build Book as New Face
As a NewFace it is important to build up a large extensive book. For this, most test shoots with photographers. In the so-called TfP Shootings, all involved (photographer, visa, model) use the images for their book, but no one has to pay the other. Here it is important that the quality of the pictures is right. So only look for good photographers, or discuss the shootings with your agency beforehand. Shootings with a natural setting, not too much make-up, not too fancy clothes or accessories are best for your book, it should be about you and show you from a good side.
Depending on how professional the photographers are, it may also be that they want money from you for a test. This is only worthwhile with the best, but then it is a good investment in yourself. You have to be careful with photographers who want to take too salacious photos of you or organise the shoot without your agency. If it is a professional photographer, he will have no problem communicating with your agency in advance. If you are on a shoot and the photographer expects something you don't want, say no, because you don't have to do everything and beautiful pictures are only taken when you feel comfortable in your own skin.
https://fivmagazine.com/wp-content/uploads/2017/06/Model-werden-new-face-beauty-fashion-tips-editorials-test-agentur-mdoelagentur-tricks-wichtig.jpg
600
1200
Stephan
/wp-content/uploads/2023/08/fiv-magazine-logo-news-influencer-fashion-interior-travel-real-esates.svg
Stephan
2017-06-27 13:32:19
2017-06-27 13:32:19
Set-up for model chicks – agencies, test shoots and co.