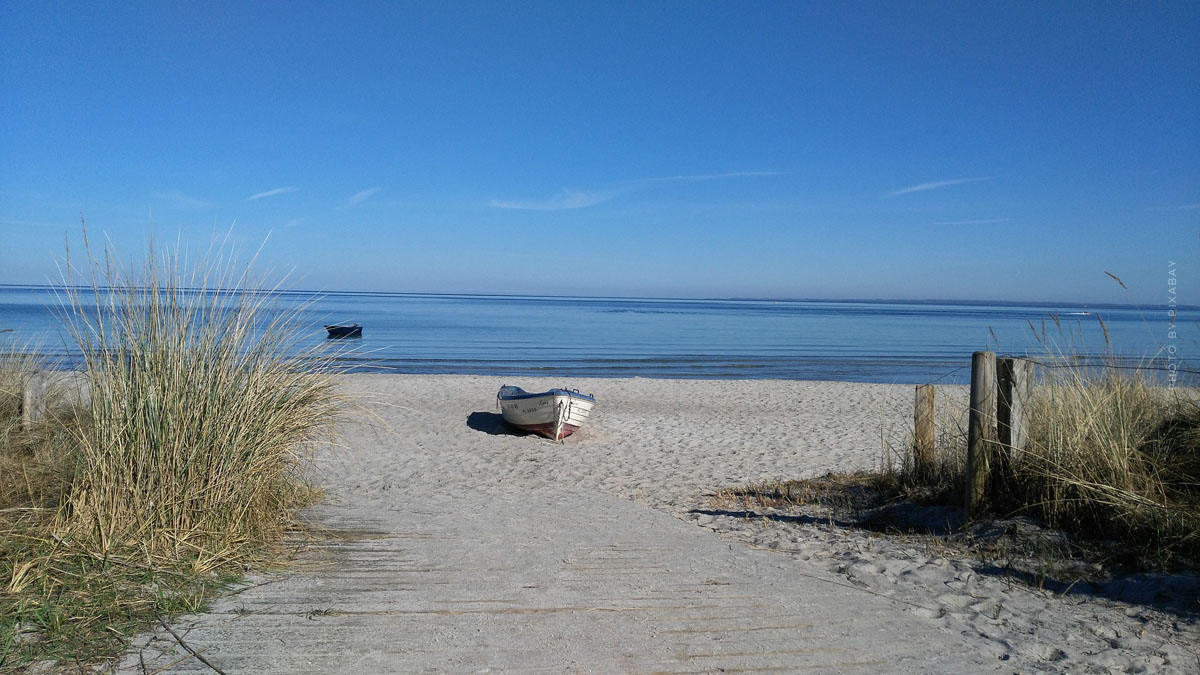 Scharbeutz: Insider tips for your journey, accommodation and stay in the Bay of Lübeck
Scharbeutz – A cosy little town with a wide Baltic Sea promenade and access to a fine sandy beach that is well worth discovering. Scharbeutz is located in the south of the Lübeck Bay on the Baltic Sea, in the direct vicinity of Timmendorfer Strand. Whether at peak temperatures or milder spring temperatures, the charming flair of the dune mile, coupled with beachfront restaurants and small boutiques, ideally conveys the casual yet lively nature of the locals. We have picked out the best activities, beaches and also where you can find the best accommodation for you.
Scharbeutz: Activities, spots and more
The pier marks the centre of the village. In the adjacent beach bar you can relax with your feet in the sand with a cappuccino or a delicious cocktail. If you're lucky, there's a "Salsa on the Beach" course taking place during the high season, which will give you a real holiday feeling, or you can find your inner centre with "Qi Gong".
Federal state: Schleswig-Holstein
District: Ostholstein
Height: 12m above sea level
Area: 52.53 km2
For all those who are still looking for exciting activities, we have picked out some for you:
Dune golf with a view of the Baltic Sea
You like to play mini golf? Then try the unique dune golf course in Scharbeutz, which brings family fun for young and old. You play on 18 holes in front of the blue Baltic Sea backdrop. Unlike minigolf, you play with normal golf clubs and the courses are laid out with artificial turf and must be stepped on to play.
18 hole
Price: adults € 4.50 and children € 3.50
Bicycle tour to Niendorf harbour
Take a bike tour along the promenade to Niendorf harbour, past picturesque dunes. This way you can not only explore the surrounding villages on your own, but also get a breath of fresh sea air. When you arrive in Niendorf, you can fortify yourself with a delicious fish sandwich. Especially cycling enthusiasts can, for example, extend the tour and cycle to the fishing village Gothmund on the Trave in Lübeck, 18 kilometres away.
Trip to the Brodtener Steilufer
The Brodtner Ufer is a more than four-kilometre-long cliff on the Bay of Lübeck and in the immediate vicinity of Scharbeutz. Grab your bike or go for a hike and enjoy the panoramic view. There are two different ways to explore the Brodtener Ufer. The hiking trail above the steep shore offers a fantastic view into the distance and is also suitable as a bike path. The hiking trail below the shore is more difficult to walk on, as it runs directly along the surf and flotsam, stones of all colors and sizes, and fallen trees line the path.
If you have a good eye, you can find amber with a little luck. Whether it is really the valuable gemstone you can test without problems directly on site. If the yellow to brownish colored stone tastes like wood and sounds muffled when touching the teeth, you could really have made a find.
Sushi creations with a spectacular view
Whether the Bayside still passes for an insider's tip is a question rightly asked. Either way, a visit to the rooftop terrace of the modern hotel in the front row with direct sea view is a must. Delicious cocktails and incomparable sushi are served with the magnificent view over the bay.
Tip: It's best to make reservations early, because the rush to the "Roof" is great.
Scharbeutz in winter
Scharbeutz in winter: An absolute insider tip and at least as lively as in summer. Instead of beach bar and sun, the elements "fire and ice" are on the menu. The dune mile is transformed into a Christmas atmosphere, thanks to numerous stalls with crêpes or mulled wine to chase away the cold and the ice rink with lake view.
Beach Plans & Co.
Scharbeutz has many different beach sections, all of which are impressive in their own different way. The beach ticker provides the current information about the occupancy of the individual beach sections. The 29 Scharbeutz sections are divided into 5 upper sections, so that you can also enjoy the beautiful Baltic Sea coast relaxed this summer.
The "Hamptons" in Scharbeutz attract the more upscale clientele. Cozy daybeds on the beach with background music contribute to the highest comfort. The JFK Club also opens every Friday,
Other sections invite you to play volleyball or allow action-packed water fun, thanks to the rental of pedal boats or stand-up paddling boards.
Beach section 1-8
Beach section 9-13
Beach section 14-20
Beach section 21-24
Beach section 25-29
The tourist tax varies depending on the season, but is a maximum of €2.80 per day. If the weather is good and you go every day, you can also buy a weekly ticket. Depending on the accommodation, it may be that the fee is already included in the total price.
January – 15 March , as well as November and December: 0,50€.
15 March – 15 May, and from 15 September and October: 1,50€.
15 May – 15 September: €2.80
Especially families love the Baltic Sea as a holiday destination. But you want to enjoy the holiday not only with your children, but also with your four-legged family member? No problem – the Baltic Sea coast is made for a holiday with a dog. In the Bay of Lübeck between Scharbeutz and Neustadt in Holstein there are six different beach sections where dogs can romp and jump into the sea all year round.
Discover already now on Google Maps all dog beaches in the region:
Accommodation & Co.
You are looking for a suitable accommodation? In Scharbeutz there are numerous possibilities to arrange your stay. Whether camping, holiday accommodation, apartment or hotel – everyone gets their money's worth here.
Hotels for pampering
Room service with sea view? Anyone who wants to really pamper themselves is in the right place in Scharbeutz luxury hotels. The Wellnesshotel Bayside is located in the front row, directly next to the pier and offers a unique view over the Lübeck Bay. But also the Hotel Gran Belveder convinces with its charm, the indoor and outdoor pool and the private access to the spa.
Campsites directly on the beach
Pure campfire romance. Whether with camper, roof tent or the classic tent – in Scharbeutz there are plenty of camping sites where you can enjoy nature. The Ostseestrand holiday park, for example, also has holiday homes if you feel like a little more comfort. In a perfect location directly by the sea, you can enjoy time out here with your family or even your four-legged friends.
Motorhome harbour Scharbeutzer Strand
Baltic Sea Beach Holiday Park Scharbeutz
Neptune Camping Site
Camping site Seahorse
Want to read more about camping and equipment? Then check out our XXL article on camping, where you'll find practical tips for your next camping holiday!
Holiday apartment with sea view
Holiday apartments are also a popular domicile for travellers. Here you can furnish yourself individually and comfortably, provide your own meals and, with a little luck, relax on your terrace or in the garden in the summer evenings. Especially for families, the stay in an apartment is ideal, as it is significantly cheaper than a family room or a suite in a hotel.
Your heart beats for the Baltic Sea and you can imagine to spend your life there or to spend regular holidays in Scharbeutz? Then think about whether it might be worthwhile to purchase a plot of land and build your own house there. Maybe you already find a holiday home or apartment that suits you?
Click here to learn more about real estate and its tax benefits.
Tips and tricks for holiday planning
A vacation is supposed to be relaxing and give you some time off. But if you get lost in your planning, what should have been a quiet trip leads to more stress. To avoid this, we've put together some practical holiday planning tips for you.
When is the best time to travel?
The Baltic Sea resort of Scharbeutz lies in the mid-latitude climate zone and has a maritime climate. The temperatures are very mixed. In the summer months, it can certainly come to maximum temperatures of 30 degrees Celsius, which are ideal for cooling off in the Baltic Sea. August is the warmest month, with an average temperature of 22 degrees Celsius, and therefore also the ideal time for a holiday with a sun guarantee.
The Mecklenburg Bay, which is only 5 kilometres away from Scharbeutz, reaches a water temperature of over 19 degrees Celsius this month, so that the water and outside temperatures are almost the same.
But spring and autumn also mark a good time for a trip to the Baltic Sea. The rough, cooler days have a unique charm and invite you to take long walks along the promenade or the beach. However, the bathing season is not yet open at this time, but this does not mean that a dip in the cool water is not possible.
Track the weather yourself to find the ideal time for your trip.
This guarantees a successful journey
Depending on where you are coming from, it is worthwhile to travel by train or by car. Scharbeutz has its own train station, from which most accommodations can be reached ideally. If you live at the end of the town in the direction of Timmendorfer Strand, it is a good idea to drive to the station there. On site you can manage without a car. Rent a bike at one of the rental agencies if you plan to explore the surroundings.
Places of interest in the surroundings
Scharbeutz is a place full of life and fun, but of course it has its limits. If the Baltic Sea town doesn't offer you enough, you will also find beautiful places in the surrounding area that are worth a day trip.
Timmendorfer Strand
Timmendorfer Strand is only a blink of an eye away from Scharbeutz. If you take a walk along the beach, you may suddenly end up in the popular holiday resort of Timmendorf. Especially when the weather is bad, a trip to the neighbouring town is worthwhile, as you can spend the day there at Sea Life or the Ostsee Therme, for example.
Hamburg
The Hanseatic port city of Hamburg is a popular day trip or even weekend destination for visitors to this Baltic Sea region. For example, if the weather is not so good that you can lie on the beach or you miss it to breathe city air? Then off to Hamburg. Whether wild party nights on the Kiez or coffee and cake in the noble district Blankenese – Hamburg has many facets for everyone.
Lübeck
The Hanseatic city of Lübeck is located in the immediate vicinity of Scharbeutz. Depending on travel time and traffic situation, the travel time can vary, but should be roughly half an hour. Discover Lübeck and nibble the Niederegger marzipan produced there, walk through the Holsten Gate that borders the old town to the west. Of course, Lübeck is also suitable for an extensive shopping trip.
FAQ: What should you know before a holiday in Scharbeutz?
Feel like you still have some unanswered questions or want to find out if you've retained the information from the article? Take a quick test now and try to answer the following questions.
Can I take my dog with me on holiday?
A holiday by the sea is perfect for animal lovers. Scharbeutz is particularly suitable, as there are six dog beaches in the immediate vicinity, where you can comfortably relax with your four-legged friends and enjoy the sun. More about this in our article Holiday with animals.
What is the best time to travel?
If you want to spend your holiday on the beach, high summer, i.e. June to August, is the ideal time to travel. If you want to experience the Baltic Sea coast far away from the tourist hustle and bustle, a trip from the beginning of April or in the autumn months is also suitable.
What major cities are nearby?
Hamburg and Lübeck are easy to reach from Scharbeutz. In just 30 minutes you are in Lübeck and even Hamburg can be reached in a good hour. Do you fancy a bit of variety, but don't want to get into the car? Then explore the surrounding places like Timmendorfer Strand, Hafkrug or Niendorf.
https://fivmagazine.com/wp-content/uploads/2021/03/scharbeutz-see-meer-strand-boot-segeln-aktivitaten-deutschland-urlaub-ferien-ferienort.jpg
675
1200
Lisa-Marie
/wp-content/uploads/2020/07/fiv-magazine-news-instagram-youtube-tiktok-influencer-fashion-interior-jewelry-real-estate-tips-help-logo.png
Lisa-Marie
2021-03-22 11:40:17
2021-03-22 11:40:17
Scharbeutz: Insider tips for your journey, accommodation and stay in the Bay of Lübeck