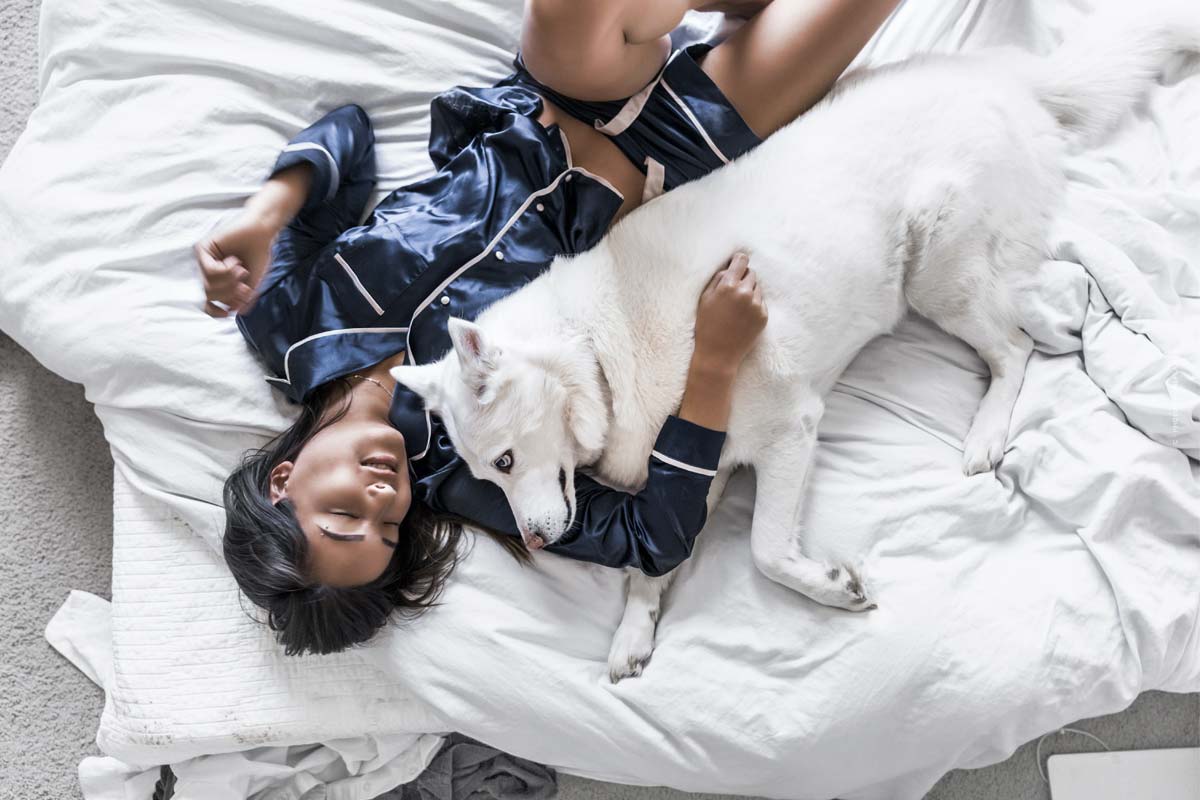 Comfortable and fashionable nightwear for healthy and relaxed sleep: tips on fit, fabrics & Co.
Restful sleep is good for our health and helps us to cope with the challenges of everyday life. There are many tips for restful sleep, but the topic of nightwear is rarely included, even though comfortable pyjamas contribute to well-being, which is an important factor for good sleep. In addition, on days off we wear nightwear also for breakfast and television. Accordingly, they should be comfortable and cozy. But what do you have to pay attention to?
Good nightwear & what makes it special: Breathable & absorbent
Some sleep deeply and firmly like a stone, others wake up with even minor disturbances. During sleep, blood circulation also increases, a larger amount of sweat is released and we move surprisingly often. Whether it is a pair of pyjamas or a nightgown, nightwear should therefore not restrict or be uncomfortable. Potentially harmful dyes are also absorbed to a greater extent by the increased blood circulation and sweating.
It is important that your nightgown or pyjamas are breathable and absorbent.

Germany - Spain - USA
Sleeping clothes should therefore always be comfortable and harmless to health. This means that they should not fit too tightly or even have a constricting effect. Natural or practical synthetic materials should also be chosen. Because it is important that your nightgown or pyjamas are breathable and absorbent. These properties ensure a high level of comfort and therefore contribute to so-called sleep hygiene.
Tips for buying nightwear: elegant negligee & comfortable pyjama set
When choosing pyjamas and co., various factors must be considered. There are now many pyjamas with different cuts and fits, as well as made of different materials. Also the choice of nightwear in terms of colors, patterns and special details is huge. A large assortment of comfortable nightwear is available online at Hunkemöller. There you will not only find cuddly pyjamas for fall and winter, but also many cute models for the pre-Christmas season.
The most important criteria at a glance: Material, style & Co.
In addition to different lengths and materials for different seasons, you will also find a wide range of different styles. Cozy, comfortable and long for the winter in soft and warm terry cloth? Or would you prefer a light and seductive negligee for the summer?
Already here you will find two decisive criteria for the selection. The criteria are all in all:
Material
Style
Fit
Details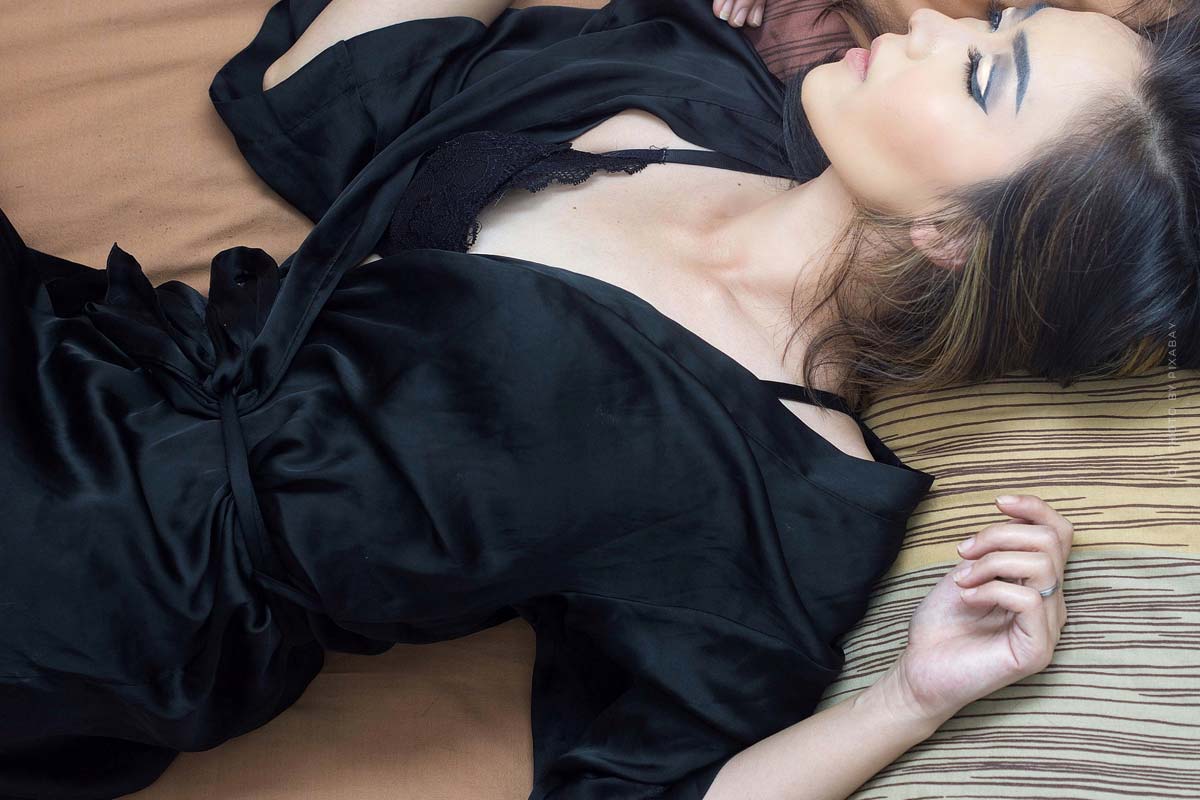 Natural materials for comfortable nightwear: cotton, silk & merino wool
A fundamental distinction is made between natural fibers and man-made fibers. Natural fibers include
Cotton
Flannel, jersey, terry – all these fabrics have one common basis: cotton. It can absorb large amounts of moisture, can be cleaned at high temperatures depending on the processing and is skin-friendly. However, a possible disadvantage, especially with thicker textiles made of this material, is that they take longer to dry.
Silk
Silk is especially beneficial for the skin in summer. It is smooth, light, airy and quickly wicks away moisture. In addition, it dries in a short time and is also suitable for skin diseases, such as neurodermatitis.
Merino wool
This natural material is very soft and has a regulating effect on the temperature. This means that it has a cooling effect in summer and a warming effect in winter. The wearing comfort is therefore extremely high.
Nightgowns made of synthetic materials: Fleece, Polyamide & Polyester
synthetic fibers, bring other advantages than the natural materials. Mostly you will find them mixed with cotton in your nightwear. The most popular synthetic fabrics are:
Fleece
Fleece or microfleece is warm, soft and invites you to cuddle up, as it has a soft surface due to the roughening. Due to the low density and the high proportion of air, it dries quickly and is hard-wearing. It insulates and warms, which is why it is especially popular in winter.
Polyamide
This synthetic textile is particularly elastic and is suitable for those who sweat quickly and heavily due to the short drying times. It is also tear-resistant, durable and impresses with its high elasticity – perfect for rolling around in bed at night.
Polyacrylic
This material supports a healthy and pleasant sleeping climate and can therefore considerably increase comfort. The wool-like consistency keeps you warm and feels soft and light on the skin. Most of the time you will find the polyacrylic mixed with wool or cotton in your pyjamas. Why? The natural fibers become less matted by using polyacrylic.
Polyester
This is very often used for nightwear because polyester is elastic and breathable. Pyjamas and nightgowns made of it therefore offer a high sleeping comfort.
The synthetic fabrics have the advantage that they dry very quickly and are therefore available again in a short time after washing, but also wick away the moisture that is released through the skin during the night.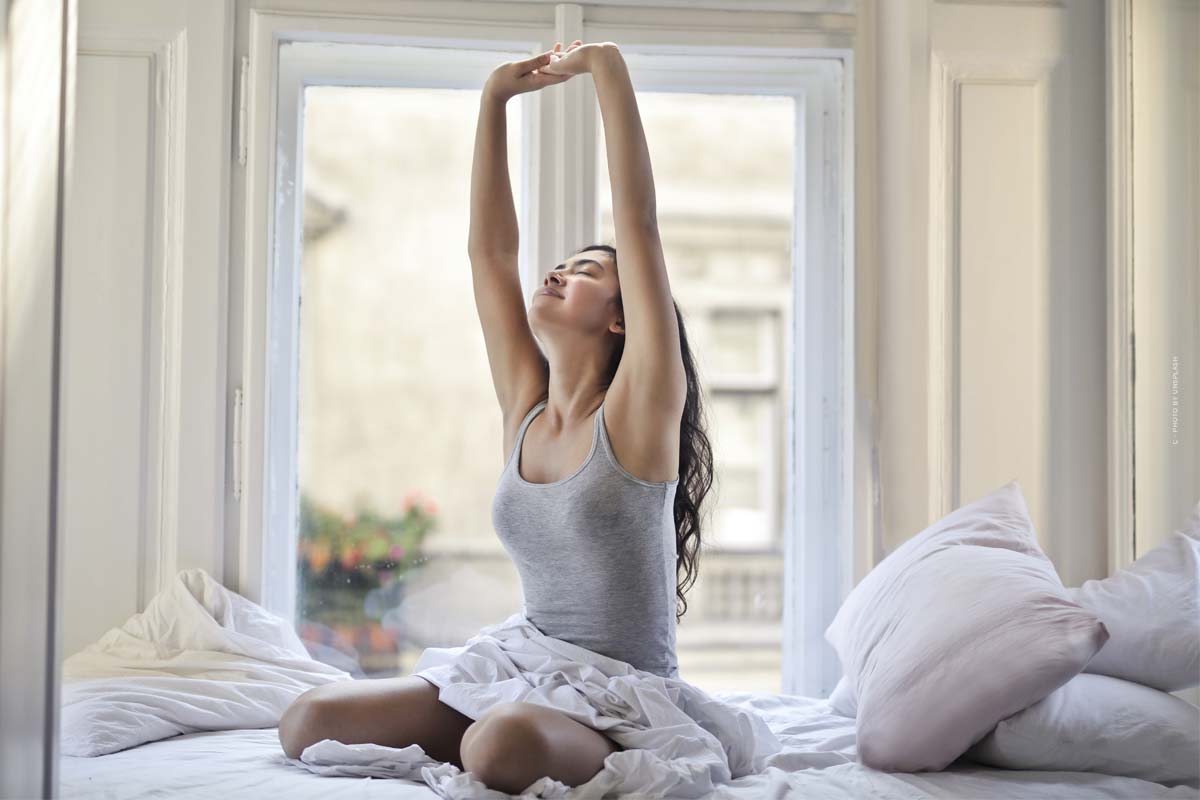 Combine nightgown and bed linen correctly
Basically you can combine all materials with each other. Only two points are important. Firstly, smooth and sensitive fabrics should not be used together with rough textiles. Because this could cause the smooth fabric to suffer and also be roughened.
Secondly, nightwear made of satin or silk in combination with bed linen made of the same materials is problematic. Because of the very smooth and gliding fabrics, they can literally slip off each other and thus disturb the night's rest.
Style
Here it depends above all on personal taste and individual preferences. Only secondarily the season and the material of the bed linen also play an important role. Those who sweat quickly usually feel comfortable in lighter and shorter nightwear even in winter. If, on the other hand, you feel a little cold and wear pyjamas at the weekend, for example, not only in bed, you may feel better in long pyjamas.
Fit
The nightwear should neither restrict the supply nor limit movement. A loose fit and elastic cuffs are ideal for this. This ensures that pyjamas or nightgowns fit perfectly and allow for healthy and restful sleep.
Details and fasteners
Decorative details as well as fasteners such as bows, beads, buttons and zippers, hooks, buckles and plastic clips can not only create unsightly pressure points. They can also disturb the sleep.
Even with seductive nightwear you should therefore make sure that there are no details or hard closures. Soft fabrics and patterns and different materials are ideal as decorative elements.
Sleep hygiene: Clean & care for nightwear
The not inconsiderable sweating during sleep can cause the nightwear to be at least slightly damp in the morning, even with fast-drying materials. This makes it not ideal to place them under the comforter, for example. It is better to hang them up to dry.
How often nightgown or pyjamas have to be washed depends on several factors.
Shower or bath: Those who shower or take a bath in the evening before going to bed usually have to wash their nightwear less often. A change once or twice a week is usually sufficient.
Sweat and care: How much sweat is produced determines the frequency of washing. If you sweat a lot, you should change and clean the nightwear every one to three days. Do you apply a thick layer of cream or oil before going to bed? Residues of the care products can also be found on the textiles. Over time, these residues can lead to hardening and bad smells or damage the fibers.
Fabric softener: Although fabric softener has a pleasant smell, it can cause the textiles to look dull in the long run. In addition, intense aromas can disturb sleep.
In any case, it is important that nightwear is cleaned according to the manufacturer's instructions to prevent damage to the materials.
https://fivmagazine.com/wp-content/uploads/2020/11/nachtawaesche-schlaf-negligee-pyjama-fleece-baumwolle-polyester-tipps-stoffe-stil-bettwaesche-schlafhygiene-bett-frau-hund-nachthemd.jpg
800
1200
Laura
/wp-content/uploads/2023/08/fiv-magazine-logo-news-influencer-fashion-interior-travel-real-esates.svg
Laura
2020-11-30 13:06:53
2020-11-30 13:06:53
Comfortable and fashionable nightwear for healthy and relaxed sleep: tips on fit, fabrics & Co.