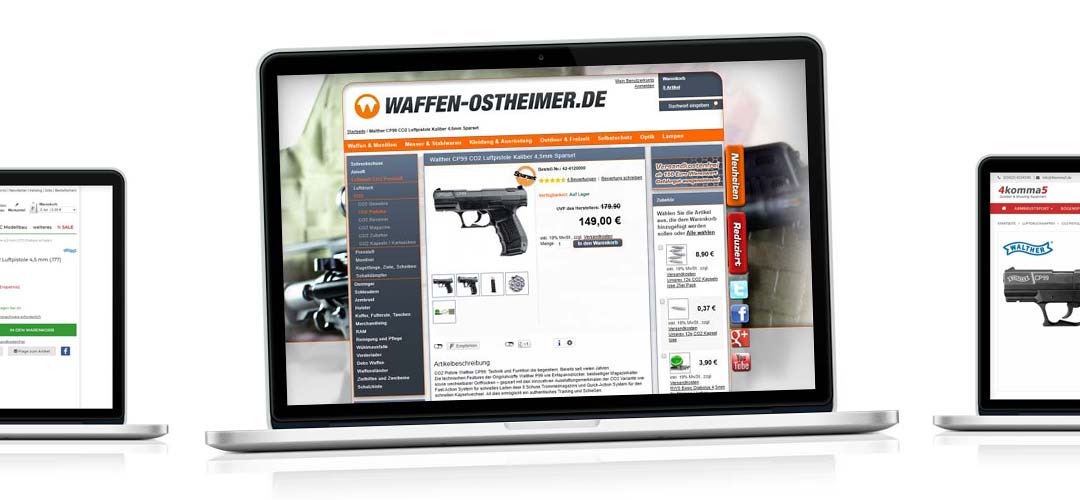 CO2 gun cheap?! Buy weapons online: Comparison Walther CP99
Buy CO2 pistols cheap online, most people hope so when they are looking for a new pistol for their gun collection. There are various providers on the Internet, not only in Germany, but also providers from other European countries and third countries such as America. In different online shops you can buy different weapon models, as well as different types of ammunition and projectiles (diabolos and BB steel balls). We wanted to make a comparison today to see which online shop saves us the most money? We have put together an example shopping cart with one of the most popular pistols (Walther P99) in it as well as enough ammunition and of course CO2 capsules for the required air pressure.
CO2 pistols in the gun business: service and test
Compared to online shops, you pay a few euros more in the local gun shop. Especially for first time buyers it is worthwhile to go to the local shop, because here you not only get advice but you can also test several models directly. The direct test is good, because if you have only one weapon, you should like it! If you have more weapons, you will gladly invest in features and individual applications. With the first gun, however, it is advisable to test the model in the shop, also in comparison to other pistols.
If you already know exactly which model you want to buy for your weapons collection, you can of course search specifically in Onlineshop. This saves one or the other Euro! In particular with higher-priced models the price comparison is worthwhile itself in the Internet around the most favorable offerer for CO2 pistols to find. Here is our comparison!
The weapon (Walther P99) at a glance:
Caliber: 4.5 mm (.177) Diabolo (no round steel balls)
Magazine capacity: 8 shots
Sighting: beam sight, laterally adjustable rear sight
Vo max.: 110 m/s
Overall length: 180 mm
Weight: 740 g
Example shopping cart, CO2 pistol Walther and ammunition
In our example shopping cart we have packed a popular standard weapon, the Walther P99. The weapon is often used in everyday life, also by security services and of course the German police. The P99 has proven itself in many situations and is of course very popular with many sport shooters. To our Walther P99 we pack ourselves still the suitable Diabolos for our CO2 pistol, we decide for flat head Diabolos. In addition there is the matching CO2 capsule or a whole set, consisting of 10 capsules, as we would not get far with a single capsule (about 40-50 shots). Our order overview:


FragranceTip.com by FIV
Walther P99 CO2 pistol
1000 rounds of ammunition, diabolo flat head
10 CO2 capsules
Shipping costs and delivery time
Of course not only the price, but also the shipping costs and the delivery time are added to our evaluation. The shipping costs are calculated depending on which country we have our shipment sent to and, of course, from which country it is shipped. Therefore it is worth comparing international shops for CO2 pistols with shops from Germany. The delivery time is also important for many, because how long do you want to wait for your order? Would you like to test the new model directly in two days or can you also take a week? If you can take your time, you can get cheaper models from overseas, e.g. from London. Therefore the delivery time takes a few days longer.
But also think of any customs duties that may be due. Almost all online shops outside the European Union are subject to customs duties. So if you save a few euros, you may have to pay more money for customs clearance and have to wait even longer for your goods in the end.
That's why my first recommendation is to order from a German shop located in Germany or Austria!
The big comparison and our test winner
Our test winner in the price-performance ratio is Shop Waffen Ostheimer. With our total shopping cart of a Walther P99 as well as 1000 protection Diabolos and the matching CO2 capsules, we pay here only 149.00 euros.
Test winner on place 1: Shop Waffen Ostheimer
The online shop not only offers good conditions, but also delivers very quickly and reliably. I myself have already placed a few orders here and have been delivered on time every time, the customer service is also very friendly and very fast! If you have questions, you have an immediate answer. Even if a package goes back sometimes, e.g. if you were not to be found twice (happened!), the support immediately takes care that the package is sent again, which is very customer-friendly. Therefore our test winner, Shop Waffen Ostheimer

Place 2: Shop 4 decimal point5
Also the second place is to be seen, one pays a few Euro more but also has all services with him. From shipping to delivery time, everything behaves to regular conditions. That's why we earned at number 2, Shop 4komma5! Here you will also find many other sports equipment and of course equipment for the system, such as laser pointers but also replacement magazines.

Place 3: Shop Kotte & Zeller
Our third place also has a very large selection, not only CO2 pistols, but also air rifles and many other types of weapons. We can also recommend Shop Kotte & Zeller to anyone who wants to browse!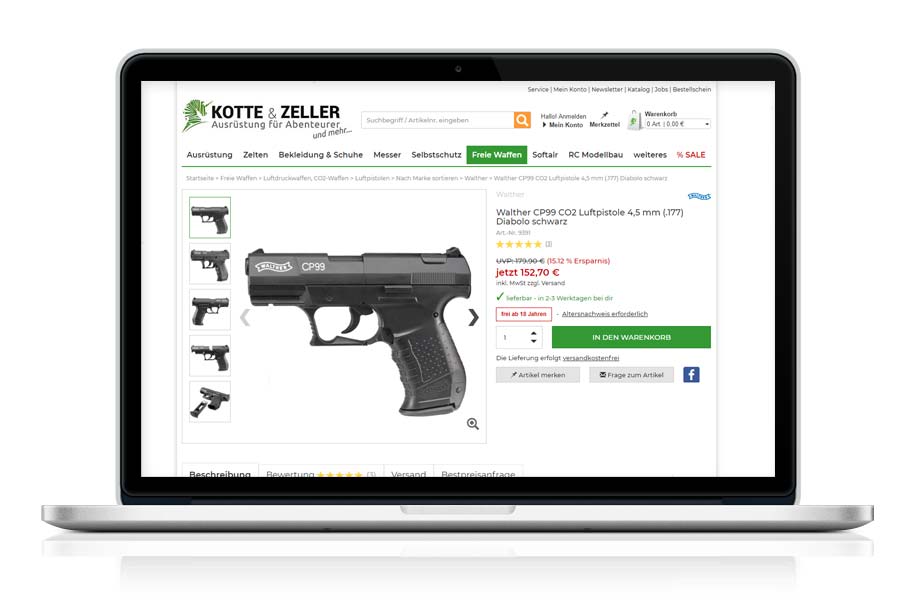 Other Online Shop Recommendations
That was our Top 3 for sport shooters and CO2 pistols in Onlineshop. If you are looking for a little more inspiration or want to discover a few more new products, here are some tips for online shopping.
Shoot Club
Frankonia
Gunpoint
https://fivmagazine.com/wp-content/uploads/2019/04/waffen-online-shop-vergleich-co2-pistole-kaufen-erfahrungen-empfehlungen-tipps-tricks-guenstig-sparen.jpg
500
1080
Stephan
/wp-content/uploads/2023/08/fiv-magazine-logo-news-influencer-fashion-interior-travel-real-esates.svg
Stephan
2019-04-24 09:36:30
2020-11-10 14:24:20
CO2 gun cheap?! Buy weapons online: Comparison Walther CP99