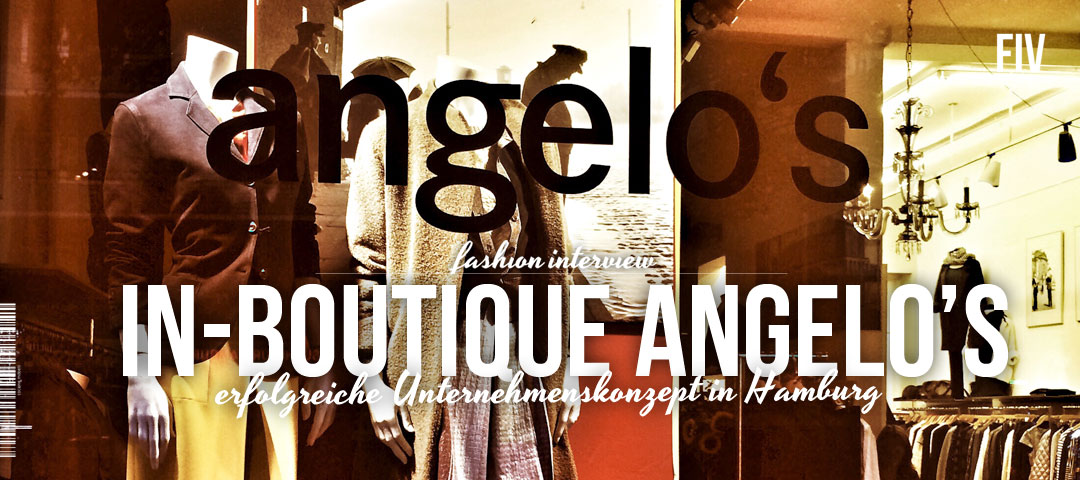 Berit from Fashion Boutique Angelos
Angelos – this is one of THE in-boutiques in Hamburg. Angelos has its own style and doesn't follow every trend: that's their recipe for success. I talked to Berit, an employee at Angelos, about the concept of Angelos and the location Hamburg.
Berit: We create our own themes!
FIV: Berit, "Angelos" is a prestigious fashion boutique in Hamburg. What makes "Angelos" so special?


Germany - Spain - USA
We stand for our own style. Take the liberty not to do everything with fashion themes. Create our own themes if we do not find the right "food" for us and our customers.
FIV: What kind of labels do you carry and how do you decide on the labels you choose?
We carry Chloe Stora, Just in Case & HolyGhost. Mixed in with these companies are Drykorn, Hugenberg & Cambio. For us, the label doesn't matter much. We mix our own themes. What matters is style, quality, fit and then of course the appropriate price.
FIV: What is the corporate philosophy of "Angelos"?
We stand for our own style. We want to live this authentically with a lot of fun and joy. Good, unagitated service with the best advice is our claim.
FIV: Why did you choose Hamburg as your location?
We are Hamburgers with body and soul!
FIV: What are your exact responsibilities at "Angelos"?
Alignment in terms of strategy, purchasing and presentation.
Berit about the fashion & Hamburg
FIV: How would you describe the fashion scene in Hamburg? What is important to fashion lovers in Hamburg?
It's hard to say that in general because it varies so much.
FIV: So what does your clientele look like?
We have a great mix of fashion interested but not fashion victims. The age does not play a role.
FIV: What is your personal fashion tip for fall/winter 2015?
The game with proportions!
FIV: What are the top 3 shopping paradises in Hambrug?
Stoffkontor – for the most beautiful bed linen and towels.
Oschätzchen – for the culinary reward.
Paula – for the best vegetables and fruit in town and a small pack of Italy.
FIV: Dear Berit, thank you for the interview!
More information about "Angelos":
https://fivmagazine.com/wp-content/uploads/2015/09/in-boutique-angelos-unternehmenskonzept-mode-hamburg-standort-interview.jpg
480
1080
Stephan
/wp-content/uploads/2023/08/fiv-magazine-logo-news-influencer-fashion-interior-travel-real-esates.svg
Stephan
2015-08-08 13:00:46
2015-08-08 13:00:46
Berit from Fashion Boutique Angelos