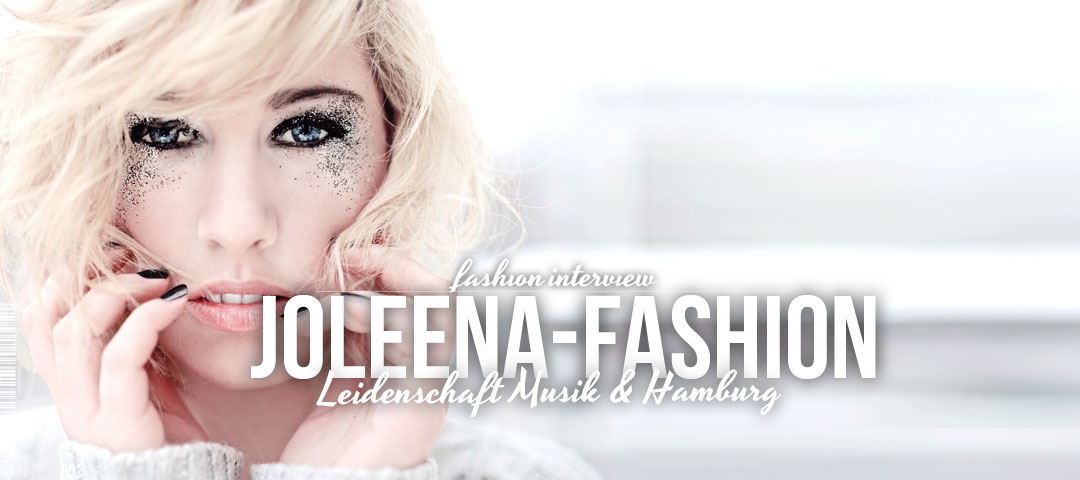 Fashion Blogger Vanessa Joleena from Joleena-Fashion
Joleena Fashion – This is the fashion blog of Vanessa Joleena from Hamburg. On this blog the young blonde combines her passion for fashion and for her city Hamburg. Besides blogging, Joleena has another great talent: music. Joleena loves to sing and has already released her first single. I talked to the musical fashion lover about fashion, music and the fashion scene in Hamburg.
Fashion Blogger Joleena: Fashion & Music!
FIV: Joleena, the last few weeks have been exciting for you: Besides fashion blogging, you've been on stage singing. WOW…so much talent is in you! How did you get from fashion to music and finally to your first performance?


Germany - Spain - USA
That's really true! I've been singing since I could speak, so actually the music came first! The fact that I was able to record an album happened through a few happy coincidences and great encounters in my life, which, by the way, might never have come about without the blog. When Lascana chose my first single for their TV commercial, they asked me directly if I would open the Cool Man Contest with my song. And I said yes and suddenly I found myself in front of my first performance next to Ruth Moschner, who wished me good luck.
FIV: I hope we won't hear less from you via joleena-fashion.com, despite your music career? How do you reconcile music with your fashion blog?
Since I'm working on a new blog concept anyway, the fashion blog will also get a bit more musical content. And I hope that for my readers music is as interesting an area as fashion. For me, the two areas are on par and I like to combine them.
Hamburg – a pearl
FIV: Hamburg, a pearl! Yes, but what makes Hamburg special for you as a fashion enthusiast and creative drive?
I am so madly in love with Hamburg, this city fills every inch of inspiration need. We have many different neighborhoods and each one seems like its own little city with special features. My favorite places to hang out are the Elbe, the Alster or my favorite hotspots in Schanze, Eimsbüttel or Eppendorf. The only thing that annoys me hat enthusiast is the constant north wind.
FIV: What does Hamburg's fashion scene look like? What is the typical Hamburg style?
The proximity to the north is also what makes Hamburg style. We have less Berlin/90s looks and more Scandinavian design labels. Hamburg style is elegant, chic but comfortable.
FIV: Why is Hamburg a fashion city for you?
Hamburg as the gateway to the world (as the people of Hamburg like to advertise themselves) with its large harbour and proximity to the water is perhaps exactly what makes it so special; there is no long chatting here. Fashion here has to endure the cool breezes and withstand the rainy days. I like the quiet down-to-earthness of Hamburgers.
Joleena: "Fashion as an expression of character".
FIV: What do you want to convey on your fashion blog?
That fashion doesn't just scratch the surface, but that we use it as an element to express our character. "Clothes make the man." – we decide who we want to be and that's how we dress. Most of all I want to show that we all have the same destinies and thoughts, I share my world without shame because I know that every woman out there has similar feelings and thoughts.
FIV: What do you enjoy most about your job as a blogger?
The fact that I get to experience so much makes me really happy. Not only have I met many great people through blogging, I have been able to take part in great events and opportunities, and what makes me the happiest of all: I have also gone through challenges and excessive demands that have allowed me to grow beyond myself. I look back on a very exciting time.
FIV: What are the Hamburg "hot spots" as a fashion victim?
My shopping trip doesn't start in Mönckebergstraße but in Hohe Bleichen, where you can find & other Stories, H&M Trend, Zara Home and COS. I also like to visit American Apparell and Urban Outfitters on Gänsemarkt. Meanwhile, I also like to buy nice sports clothes because it actually pushes me to be "professionally" dressed even when I'm doing sports. I like to do that at Stadium, our new Swedish export. Opposite Monki and Weekday by the way. What I also love are the boutiques and shops in Schanze: Kauf dich glücklich, Lille/Stor or Frida. If you're also interested in interior design: Wohngeschwister at Großneumarkt or Mini Market in Schanze are recommendable.
Joleena about Style & Inspiration
FIV: To what extent does Hamburg inspire you as a city and in your look?
Hamburg forces me to wear certain looks, because sometimes the temperature changes by 20 degrees. To put on a dress "just like that" in the morning, because the weather forecast announced 30 ° is dangerous. You always have to take a cardigan or an umbrella. Cape, waterproof shoes and scarf belong to the basic equipment.
FIV: How would you describe your style?
Right now I'm more rock chic, if there is such a term. I like style breaks; like chic with sportswear or a cozy sweater with ripped jeans or pale pink with a leather jacket.
FIV: What is your absolute styling tip?
In and out for years, but DEFINITELY and inevitably back this winter: over-the-knee boots.
FIV: Dear Vanessa Joleena, thank you very much for the interview!
More information about Blogger Vanessa Joleena:
www.joleena-fashion.com
https://fivmagazine.com/wp-content/uploads/2015/09/joleena-fashion-interview-hamburg-leidenschaft-musik.jpg
480
1080
Stephan
/wp-content/uploads/2023/08/fiv-magazine-logo-news-influencer-fashion-interior-travel-real-esates.svg
Stephan
2015-10-12 13:00:56
2015-10-12 13:00:56
Fashion Blogger Vanessa Joleena from Joleena-Fashion