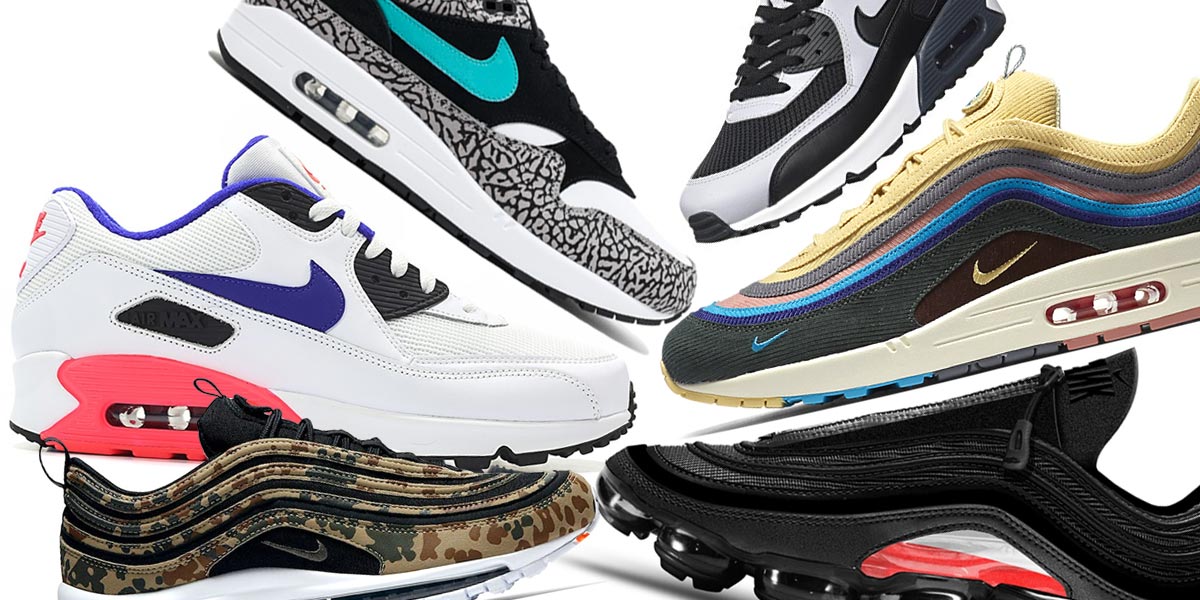 Air Max Day 2018 – Sneaker Design Workshops from Nike
Nike: Air Max Day 2018 – In 1987, Tinker Hatfield designed a sports shoe with a visible air element, a kind of ventilation shaft in the lower part of the shoe, also called Air Pad. The design found particular appeal in the hip-hop and gabber scene and conquered the world from there. Today, the Air Max series has evolved from a sports shoe with a special feature to a true trend shoe and is priced in the upper segment.
The Making of the Air Max 1987 by Nike
Nike: Air Max series reinvents itself again and again
The Air Max series consists of more than ten different types and is complemented by four new releases later in the year. The following is a selection of variants:
Air Max 1
Air Max 90
Air Max 93
Air Max 95
Air Max 180
Air Vapormax
Air Vapormax Plus
Air Max Thea
Air Max Jewell
Air Max Sequent
Coming soon, the new Air Max: 6 designs, 6 cities
The latest Air Max will be announced shortly. For the perfect design, Nike organized sneaker design workshops in the six world cities Paris, London, New York, Seoul, Shanghai and Tokyo. From April 22 to May 15, creative minds from all over the world had the opportunity to create the design for the next generation of Air Max shoes – with a focus on representing the respective world metropolis. Nike made a selection of the top three designs in each city and put them up for a vote by the world. For each city, the designs with the most votes will then go into production and be released at a later date, so six new Air Max shoe designs will soon be launched.


Germany - Spain - USA
Nike On Air Trailer – Shanghai, Paris, London
https://www.youtube.com/watch?time_continue=1&v=g_lnOL8DSSM
Final Decision: The 6 winners of the On Air Workshop
The winners for this year's Nike Design Workshop have finally been announced! The winning designs were chosen based on an online vote, all people worldwide could vote for their favorite design. The following designs will be included in the new 2018 Air Max collection – learn more about their designers and the creative process behind the design:
1st London Summer Of Love (Air Max 97) by Jasmine Lasode
The design, which was chosen to be representative of England's capital city, was penned by Jasmine Lasode. The artist found inspiration in memories of her first date in Primrose Hill and is an ode to love and summertime. Jasmine's design features bright yellow and orange components with a little green and blue on a white background, overall a really positive design.
https://youtu.be/_p73948qG0c
2. Paris Works In Progress (Air Vapormax Plus) by Lou Matheron
Lou Matheron created this design in reference to an unfinished courthouse she discovered while photographing France's most beloved city, Paris. In fact, the grey that takes up large areas of the sports shoe is reminiscent of asphalt or construction concrete, light accents in shades of grey and white complete the picture and only the golden Nike symbol stands out from the rest of the design.
https://youtu.be/iooNt6M4ufU
3. neon Seoul (Air Max 97) by Gwang Shin – colourful and shrill like the nightlife
South Korea's giant metropolis and capital Seoul is reflected in the expressive design by graphic designer Gwang Shin. The flashy neon colours on a black background represent his hometown, which is brightly lit day and night with its billboards and LED logos. The sweeping lines that support the basic shape of the sports shoe are also borrowed from the South Korean national flag.
https://youtu.be/H25DDmioNG8
4. SH Kaleidoscope (Air Max 97) by Cash Ru – convinces with wavy structures
Jewellery designer Cash Ru interprets the appearance of the Chinese industrial city of Shanghai in bright blue tones and wavy line structures. In fact, his design represents the cloudy sky over Shanghai, always in motion and subject to constant change. For Cash Ru, this principle is emblematic of Nike athletes – his design for Shanghai reflects all these thoughts.
https://youtu.be/w6aqFEJ0U58
5. Tokyo Maze (Air Max 1) by Yuta Takuman – inspired by the Tokyo Metro
Japanese Yuta Takuman lives in Tokyo and therefore knows only too well how confusing his hometown can be and how quickly you can get lost in it. For this reason, he has chosen labyrinth-like structures for his shoe design, which cover the entire sports shoe like small spider webs. A fitting representation of Tokyo's subway network, with colorful laces reminiscent of each train line. The famous Tokyo Tower could also inspire Yuta's design – it stands out clearly from the rest of the design as a red and white bubble.
https://youtu.be/lhGZWFnWd_Y
6. la mezcla (Air Max 98) by Gabrielle Serrano – her personal story
Gabrielle Serrano has drawn entirely from herself for her version of New York City. Known as Queen Leo in her hometown, she packed her own personal story into the design of the Air Max 98. To this day, the occasional photographer especially appreciates New York City's inexhaustible diversity of cultures and ethnicities. Elements of this "melting pot" can be found in the streaky darker shades of yellow and brown, a symbol of the different skin tones of New York's inhabitants.
https://youtu.be/jbXCZFLafrI
https://fivmagazine.com/wp-content/uploads/2018/05/air-max-nike-sportschuh-modelle-fitness-style-design-2018-magazin-wettbewerb-neu-vorschau.jpg
600
1200
Lisa-Marie
/wp-content/uploads/2023/08/fiv-magazine-logo-news-influencer-fashion-interior-travel-real-esates.svg
Lisa-Marie
2018-05-15 18:23:03
2018-05-15 18:23:03
Air Max Day 2018 – Sneaker Design Workshops from Nike