Luxury Shopping Cologne (8 Stores): Louis Vuitton, Bulgari, Thomas Sabo and Co.
Luxury Shopping Cologne – In the city centre on the Rhine: If you want to go shopping in Cologne, head for Hohe Straße! Numerous stores from fashion to jewellery to watches. Are Louis Vuitton, Chanel and Thomas Sabo your favourite brands by chance? Perfect! You'll find them both on Hohe Straße. Find out here which other popular bag stores are in the immediate vicinity and which address you absolutely have to go to on your next shopping trip when it comes to jewellery! Click here for the overview: Fashion brands.
Louis Vuitton Store: Bags, Purses & Fragrances
Right near the main station, on Hohe Straße, you will find the Louis Vuitton Store. This store is the perfect first stop for your shopping tour. Louis Vuitton's high-quality products with the LV logo have become an indispensable part of the fashion world. Scarves and shawls in colors like black or blue, leather wallets with monograms and belts & fragrances as a gift for him.
Louis Vuitton – Considered the status symbol par excellence for over decades. Individuality, personality and fashion consciousness: The concept of the luxury brand sounds like that of many others. But there is much more to discover behind it. Scandals & secrets: burnt bags and a legal dispute. Read more about the world-famous fashion label Louis Vuitton, which has designed the most iconic bag of all time and whose products are a must-have in every fashionista's wardrobe.
The Louis Vuitton Store is located at Hohe Str. 137, 50667 Cologne.
Hohe Str. 137
50667 Cologne
Phone: +49 211 864700
Map and address:
Louis Vuitton Store on Hohe Strasse:
Bulgari Store: Bracelets, Rings & Necklaces in Gold
You can find high-quality, stylish jewellery in Cologne at Bulgari. White and rose gold jewellery, accessories and fragrances await you here. The must-haves of the new collection as well as real classics can be found in the city centre of the city on the Rhine.
An iconic brand with an impressive history and worldwide success. Extravagant materials and precious stones, stunning craftsmanship and modern as well as timeless designs, all this unites Bulgari – inspired by the Roman sense of beauty. Find out more about the enchanting jewellery and fragrances like le Gemme for him and her at Bulgari.
You can find the Bulgari Store at Wallrafplatz 1, 50667 Cologne.
Wallrafplatz 1
50667 Cologne
Phone: +49 221 2705650
Map and address:
Bulgari Store on Wallrafplatz:
Hermès Store: Ties, belts and Birkin bag
French Haute Couture on the Rhine? The Hermès store in Cologne makes it possible! French skirts, balzers and ties. You're guaranteed to find what you're looking for here. Grab the most beautiful pieces, go to the dressing room and try on your favourite pieces directly!
The most expensive bag in the world – the popular Birkin Bag, comes from the designers of the fashion house Hermès. But also other pieces like luxurious accessories a la belts, scarves and much more are definitely worth buying. Models like Kendall Jenner or Gigi Hadid, or even young entrepreneur Kylie Jenner are constantly spotted wearing Hermès products. More about Hermès.
You can find the Hermès store at Hof 1, 50667 Cologne.
Am Hof 1
50667 Cologne
Phone: +49 221 4207560
Map and address:
Yves Saint Laurent Store: Perfume, Shoes & Bags
A bit off the beaten track, but definitely worth a visit, is the luxury label Yves Saint Laurent. You are fascinated by Niki, Loulou or the Solferino in vintage look? At Yves Saint Laurent you can find not only dresses and jackets but also these great bag models! Only fashion and accessories? Far from it. Beauty plays a major role at Yves Saint Laurent: YSL Beauty. The perfumes of the line, such as Black Opium or Libre, are world famous. A perfect gift for your loved ones.
Yves Saint Laurent – even the stars are crazy about this brand! Especially one shoe of the fashion brand caused a big stir and was the must-have in the fashion world. Which shoe even caused waiting lists due to its high popularity and demand and other high quality products like perfumes, clothes and bags: More on Yves Saint Laurent.
The Yves Saint Laurent Store is located at Mittelstraße 12, 50672 Cologne.
Middle road 12
50672 Cologne
Map and address:
Longchamp Store: shoulder and cosmetic bags
Right next to Cologne Cathedral you will find the bag expert par excellence: Longchamp. Hardly any bag is as popular as the Longchamp handbag. Mademoiselle Longchamp, Roseaux or a cute mini bag? In the store you can find the bag for you in the right colour and size! With so much to choose from, you might even leave the store with more than one bag?
The Pliage style makes the bags by Longchamp unique: Not only women find their new favourite bag here, Longchamp also offers a design line for men with models like the Parisis. The colour palette is wide and makes women's (and men's) hearts beat faster all over the world. The price portfolio is colourful, the French noble brand offers bags in the middle as well as in the higher price segment. More about Longchamp.
You can find the Longchamp store at Domkloster 2, 50667 Cologne.
Cathedral monastery 2
50667 Cologne
Phone: +49 221 42079653
Map and address:
Longchamp Store at the Domkloster:
Thomas Sabo Store: earrings, pendants and necklaces
If you are looking for jewellery, the Thomas Sabo store in Cologne is the right place for you! Directly on Hohe Straße, Cologne's shopping mile right next to the main station, you'll find the luxury jewellery expert! At Thomas you'll find rings in the shape of snakes, but also classics like cross pendants made of colourful gemstones.
Rita Ora and David Garrett know what to wear when it comes to jewelry! No wonder fashionistas like them collaborate with jewelry manufacturer Thomas Sabo. Would you also like to own cool jewellery like your favourite stars? Then Thomas Sabo is exactly the right partner for you! Bracelets, watches or sunglasses, Thomas Sabo knows how to do it. If you like it personal and individual, this is also the right address. More about Thomas Sabo.
The Thomas Sabo Store is located at Hohe Straße 143, 50667 Cologne.
High Street 143
50667 Cologne
Phone: +49 221 28066230
Map and address:
Thomas Sabo Store on Hohe Straße:
At Wallrafpatz 3 in Cologne you'll find Breitling's watch paradise: Navitimer, Chronomat or Superocean? You've already had a look at the models on the Breitling website, but you still can't decide which model your watch heart beats for? No problem! – Visit the Cologne luxury watch store and find the right model!
Pilot's or diver's watch? Or directly both? If anyone knows their stuff in this area, it's Breitling. Watches from Breitling not only look good, they can also do something! Whether on land or water, this luxury watch will be your constant companion. But what materials are used in Breitling watches? How much do the brand's watches cost? If you're interested in the collections and their models, you can read on here now. More about Breitling.
Map and address:
Armani Store: belts, bags and glasses
You want fashion from Italy, but don't want to leave your favourite city Cologne? No problem, the Armani Store on Aachener Straße makes it possible! Are you on the lookout for new belts, bags or glasses during your shopping trip? Then come to Armani and try out the best outfits of the mannequins on yourself?
Who's behind Armani? Once a medical student, then a window dresser. The road to owning his own fashion company was long, but it was worth it. "Elegance is not about being noticed. It's about being remembered." For videos as well as interviews on Armani, check out our article: Armani.
Map and address:
Armani Store on Aachener Straße:
Fashion brands XXL: Chanel, Givenchy, Hermès, Prada & Co – List
Fashion brands XXL – The popular Burberry trench coat. The famous little black dress. The classic Chanel Suit or the wicked Slip Dress by Calvin Kleid. Who does not know them? With their extravagant designs and innovative fabrics, the great fashion brands of the world make the hearts of many a fashion lover beat faster with every collection. You want to know who belongs to the biggest fashion labels in the world? Then you are exactly right here. We at FIV Magazine have listed the top fashion brands in the world – so you too can become the ultimate fashion expert.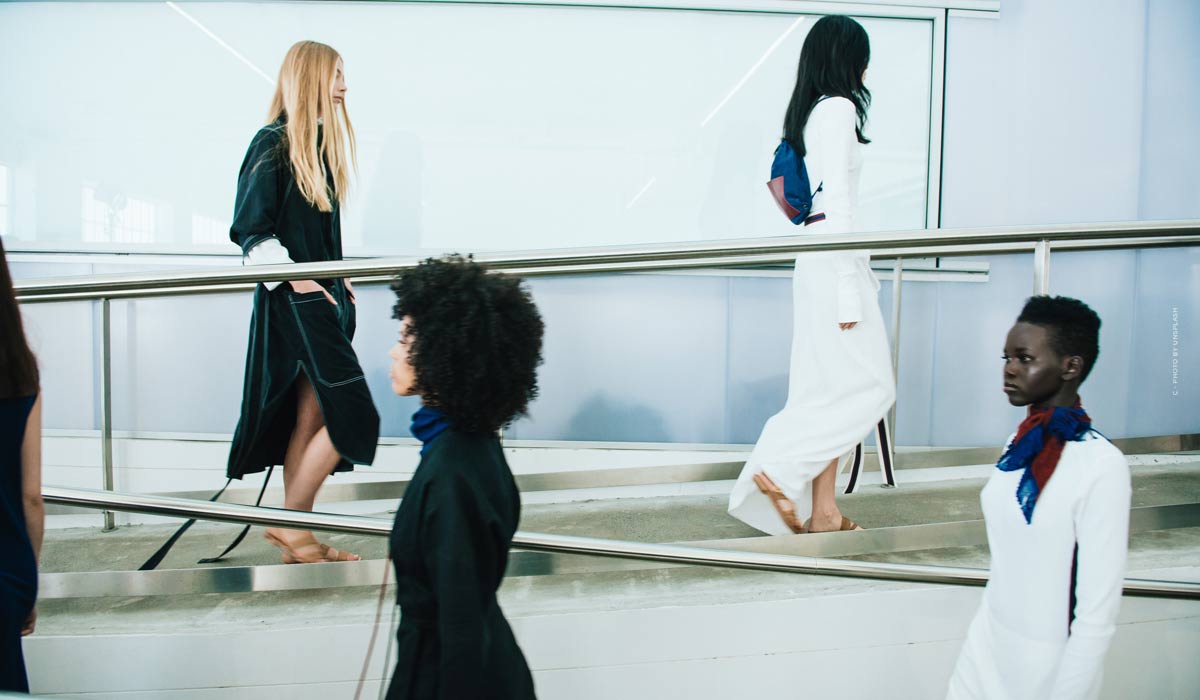 https://fivmagazine.com/wp-content/uploads/2020/11/luxus-shopping-koeln-louis-vuitton-store-mode-schaufenster-shop-mannequin.jpg
800
1200
Lisa-Marie
/wp-content/uploads/2020/07/fiv-magazine-news-instagram-youtube-tiktok-influencer-fashion-interior-jewelry-real-estate-tips-help-logo.png
Lisa-Marie
2020-12-05 07:00:50
2021-07-17 17:08:22
Luxury Shopping Cologne (8 Stores): Louis Vuitton, Bulgari, Thomas Sabo and Co.