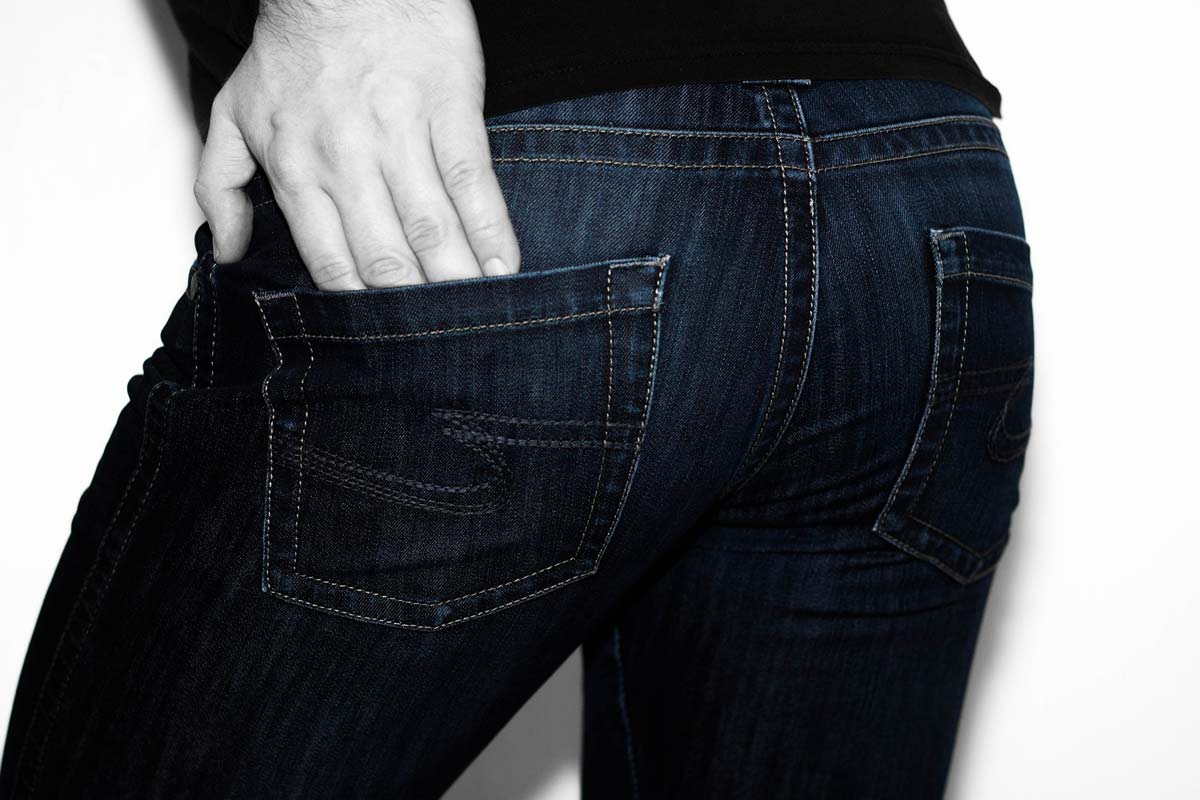 Guess: Bags, Jeans & Statement T-Shirts
Guess – The American brand Guess and its famous logo is probably known to everyone. In this article we will go into the foundation of the successful luxury brand, its unique advertising campaigns and its successful jeans, bags and accessories collections. In addition, we will introduce you to the most successful collaborations of the luxury brand with international top stars.
Guess: From denim to lifestyle brand
When you hear the Guess brand today, most people probably think of its beautiful, classic bags and accessories, but that wasn't always the case: when the brand was founded in 1981 by four French brothers Paul, George, Armand and Maurice Marciano in Los Angeles, it first started out as a denim brand. The very first product of the brand was a slim fit stonewashed jeans , which was ankle length and whose model name is "Marylin". This jeans model was so popular in the American market that the produced quantities of the jeans were completely sold out within a few hours. In the first year after its foundation, Guess had already managed to be represented in all major American department stores. With their jeans designs they managed to interpret the jeans as a garment in a more elegant and sexier way.
Advertising campaigns: Supermodels and Claudia Schiffer
Guess managed to attract a lot of attention for their collections, especially with their advertising campaigns, and was able to gain a lot of recognition as a brand in a short time: The campaigns are sexy and play with the old Hollywood flair. While the very first Guess Girl was still an unknown French model, true icons like Eva Herzigova, Naomi Campbell or Paris Hilton followed afterwards. Especially the advertising with Claudia Schiffer is considered one of the most famous and impressive Guess campaigns: She not only modeled once for Guess, but was also allowed to stand in front of the camera 30 years later for the anniversary collection for the American label after 1989.

Guess logo: McDonalds advertising as inspiration
Everyone knows it, but hardly anyone knows how it came about: The famous Guess logo was invented by the Marciano brothers, who were inspired by a McDonald's billboard that read "Guess what's in our new Big Mac? Since they wanted to add a question mark to the Guess, they designed a triangle style logo to stylishly surround both the question mark and the word Guess. The logo has become an absolute hit over the years!
Guess bags: Embellish the everyday and the evening
If you're looking for a new bag that suits you and your needs perfectly, then Guess is the perfect place for you! The handbag assortment is huge and there are all kinds of handbags: From shoulder bags and totes to clutches and tote bags. Particularly popular styles include the Noelle Crossbody Camera, Layla Bag, Noelle Elite Tote, Baguette Bag, and the Naya Tote Bag. If you are a beauty fan you will also find what you are looking for at Guess, because the brand also offers toiletry bags and cosmetic bags so that your make-up is safely stowed away on the go. The range is completed by practical and elegant backpacks, travel bags, suitcases and portmmonaies (also for men). Here we have put together a small selection of Guess bag models that are particularly well-known and elegant.
Absolute Must-Have: The Noelle Crossbody Camera
An absolute classic: the Noelle Crossbody Camera, a small black shoulder bag that goes with everything. With its silver details, the chain and the iconic Guess logo, the bag looks elegant and classic and is the right accessory for every occasion and outfit.
The Layla Bag: The trend bag among fashionistas
Stylish mini bags are all the rage right now. The Layla Bag is an enchanting mini bag in powder pink with golden details that is guaranteed to become your new favorite bag. It can be combined in many ways and always looks stylish, whether elegant with a dress or casual with jeans.
The versatile shopper: The elegant Noelle Elite Tote
Perfect for the next shopping trip or everyday life: The Noelle Elite Tote is spacious and can be worn comfortably on the shoulder due to its wide handles. Like all Guess bags it is available in different colours, but especially in black with the brown brand embossing the bag looks super elegant and high quality.
Guess shoes: sporty sneakers, boots and high heels
Guess offers a variety of women's shoes, from sporty sneakers to elegant boots and high heels. Guess sneakers are characterized by their high sole and eye-catching details. Chucks with embossed brand logos are also very popular. When it comes to boots and ankle boots, you will find everything from very masculine and robust-looking boots to elegant ankle boots with a high heel to be perfectly equipped for the winter. For special occasions Guess also offers a range of beautiful high heels, classic pumps in black decorated with the Guess logo and summery sandals in bright colors with which every outfit becomes an absolute eye-catcher. The men's shoe collection consists of classic boots and sneakers in neutral colors.
The Ederla Chucks: Perfect for the everyday look
A simple outfit is best spiced up with eye-catching shoes, for which the Ederla Chucks by Guess are perfect: They are super comfortable for everyday wear but still look not too sporty but also very elegant thanks to the print with the Guess monogram in elegant black.
Guess fashion: legendary jeans and logo T-shirts
The fashion assortment of Guess includes collections for men and women; in the collections there is everything for a shopping lover from elegant bomber jackets made of satin to summery floral dresses. A special highlight is the jeans collection of the brand, because after all Guess started as a denim brand and still produces perfectly fitting and high quality jeans. The T-shirts and sweaters with the legendary Guess logo or the name of the label printed on them are also very popular.
Jeans: The favourite for ladies and gentlemen since 1981
Having a perfectly fitting pair of jeans in your wardrobe is super important, as they are considered an absolute fashion basic. At Guess you can choose from a wide range of styles and fits. Especially popular with women are the sexy skinny jeans that made the brand famous, the currently totally trendy mom jeans and straight cut jeans. Men can choose between skinny, regular and slim fit. Each jeans model of Guess has the brand logo embroidered on the back pocket, which is a nice little detail and makes the jeans unique.

Make a statement: Strikingly stylish logo T-shirts
Since the trend of wearing brand logos on t-shirts and sweaters has returned, Guess also offers statement t-shirts with logos or brand names printed on them. Combine them with jeans and a belt to create the perfect outfit for your everyday life.
Accessories by Guess: Classic and Elegant
Guess accessories range from watches and glasses to caps and hats. Probably the most classic accessory there is: Watches. At Guess you will find a whole range of watches in different colors and designs. Especially the "Ladies Dress" in gold is a very popular watch, because it goes with everything and looks incredibly classy. If you are looking for a new phone case for your smartphone, you can find trendy cases in monogram look at Guess. Statement belts, sunglasses and stylish hats extend the range of accessories. In the following section we present a few of the most beautiful and popular pieces:
Belt with logo: High quality leather in pastel
Perfect to set an eye-catcher: The luxurious belts by Guess enhance any outfit and are made of high quality leather. The absolute focus of the belt is the eye-catching buckle in gold, which shows the Guess logo. A timeless accessory that no wardrobe should be without.
The absolute summer trend: Cat-Eye sunglasses
Looking for a pair of stylish and luxurious sunglasses for your next beach holiday? Guess offers you a great selection of high-quality, chic sunglasses from large glasses with dark lenses to filigree with tinted lenses. The absolute trend among sunglasses are models in cat-eye style, which you can find at Guess in beautiful colors and designs. From classic black to neon blue or beige with rhinestones, you have a free choice to find the right cat-eye sunglasses for your taste.
Absolute trend piece: The fishing hat for every season
You can see them everywhere right now: fishing hats. Of course you can also find a selection of fashionable fishing hats with the brand-typical Guess lettering at Guess. Combined with a casual outfit you are always perfectly styled with the hat. Even if you have a bad hair day, you can still look stylish with a fisherman's hat.

Trend pieces: Necklaces, bracelets and earrings
Of course, a stylish outfit can't be complete without the right jewellery: Guess has rings, bracelets, necklaces and earrings in gold, silver and rose gold to offer in their jewellery collection, where you will find timeless and elegant jewellery for every occasion. Particularly popular is the 'Queen of Hearts Necklace' which is a fine chain with a delicate heart pendant and engraved Guess lettering. The necklace is a classic piece of jewellery that you can wear on any occasion.
Perfume: From sweet-floral to sexy-fresh scents
The Guess perfumes have the right scent for every taste: If you prefer floral-sweet, then the Guess "Los Angeles" perfume is the right choice for you. If you prefer fresh perfumes with a sexy note, the "Noir" is an absolute recommendation, because a high-quality and long-lasting perfume with a distinctive scent should be found in every bathroom.

Star power: Guess collaborations with Asap Rocky and J Balvin
Guess has had many successful and popular collaborations with well-known personalities. Especially the collections of the American rapper Asap Rocky and the Latin pop singer J Balvin are particularly popular due to their uniqueness and creativity:
Casual and Summer Vibes: Guess X Asap Rocky
The Guess X Asap Rocky collection consists of T-shirts with short and long sleeves as well as oversized denim jackets and focuses on soft colors like baby blue, pastel yellow and orange. The highlight of the collaboration is a light blue denim jacket in a washed-out 90s style with the words "GUE$$" embroidered on it. Stripes or the Guess logo can be seen on many of the tops. The name of the collaboration "GUE$$" stands for the connection between the brand Guess and Asap Rocky.
Guess X J Balvin Colores: Bright colours and eye-catching designs
A colorful and summery collection that puts you in a good mood: this is the "Guess X J Balvin Colores" collection. It includes clothing, swimwear and accessories in bright shades of green, blue, purple, red and yellow. Each piece is an absolute summer must-have with its eye-catching designs and bright colors.
Celebrity support: Singer Becky G at the Guess X J Balvin Colores Launch
Brands like Guess: Gucci & Givenchy
Here we have put together some similar brands for you or you can have a look at our fashion brand list where you can see all the big labels at a glance.
Givenchy: Haute Couture, Perfumes & Friendships
In fact, Cristóbal Balenciaga and Hubert de Givenchy were good friends, as already mentioned. Both brands were created at about the same time and have had to assert themselves in a similar zeitgeist. So there are certain parallels. To better compare the influences on each other, you can read this article on Givenchy.
Gucci: Timeless Designs, Fragrances & Cosmetics
What do you associate with the luxury fashion house? Is it the Marmont bags and the world famous fragrance Gucci No. 1? World stars like Harry Styles or Iggy Pop sit on the audience benches to admire the latest fashion collections by Gucci. Fashion that is later worn by fellow singers like Rihanna or Jennifer Lopez. Get to know the label that adorns the wardrobes of your favorite stars. Immerse yourself in the world of Gucci and learn everything about fashion shows, style, bag collections and even the founding father Guccio Gucci himself.
Many other fashion brands: XXL List
You are enthusiastic about Balenciaga and want to get to know more brands? Then take a look at our XXL Guide and get to know the top fashion brands in the world.
Extravagant haute couture. Refined prêt-à-porter. Fine sportswear and innovative accessories. The world's most luxurious fashion brands inspire millions of people and fashion lovers with their exquisite collections every year. They camp out in front of stores to snag limited edition specials, stand on the streets of Paris during the highly coveted Fashion Week, and sit wide-eyed in front of televisions to watch the latest and hippest runway shows. Here is the ultimate fashion brand guide.
https://fivmagazine.com/wp-content/uploads/2021/09/Guess-jeans-hose-pants-tsche-pocket-blau-fashion-damen-woman-mode.jpg
800
1200
Lena
/wp-content/uploads/2020/07/fiv-magazine-news-instagram-youtube-tiktok-influencer-fashion-interior-jewelry-real-estate-tips-help-logo.png
Lena
2021-09-20 05:30:58
2021-09-23 10:53:54
Guess: Bags, Jeans & Statement T-Shirts