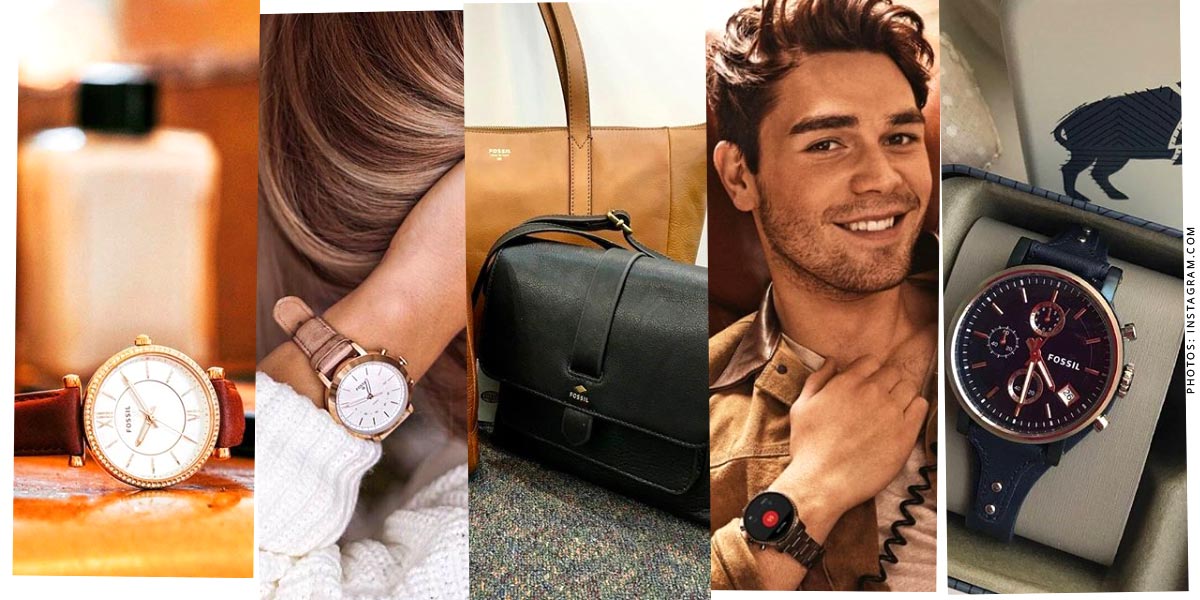 Fossil: Retro and yet Modern
Retro fashion has long been "in" again. Fossil, a fashion brand known for selling retro style accessories. A US-American company founded in 1984 is the shop if you like vintage or retro style. In addition to its own brand, Fossil also sells other fashion brands such as Burberry or Armani, so all price ranges are represented there and there is something for everyone.
Fossil – Cheap Luxury
If you're not looking for a Rolex, but you're still looking for a good looking watch, or a cheaper handbag instead of Louis Vuitton, Fossil is a great alternative for you. The brand offers elegant men's watches for little money. If you are of course more interested in Luxus watches we have an article for you. Fossil has been around since 1984 and was founded by the American Kosa Kartsotis. Meanwhile, his brand markets fashion sizes such as: Diesel, Emporio Armani, DKNY, Burberry, Michael Kors, Marc by Marc Jacobs, Adidas, Tory Burch and Karl Lagerfeld. Of course they also offer products of their own brand "Fossil". However, you can also get accessories for less than 100€ instead of 15000€, which is attractive for you and other young people.
You want to know more about Fossil? Here we have summarized some important data of the Fossil Group for you.
2001 – Acquisition of Zodiac brand from Genender International for approximately $4.7 million
2004 – Takeover of the Swiss watch brand Michele through the acquisition of Tempus International Corp for approx. 50 million US dollars
2007 – Acquisition of Watch Station International, a watch retailer with global sales operations, from Sunglass Hut
2012 – Acquisition of Skagen Designs for approximately $225 million and 150,000 fossil shares. (Skagen is a more established watch and jewellery brand with Danish design)
2013 – Fossil acquires Latin American distribution business of partner Bentrani Watches, LLC from Miami, Florida
2015 – Fossil takes over Wearable Computing provider Misfit Wearables from Burlingame, California for approx. 241 million US dollars
Vintage on sale: Fossil Brands Outlet
Alternatively to the online shop or Amazon, you also have the possibility to visit one of the numerous Fossil Outlets. They lure with great offers and who can say no if a vintage handbag is on sale? There are a total of 13 outlets in Germany alone, including those in Cologne and Wolfsburg. In the shop you will find everything from handbags, over ladies watches, mens watches, leather bracelets or even shoulder bags at fair prices.
Necklaces, earrings and other jewelry
Every fashionable outfit of a woman needs the matching earrings, a handbag or matching rings, also there you will find at Fossil. Silver, gold, Swarovski there is an incredibly wide selection of jewelry from your own brand to Swarovski. Also here it applies, cheap chains with engraving or a noble designer chain – no matter what it is, you will find almost everything. From high fashion to casual, no matter how you want to dress, you are sure to find the right accessories.
Anything other than retro – BMW and Fossil bring out Smartwatch
Who would have thought it from a brand known for its retro and vintage styles? BMW and Fossil launch a Smartwatch collection. Sales start in January 2019. The Smartwatches are to be offered for sale in over 4000 BMW sales outlets. It is still speculated whether the watch will have a touch screen similar to the Emporio Armani Smartwacht. They are also waterproof, have GPS distance tracking, heart rate monitoring and are compatible with iPhone and android phones. Fossil confirms that this is the first time they have worked with an automobile manufacturer. Furthermore, thanks to the NFC payment system, you should be able to pay in many shops with your watch instead of your card.
The project Emporio Armani Connected was published in 2017 and combines the classic high fashion Giorgio Armani with the Smartwatch technology.
https://fivmagazine.com/wp-content/uploads/2018/10/fossil-fashion-bag-Q-watches-leather-brown-black-quality-photography.jpg
600
1200
Lisa-Marie
/wp-content/uploads/2020/07/fiv-magazine-news-instagram-youtube-tiktok-influencer-fashion-interior-jewelry-real-estate-tips-help-logo.png
Lisa-Marie
2018-10-29 12:00:02
2021-07-08 11:18:55
Fossil: Retro and yet Modern