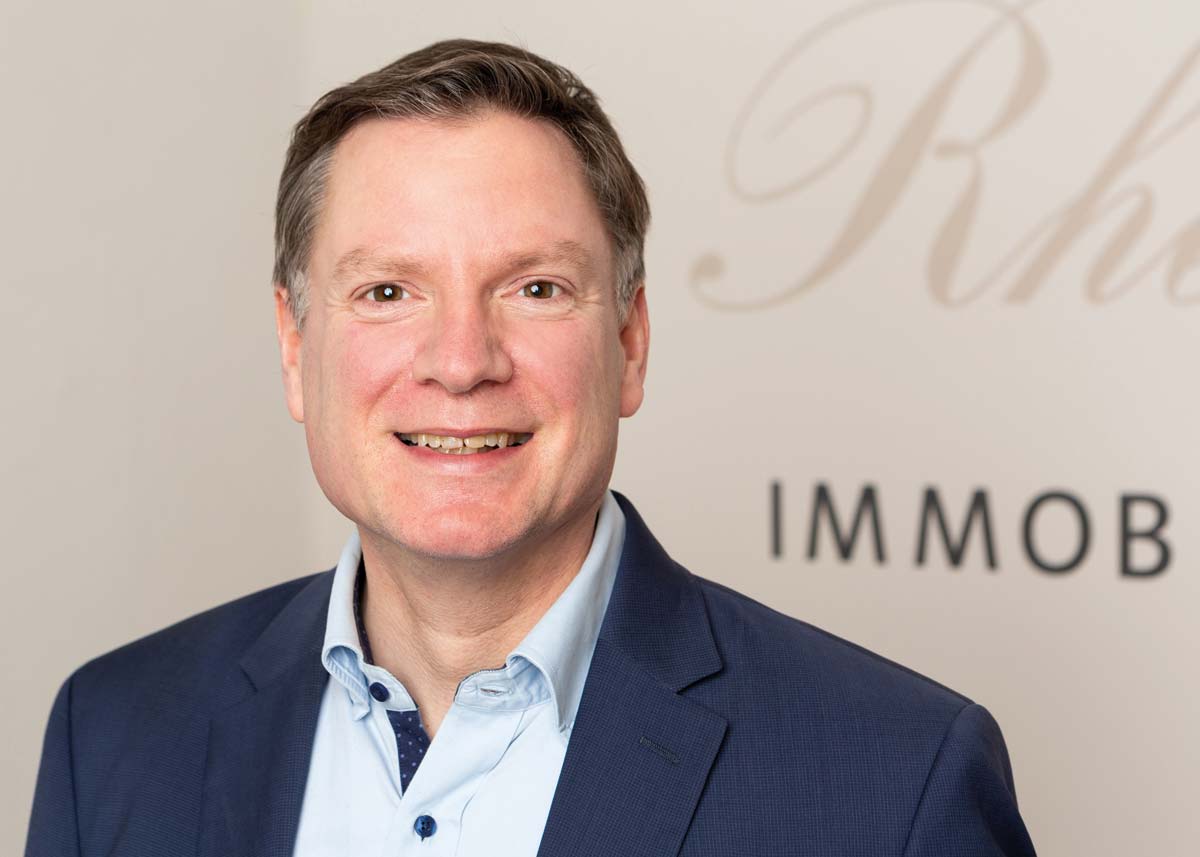 Broker Interview Cologne: J. Westermann about renting, buying and the housing market in Cologne
Real estate agent interview Cologne – Jaap Westermann pursues as an agent and founder of the company Rheingold real est ates in Cologne above all the requirement to belong by outstanding service to the best real estate agents of the city. Since 2007 he leads the company with success. Before becoming a real estate agent, Mr. Westermann worked as a management consultant, and therefore has a lot of expertise in the field of marketing and change management. In the meantime, he has also become an expert in the valuation of undeveloped and developed properties, which he considers to be an elementary qualification of a real estate agent. As part of the Competence Club of real estate professionals, and since 2018 even regional director in the Federal Association for the Real Estate Industry (bvfi), he has a large, professional network and is always in exchange with colleagues about ways to improve the service. Rheingold Immobilien wants to set itself apart from large brokerage companies and franchise chains in the service sector through expertise. Mr. Westermann does not work with commercial agents, as is often the case, but with permanent employees. The real estate professional talked to us about the Cologne housing market, costs, tips, financing options when buying real estate and about up-and-coming neighborhoods in Cologne.
Cologne real estate agent about real estate market, tips & development
Cologne real estate agent Jaap Westermann has been working as a real estate agent in Cologne and the region for over 13 years now, and is therefore an absolute real estate expert. He spoke to FIV Magazine about attractive districts, financing options and the Cologne real estate market. Benefit from the know-how of the professional and learn a lot about the search, purchase and financing of real estate.
Property types popular with agents & the most personally exciting projects
FIV: Before we go into the many details of the city: as a real estate agent in Cologne, what type of house/apartment do you most like to broker? Are there any favourites, for example the normal 3-room apartment, the loft or rather the luxury property on the outskirts?
Westermann: Of course, it's not just the prospective buyers who have a feast for the eyes, but also us estate agents. The more attractive the property and the surroundings, the more you enjoy it. In general, the more one can imagine that a property fits my own, current, future or past life situation, the easier it is, of course. In the case of apartments and single-family houses, it is nicer when they are or become empty. Then you don't have potential owner-occupancy notices for tenants in the background – and also better opportunities to do homestaging. This problem does not arise with apartment buildings.
FIV: What was the most exciting property you remember from your years as a real estate agent?
Westermann: The most exciting cases are certainly those in which people deal with each other less harmoniously (inheritance, divorce). That's where we're glad when we as mediators, often also with the lawyers of the parties involved, get into calm waters. Several of the most beautiful properties come to mind. The apartment building with development potential in Deutz, the modern city apartment at Waidmarkt, where homestaging would never have been possible because everything was so perfectly furnished, the attic old building seasonette with roof terrace in Klettenberg in a dream location, an apartment on the 39th floor of the Uni-Center, where I spent 2 hours taking photos at blue hour and sunset, and many more.
The most beautiful experience, however, comes above all from the conversations with the sellers and tenants with whom you have the most intensive contact. A trusting cooperation and later happy faces of buyer(s) and seller(s) then provide the really nice moments. Regardless of the property.
"Only if you know how a property is valued can you communicate on an equal footing with financial advisors and experienced investors. Only if you know what a bank will finance under normal circumstances, you also know how much equity is needed for lover's prices."
Rheingold Immobilien: Website & Youtube
Where should you move to in Cologne? Districts for singles, families and more
FIV: The majority of our readers are buying a property for the first time. So that our readers have a direct insight into Cologne: If someone newly moves to Cologne and asks you as an expert in Cologne the question "where should one move to?", which districts would you recommend for:
Single / career oriented?
Families with child(ren)?
Wealthy individuals (property prices over 1 million)?
Westermann: I think it's difficult to give a general answer. As the people of Cologne say, every person is different. Some are drawn to where there's the most action, others seek balance in the peace and quiet. For some, the schools in the area are the most important thing, for others the way to work, to the airport or to the main station. Some wealthy people love the opportunity to develop freely in Hahnwald, others are more drawn to the city centre.
I recommend that every prospective buyer first ask themselves the question: What is important to me? In the case of families, all family members should do this. In addition to the location, the requirements for the dream property should also be written down. The second question should be: What can I spend? The third step should be to check where you are willing to compromise. Can the budget be increased after all? Which points concerning the equipment and the location are "must haves" and which are "nice to have"? We have written descriptions of the districts on our website. Here you can find out what makes a neighborhood special. We have also included information on property prices from our annual property market report. You can see right away if it fits or if compromises seem necessary.
Real estate prices in Cologne, attractive districts: Buy or rent, city comparison
FIV: What costs should one expect in Cologne, for rent and more importantly, when buying an apartment or house? How would you compare Cologne with other cities and which districts are currently particularly attractive?
Westermann: Compared with Berlin or Munich, purchase prices in Cologne are certainly still moderate. Foreign investors tend to concentrate on these cities, in some cases with vacancies in the properties they have acquired and with speculative expectations of further increases in sales prices. Hamburg certainly stands out due to its construction activities. Here, one city has set the right course to bring demand and supply back into line. In Cologne, much has already improved, but there is still much to be done. The current construction measures are not enough to satisfy demand.
For the price it always depends on the combination of location, equipment, year of construction, status of modernisation. When buying an apartment, it is also important to know how high the house payments are and how much the community has saved up for upcoming measures. Basically, however, the following applies: The more central the location and the better the condition (year of construction, modernisations), the more expensive it will be. However, certain streets (e.g. avenues with Wilhelminian-style houses), park locations or locations directly on the Rhine are particularly attractive.
There are only a few locations in Cologne that are not in demand. However, the price level is certainly particularly high in the entire city centre, the districts in the southwest of Cologne, Nippes in the north, Dellbrück and Brück on the right bank of the Rhine. But of course also in other districts in direct proximity to the Rhine or directly at the park. Last but not least, Corona makes people appreciate this even more. Your readers will find details in our annual property market report.
Districts with an upswing: Sülz, Klettenberg, Zollstock or Hürth?
FIV: Another look at those who want to invest and rent out. As a real Cologne insider, which district(s) is (are) currently experiencing an upswing and is (are) particularly interesting for capital investors / investors? Which districts are exciting for landlords and investors here?
Westermann: Due to the tight market, it is certainly always most interesting where there are still strong price drops between two neighbouring districts. If someone is looking in Sülz and Klettenberg, but doesn't find what they're looking for there, it's not uncommon for them to look beyond their own nose to the next district. This ensures rising prices in Zollstock and Hürth. The same applies to other districts. As an investor, it is above all relevant what you want: a property that is in very good condition with good rents that can be solidly sublet or rather a property with development potential (rental potential, vacancy and/or expansion potential).
When is it worth employing a broker? Advantages & disadvantages
FIV: According to statistics, well over 50% of all properties in Cologne are bought / sold with an estate agent. From your point of view: when should one search privately and when should one hire a professional real estate agent for the search? Where are the advantages and disadvantages?
Westermann: As a searcher, you should generally not limit yourself here and simply consider all possibilities. I would create search profiles with the brokers where you think you are most likely to find your dream property.
I myself live in a property that I bought through a broker, whereby the brokerage performance has not convinced me. If the total price of the purchase price and incidental acquisition costs (broker commission, notary fees, land transfer tax) but right, so you should strike at the dream property. If necessary with a fist in your pocket. You can see the professionalism of a real estate agent by the references, the way of working, the exposé, the possibility of virtual viewing after activation by the real estate agent and the completeness of the documents required for the banks.
Tips for first-time homebuyers: typical mistakes made by first-time buyers
FIV: As I said before, the majority of our readers are first-time buyers. What are the mistakes that first-time buyers typically make? Conversely, as an expert, what advice would you give to someone buying his or her first property?
Westermann: Don't save at the wrong end and seek advice where necessary. Rather spent a few times money for a purchase consultation, than to suffer a high loss by an exaggerated purchase price or glaring lack, which did not notice for lack of knowledge. Critical areas are always basement and attic (damp, mould), and conversions of attic, conservatory or basement (permission required for this to become living space). Everything should be in order with good estate agents, although you should not infer work from a good well known brand name. The majority of franchises and internet companies work with freelancers. Accordingly, you can be lucky or unlucky.
Financing options: Building savings contract – yes or no?
FIV: Which financing options for a property would you most likely recommend in Cologne – or in general – what options do first-time buyers have? How much equity should you bring with you and what other factors influence financing / creditworthiness? What tips can you give as an expert from your experience?
Westermann: Building society contract only in the absolute exception! Here the financial service providers earn an increased commission, so that one sells this gladly. Talk with your house bank and two financial service providers best first independent of real estate, what is realistic. Consider in advance how much money you need each month. Do not forget payments that are due once a year: Holidays, possible repairs or new purchases. A property that takes you to the financing precipice is simply the wrong one for you.
Incidental costs when buying real estate: Taxes, costs & Co.
FIV: In addition to the purchase price, there are of course ancillary costs. A big factor for buyers in Cologne is taxes. What taxes do buyers in Cologne have to reckon with when they buy a house on the outskirts of the city or a condominium in downtown Cologne?
Westermann: The real estate transfer tax amounts to 6.5% in NRW, in addition notary's office and registration costs of 1.5-2%, if necessary buyer's commission (usual 0 to 3.57% – one should let higher deduct from the purchase price).
It is best to compare the total costs of the properties with each other right from the start. The upcoming running costs are also important: In the case of condominiums, these costs can be seen very well in the utility bills. They also pay attention to how much in reserves is available. The older the property, the more you should be prepared for future measures. Otherwise, you should plan for special charges.
In the case of houses, it is advisable to ask for a breakdown of running costs (property tax, municipal charges, energy suppliers). In my view, energy performance certificates often give an inadequate picture.
Land transfer tax North Rhine-Westphalia: 6.5%
Notary's office & registration costs: 1.5 – 2%
If applicable, buyer's commission: usual 0 – 3.57%.
Rising rents in Cologne: Causes according to experts
FIV: Rents and purchase prices in Cologne have risen sharply in recent years. What is the decisive factor driving this development most strongly in the Cologne property market? Would you currently recommend investing in property or wait?
Westermann: The decisive factors for the development are low interest rates – which will probably remain low for the foreseeable future due to the high level of government spending – too little construction activity, few available free spaces and the high attractiveness of cities. The latter applies not only to young people, but increasingly also to pensioners who want to live in an environment where medical care is well assured.
It's exciting to see what other developments time will bring us. Will more families move to the countryside as a result? Especially if home offices are allowed more often? Will there be more distressed sales in the future? If so, how many? The market still has a lot of catching up to do. But if the supply increases, not everything will be sold as easily as it is today. Moreover, it is already noticeable that not everything is financed anymore. Utopian price ideas fail at the latest when it comes to financing.
Jaap Westermann himself about his company:
"We see our path as an exciting journey with ever new technical challenges, but also opportunities. However, our focus is always on our clients. They are treated with us in a friendly, respectful and personal manner, just as I myself imagine a good service to be."
https://fivmagazine.com/wp-content/uploads/2021/02/jaap-westermann-rheingold-immobilien-makler-interview-tipps-immobilien-koeln-experte.jpg
857
1200
Lisa-Marie
/wp-content/uploads/2020/07/fiv-magazine-news-instagram-youtube-tiktok-influencer-fashion-interior-jewelry-real-estate-tips-help-logo.png
Lisa-Marie
2021-02-26 13:09:50
2021-02-26 13:09:50
Broker Interview Cologne: J. Westermann about renting, buying and the housing market in Cologne