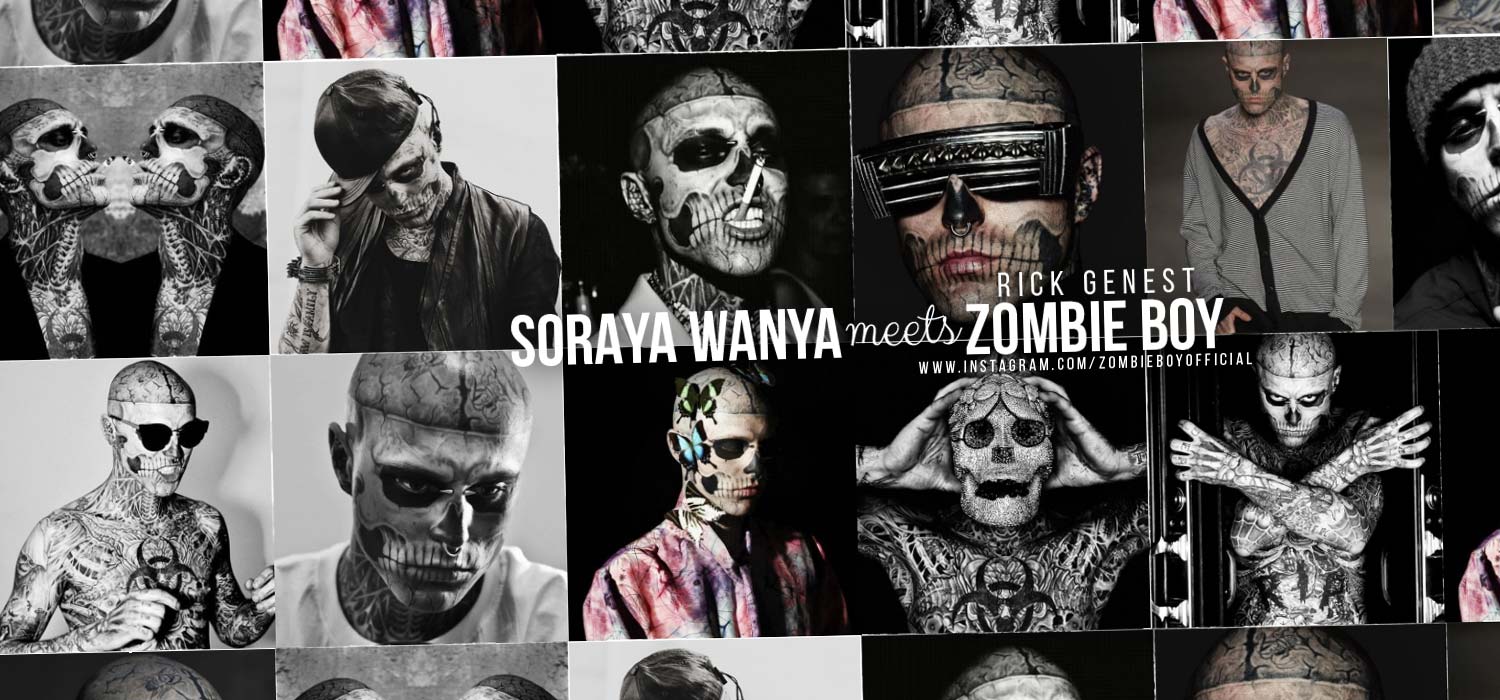 Rick Genest: The real life Zombie! Becoming a super model
We met the a real Zombie – Rick Genest. He is the the person with the highest number of insects tattooed on the body. He has 176 insects tattooed on his arms, torso, back and head. We talked to the real life Zombie about his life on the streets of Montreal, his favorite food and his carrere. How he thinks his life will look like in 20 years? Have a look on the interview.
Update! A few hours ago, Rick Genest was found dead in his apartment. We are incredibly happy that we were able to ask a freedom-loving person like Rick again and hope that his family, his wife and his children are doing well. RIP Rick.
Growing up, living as street kid
Fiv: Hi Zombie Boy, could you tell us who invented your name?
Growing up, living as street kid, my comrades aliased me as 'Zombie'. This was due to my couple of tattoos & macabre t-shirts/apparel I'd be fashioning, as well as the music and movies I'd be into. I had also previously survived a brain tumor operation; hence, the shoe fit like chocolate & peanut butter. Down the line, it was Bizarre Magazine that dubbed me as the Zombie Boy.
Fiv: When asked what your profession is, what do you answer?
In a nutshell, my profession is Zombie Boy.
I started entertainment performance in freak-show as "the boy who ate worms" . I have since worked as a model and have done some acting. I am currently striving to make my way into music as the front man (lyricist/vocalist) of our currently under-construction band 'Zombie Boy'.
Fiv: How did your present day career begin? What were you doing before that?
As a teen, I was a squeegee-kid and doing odd jobs before getting into freak-show performing. Some people would want pictures, and so it was a modeling gig that interested Nicola Formichetti to scoop me up. It was shooting with Mugler and hand-in-glove shooting of Lady Gaga's 'Born this Way' that trumped everything else I had previously done.

Fiv: What do you particularly like about your job?
Sometime a photographer will use a snap that shows the obscure Zombie Boy character that I manifested for myself. Also, once in a blue moon, I get a gothic/horror gig alongside other misfit strangers in the strangest places.
My favourite tattoo is the one on my skin
Fiv: It looks like there is no free space on your body for any other more tattoos but is there a part of your body that is not yet tattooed?
Yeah there's a little space left, but that's after-dark real-estate territory.
Fiv: What would you say is your favorite tattoo?
My favourite tattoo is the one on my skin.

Fiv: When and why did you start getting inked? Would you tell us something about your first tattoo and the story behind it?
I was 16 when I got my "Skull & crossbones" tattoo on my left shoulder. It represents "no rules & no master".
human flesh, and brains are a cultural delicacy
Fiv: How do you picture your life in 20 years from now?
Logical reasoning leads me to believe that I will by then in-turn be the worm food.
Fiv: Our special question: what does a zombie eat? What is your favorite food?
Zombies generally vice on human flesh, and brains are a cultural delicacy. Though if you ask me, worms are great for snacking and candy-corn everyday keeps the doctor away.

Fiv: You lived on the streets of Montreal for a while. What would you say was the hardest part of this?
Trying to squat the harsh and unforgiving winter, with a dash of Police.
Fiv: You have traveled a lot over the last few years. Many other people leave their hometown when they work in your business. What is so special about Montreal for you that you want to stay?
This is my home. The people and grew-up with and love are here. I know where my resources are, and familiarity is my comfort zone.
Thank you Zombie Boy for the great Interview.
If you like to see more of him, check his website and Instagram:
https://fivmagazine.com/wp-content/uploads/2017/03/zombie-boy-interview-model-topmodel-rick-genest-soraya-wanya-magazin-mode-supermodel.jpg
700
1500
Stephan
/wp-content/uploads/2020/07/fiv-magazine-news-instagram-youtube-tiktok-influencer-fashion-interior-jewelry-real-estate-tips-help-logo.png
Stephan
2018-02-07 11:01:17
2021-06-24 09:31:44
Rick Genest: The real life Zombie! Becoming a super model