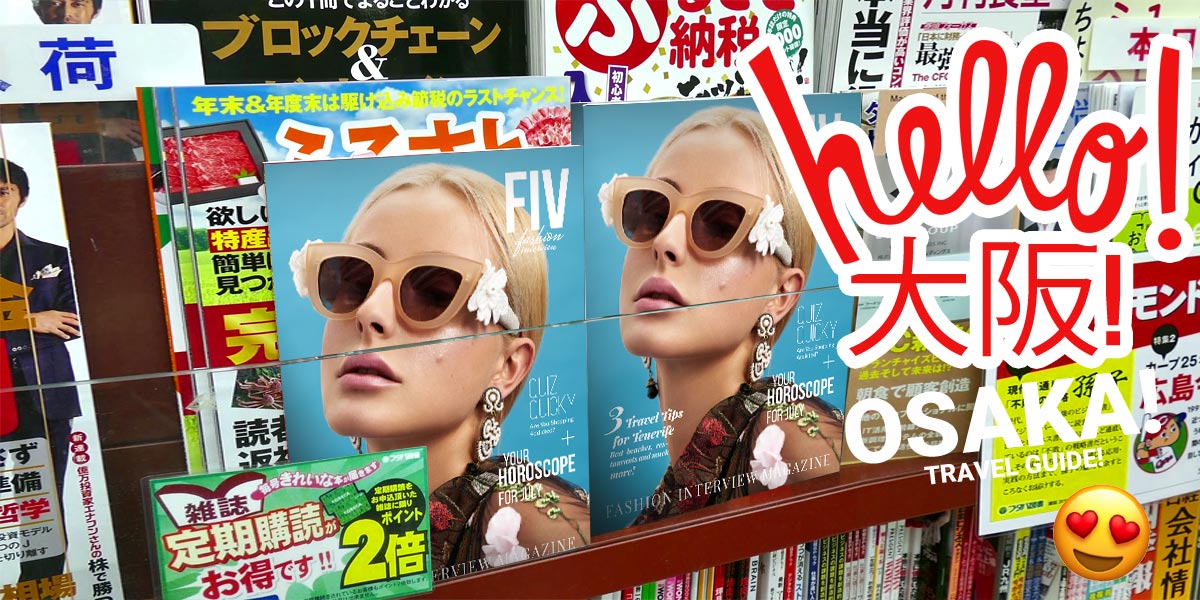 Amazing Osaka! Between Samurai & Shopping in Japan's #2 Metropolis
Osaka is one of Japan's most famous cities and is located in the Kansai region, more precisely in Keihanshin, Japan's second largest conurbation with a total population of 17.5 million. Of these, 2.7 million live in Osaka alone, closely followed by Kyoto and Kobe with about 1.5 million inhabitants each. Similar to Tokyo the city of Osaka is divided into 24 districts, including Fukushima. Further to Osaka belong the districts Higashisumiyoshi with its numerous shrines, monuments and temple ruins as well as Minato and Taishō.
Osaka in 4K: Almost as good as live!
[shortcode variable slug="adsense"]
By the way: Osaka received its name officially only in 1868, although it is historically proven that the city was already called "Ozaka" in the Middle Ages. However, its original name is Naniwa and as "imperial residence city Naniwa" until the year 744 Japan's capital. Since then Osaka has been a more important trade hub than ever, not least because of its excellent land and sea connections. In the meantime, Osaka was the most populous city in Japan, but Tokyo and Yokohama have meanwhile pushed Osaka to third place. In the 1990s, most of the large companies previously based in Osaka relocated their headquarters to rapidly growing Tokyo, which burst the economic bubble around Osaka and plunged many Japanese into bankruptcy and unemployment.
A little history… and tips for your first trip!
Due to the constant changes that the city has been exposed to over the centuries through wars, earthquakes and other natural disasters, Osaka has had the opportunity to reinvent itself every time. Today, the big city is a prime example of modernity and highly efficiently structured. The transport network, for example, is well thought-out, reliable, closely linked and affordable for everyone. This makes Osaka a place with an impressive variety of transport options. There are two airports in and near Osaka – the Kansai International Airport, built on an artificial island, and the smaller Itami Airport for domestic flights. From Kansai International Airport there is a rail connection connecting the airport with the cities of the region, including Osaka, of course. Osaka's inner-city rail network is the second largest in Japan and almost identical in structure to the Tokyo Metro. Seven different railway companies operate the railways and trains in Osaka, and ownership seems rather fragile. Nevertheless, the entire transport system works perfectly – delays are not only not tolerated here, as in the rest of Japan, they simply do not exist!
Know already? In Osaka you pay by train according to route
By the way: in Osaka you pay depending on the distance covered, the shortest distance costs 200 Yen, so just 1,53 Euro. The JR Osaka Loop Line is one of the more popular routes as it circles – as the name suggests – once around the whole city. Thus, one gets easily and uncomplicated to every part of the city and saves the change to one of the other railways. The train stations per line per direction are simply gigantic – so you should definitely plan enough time to get from A to B. Those who prefer to save the effort and instead reach for their wallet can also treat themselves to a taxi as an alternative. There are no modern apps or vending machines – not yet! – but for that there are taxis literally on every corner – and most taxi drivers even speak a little English.


FragranceTip.com by FIV
Tips and Insights for your trip to Osaka
Osaka – official partner of eight international cities
Chicago, USA
Hamburg, Germany
Milan, Italy
Melbourne, Australia
San Francisco, USA
Saint Petersburg, Russia
São Paulo, Brazil
Shanghai, China
Although Osaka has had its heyday as Japan's commercial centre, the city still has a lot to offer culturally. For example, it is the most important city in terms of classical Japanese theatre. Among the sights of the city is the Tsūtenkaku, "the tower that reaches to the sky" with an impressive 103 meters height. The tower, which is loosely designed to resemble the Eiffel Tower in Paris, also provides the current weather forecast for the following day based on the colouring of the top of the tower. The 16th century Osaka Castle with its interior museum is also worth a visit and if you like the underwater field, you should definitely plan a visit to Kaiyūkan – one of the world's largest publicly accessible aquariums!
Attractions in Osaka – La Santa Maria Cruiser, Owl Family Café, Dotonbori and more
Osaka sees itself as the anti-capital city – proud, cool, self-confident. Full of hospitality and with an exquisite cuisine. The passion for food in particular has a far-reaching historical background here. Hundreds of years ago, when Tokyo was still a military base and Kyoto was considered the imperial capital, Osaka was already known as "Japan's cuisine". Osaka is the home of soul food – in no other city in Japan do people spend more money on good food and the quality demands on food and restaurants are extreme. The people here are almost obsessed with food and drink and reinvent dishes seasonally.
Streetfood in culture imprinted Osaka
Street food can be found everywhere and there are always new and unusual creations on offer, alongside the traditional and local dishes for which Osaka is famous. In some restaurants, for example, there is the option "How you like it", which you can select separately for each main course – and actually you can put together a selection of all available ingredients and garnishes and mix at the table yourself, however you like. There are no limits to your creativity – pancakes with pork belly and shrimps in sesame sauce? No problem. There is even a separate term for Osaka's culinary culture: "kuidaore" – which means "eat until you burst". The distinctive eating and enjoyment culture invites you to linger and so it is not uncommon to meet people late into the night in restaurants and bars – in Osaka nobody has to be alone and the last people stagger in the morning hours to work or home, depending on the job.
Kuidaore! The best street food in Dotonbori
The best local delicacies in Osaka
Takoyaki
Literally translated as "grilled octopus", Takoyaki are small pieces of octopus with pickled ginger and spring onions in dough – a special Takoyaki pan provides the spherical structure. In addition there is still the Takoyaki sauce or alternatively Majonese, seaweed or dried Bonito. Takoyaki is available at every street food stand in Osaka and is one of the most popular snacks there.
Teppanyaki
Teppanyaki translated means "grilling on a metal plate" and describes more a certain cooking technique than a certain dish. The special thing about Teppanyaki is that the customer can fully witness the preparation process and there are even restaurants that specialize solely in this special customer service. For lovers of good food, anticipation is an essential component and, moreover, cooks in Japan are generally very respected and have to undergo many years of training before they can really call themselves chefs. There is no limit to Teppanyaki, but usually either high quality beef or seafood is used.
Okonomiyaki
Okonomiyaki is visually reminiscent of pancakes and is widespread throughout Japan. Therefore, there are many different variants of this dish. Typical for Okonomiyaki in Osaka is the grated cabbage. Together with a variety of other ingredients, including squid, prawns, octopus or various kinds of meat, the cabbage is put into dough and cooked. Of course there is a special Okonomiyaki sauce and alternatively mayonnaise, seaweed or bonitos.
Kushikatsu
Kushikatsu is actually anything that can be baked in dough and fried on a skewer – meat and various vegetables are often the basis for this dish. But there are also very creative variations with fried strawberries, for example. There's nothing in food technology that Osaka doesn't have!
Kitsune Udon
Anyone who has ever eaten at a Japanese restaurant will certainly be familiar with Udon. For everyone else: Udon are thick, light noodles – usually made from wheat – and a component of many hot soups. Kitsune Udon is a variant of these soups, in which the Udon noodles are supplemented with fried tofu. A simple recipe, but not the less popular in Japan, as it has a mythological background. For Kitsune is another word for the Japanese fox, which in Japan is considered a lucky charm and whose favourite dish is allegedly fried tofu. The fox, on the other hand, is the sacred animal of the Shinto goddess Inari, who stands for fertility.
Streetfood Season 9 – Episode 8: Kitsune Udon in Osaka
More about Japan: Travel tips for vacation or weekend
Osaka is of course not the only beautiful city in Japan. The Land of the Rising Sun has several other exciting, colourful and fashionable cities to offer with unforgettable sights and events. Of course, we have already compiled more information about Japan for you:
https://fivmagazine.com/wp-content/uploads/2018/06/oska-reisen-flug-tipps-empfehlung-mode-lifestyle-city-shopping-japan-erleben-einkaufen.jpg
600
1200
Lisa-Marie
/wp-content/uploads/2023/08/fiv-magazine-logo-news-influencer-fashion-interior-travel-real-esates.svg
Lisa-Marie
2019-03-03 17:00:59
2020-11-10 15:24:39
Amazing Osaka! Between Samurai & Shopping in Japan's #2 Metropolis