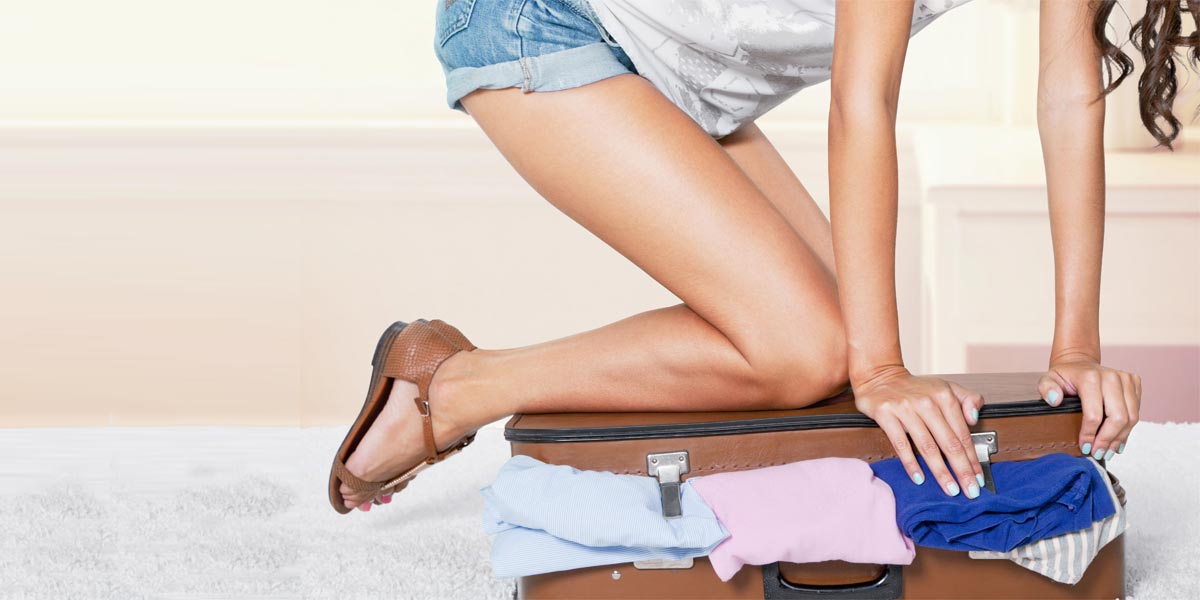 Your holiday can start while packing your suitcase: So everything fits and remains wrinkle-free
The beginning of the annual holiday is approaching. Just the right time to deal with travel preparations such as packing a suitcase. Two questions are in the foreground: What belongs in the suitcase? How do I store the luggage as effectively as gently? We want to give you tips and suggestions on the most important aspects and reveal a trick on how textiles with light wrinkles become smooth again even without an iron.
Basically, the luggage can be divided into five categories:
Documents / Key
first aid kit
Personal Care and Cosmetics
Clothing
Accessories / Technology
It is important to make copies of all documents and place them in different pieces of luggage. Thus, in case of loss, an emergency replacement is always available. In addition, important medicines should be in hand luggage when traveling by air. Otherwise, all jars, tubes and vials above the 100 milliliter limit are in the suitcase.


Germany - Spain - USA
So much clothes should be there
The choice of clothing depends largely on individual factors such as personal needs, travel needs and local circumstances. A few basic structures have also proven themselves in very different situations:
On underwear and socks / stockings, at least one set should be included per day of travel.
Also the stock of t-shirts, polo shirts and shirts for men respectively Tops and blouses for the women should allow a daily change.
Trousers, skirts and dresses can usually be worn multiple times with a break of one day for airing. Does not mind, is sufficient for short trips every two days and for longer stays every three days a part.
Blazers, jackets and other jackets are packed according to personal needs. This also applies to headgear.
Depending on the nature of your trip, shoes for beach, city strolls, Outdoor activities, party, special occasions and of course needed for the room.
There are also sports and swimwear. Again, make sure that there is always at least one spare set in your luggage.
In addition to sleepwear, washcloths and towels round off the travel range of textiles.
By the way: Especially with connecting flights, it can happen that the suitcase arrives with a slight delay. So that the stay then does not have to start with an emergency shopping, it makes sense to pack at least a complete clothing set in the on-board case.
Pack the suitcase properly
So that everything fits into the suitcase, you can use some tricks when packing . All clothing that is not susceptible to creases will be rolled up. Socks and / or stockings can be stuffed into the mirrored opposite shoes. The lower portion of the case is filled with these heavier or insensitive parts. A strong pressure to compress is quite allowed. In addition, gaps can be filled with small parts. On top come pants, skirts, dresses, jackets, blazers and similar textiles. They are placed in the suitcase so that they protrude alternately right and left beyond its limits. After that, they are placed one inside the other from top to bottom. At the top, best in a separate area come the neatly folded blouses and shirts. Here are the best non-iron or easy to iron models chosen to be placed between the tissue paper or fine towels. It is important to unpack the suitcase immediately upon arrival and to hang delicate textiles on a stirrup.
Conclusion: With a little preparation and the right packing technology, everything arrives safely
So it is not that difficult to get everything you need in your suitcase and to bring it to the destination with care. If there are a few wrinkles, that's no problem. Tip: A shower after the exhausting journey not only refreshes. It can also help to eliminate slight wrinkles in the jacket, blazer and the like when they are briefly suspended in the bathroom.
https://fivmagazine.com/wp-content/uploads/2018/04/koffer-frau-platz-hotelzimmer-urlaub-kofferpacken-so-passt-alles-rein-faltenfrei-maenner-frauen.jpg
600
1200
Lisa-Marie
/wp-content/uploads/2023/08/fiv-magazine-logo-news-influencer-fashion-interior-travel-real-esates.svg
Lisa-Marie
2018-04-17 12:00:33
2020-11-11 13:59:51
Your holiday can start while packing your suitcase: So everything fits and remains wrinkle-free