The Business Book: Start Up Found, Business Plan & Pitch – Book Recommendation
To be independent, to start your own existence, to start up your own business, for many an absolute dream! That's why we met with an absolute expert today to answer the question, what actually belongs to being an entrepreneur? Stephan M. Czaja has already published his third book this year. His latest book deals with the founding of companies and pitches of investors and customers. It is interesting that he did not write the book directly as a book, because it originated from his lecture series on this topic. On 250 pages you will find everything you need to know as an entrepreneur. The great thing about the book is that it's not about classic and boring topics that you don't really need in everyday life. Here you will find pure practice and real experience. That's why we wanted to meet the young entrepreneur, who works internationally with his modeling agency, but also organizes big influencer events and fashion shows.
The Business Book – Book recommendation
Instead of a classic interview, we in the editorial staff have collected important terms and now want to know what the expert has to say about them! If you want to know more about starting a business, we recommend the new book by Stephan M. Czaja, The Business Book.
Start up and start up
FIV: Start up and be an entrepreneur – what does that mean?
Being an entrepreneur means a lot of responsibility, a lot of work and of course a lot of fear of existence. Fortunately the medal always has two sides and so besides all the responsibility and the stress you also have wonderful moments, you reach your own goals and you improve day by day. I like to compare it with little Stephan, who liked to do sports and play football. Anyone who turns football into a profession and can then live off his hobby has done it all. That's exactly how I see it as an entrepreneur. Whoever chooses a job or a business idea that they find good themselves will have fun.
But much more important is the responsibility, every day, no matter if holidays or weekends. Financial accounting, voice IP phones, set up notebooks, make important phone calls, really free time does not exist especially in the first months and years. I think that's the most important thing an entrepreneur needs to know at the beginning. It won't be easy! As I also mention in my book, nine out of ten companies fail in the first five years. So the chance of belonging is 90%. Not a good chance, is it?
Now you come as an entrepreneur and say, "I'll put on my pink glasses, I'll start!" Because in the first few years everyone around you will also say, think whether this will really be something! Do you really think you're making money with this? I don't believe in it! Who believes in you? You yourself!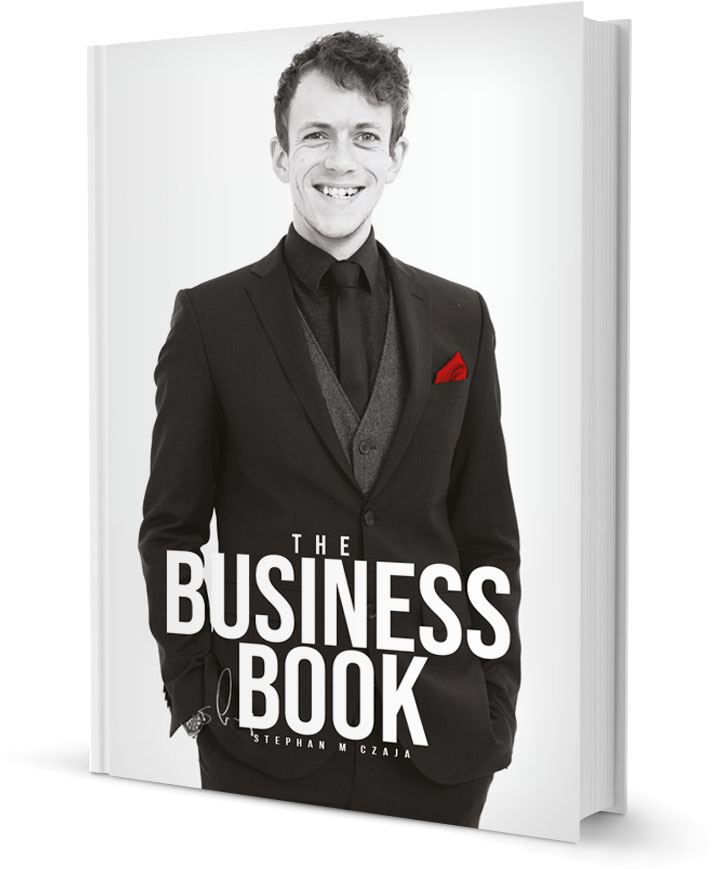 FIV: Founder – What do you need?
Self-confidence, patience and perseverance. I think these are the three essential things you need as an entrepreneur to start a successful business.
Now one or the other reader will surely say directly, where is the good idea? A good question because in the end it always depends on the founder. Whoever is a good salesman does not necessarily need a revolutionary product in the end. Accordingly, it is often not so important to have a revolutionary business idea that is absolutely innovative and unique. Whoever is a good salesman or whoever is a good saleswoman can make money out of everything.
Therefore, the absolute foundation is that you function well as a founder. Nobody's gonna tell you do this or do that. You're the person who has to make the decisions. If you also have a good business idea, perfect.
FIV: Business idea – What is a proof of concept?
I speak of proof of concept in the book above all because many people who come to me focus absolutely on the business idea. But what they usually forget is profitability. No matter how nice an idea may be, if it doesn't make money in the end, your start up will be one of the 90% that fail. That's why it is so essential to think about bringing the entire model into a proof of concept at the very beginning of the business idea. That is, a business model that makes a profit at the end of the day.
FIV: How do you actually come up with a good business idea?
Create ideas? Go openly through the world. Second good tip, use the "unfair advantage". You have already collected 10 years of contacts in the food industry? Why not start a start-up in the food industry? You are a good developer and know how to produce your own code? Build your own software with Membership System and Subscriber Payment. The unfair advantage is that you use the skills and qualifications you have to develop a business idea that gets the most out of your knowledge.
FIV: Could you perhaps give us an example from your company?
Of course, I prefer to combine my interests for being nerd, i.e. development, big data, conception, strategy with my interest for lifestyle. This is how Mix products, e.g. Influencer Fee, are created. This is a price calculator for Instagram, more precisely for agencies and for influencers. Exactly the same way my model agency was founded, the name CM Models was still free, more exactly the domain www.cmmodels.com. Spontaneously, one of the most renowned model agencies in Germany was founded. At the moment I combine my interest in marketing and real estate. This is exactly what I would recommend to other entrepreneurs who want to start their own start-up, do what you enjoy. Then the bookkeeping is only half as bad!
But not only the idea is important, of course it must also be discussed, preferably with friends or employees. No matter whether it's about brainstorming and developing ideas or the subsequent validation, i.e. the verification with subsequent proof.
To sum up, I think we can say this. Always ask yourself these four questions:
Are I a founder or entrepreneur type?
How often does a company foundation fail?
Is your idea profitable later in the market?
I am also an entertainer and motivator?
Customers, Marketing and Advertising
FIV: Customers – How do you connect product and needs?
That's a good question. Who came first? The hen or the egg? Ultimately, both elements, the customer's needs and the product itself are always mutually dependent. However, it is important for entrepreneurs to know the needs and wishes of their customers. This allows ideas to be optimised and products to be optimised. In the end, one business idea is not worth much if it is not tailored to one's own target group.
In principle, however, the customer's needs always have priority. Also in brainstorming. In this way, new concepts in mobility, locomotion but also in all other areas emerge. In this aspect, niche products can be used particularly well. Niche products serve a very specific purpose. The more precisely the product is defined, the easier it is to sell with its USPs. Such niche products usually meet the exact needs of customers, e.g. the need for a special chocolate or the need for a very special fashion collection that underlines their own individuality. Basic needs such as food but also luxury goods always offer gaps that can be filled by smart entrepreneurs and business ideas.
Think therefore not only of your own idea but also of your potential customers. Where does your idea meet a need that arises for the customer?
Here's another tip, which I like to say, take a product and put Bluetooth on it. What's the meaning of this? There are many business areas that work well. However, they often miss developments, e.g. the development towards digitalisation, the development towards online trade or also the developments towards social media marketing. In this way you can use classic business ideas for yourself and adapt them to the new media. A good example of this is Kylie Jenner, the world's youngest billionaire. She has built her empire primarily through media presence, social media presence and a smart family in the background. Of course everyone could say that it's just make-up! Yes, that's true, but it's newly presented. Clever.
FIV: Advertising – Offline, Online and Costs?
Online! As we have just learned, we should take advantage of the unfair advantage we have as a young generation. Internet, social media, search engine optimization, social advertising, community management. Here we have a strategic and operational advantage over large, established companies.
Business plan, finance plan and pitch
FIV: Do I need a business plan?
Yes. The question is only in what form. If you have experience, you can of course also put your business plan together in your head. A business plan can consist of one page, but it can also contain 20 to 30 pages. Depending on the experience, but also on the business model, the different required scopes of the business plan differ. In my book, I explain exactly which parameters are used to determine how comprehensive a business plan must be. Basically, however, I would recommend everyone to outline their business model. Perhaps this can be compared well with a cheat sheet, at that time from school. Often the cheat sheet was no longer used in the class test, only the creation helped so much in learning that it was no longer needed in the exam situation. The same is true of the business plan, the more intensively one deals with one's own business idea, the deeper it is anchored in oneself. This is important so that you can communicate your business idea quickly and easily. Towards employees, customers, bankers, investors but also towards many other stakeholders.
FIV: What do I have to write in the business plan?
Depending on the size of the business plan, the contents of the business plan naturally differ. In principle, however, there are always the following points: In the beginning are the founders, then the business idea, then the customers and the market as well as the competition, then the proof of concept, i.e. the proof of how the business model works, the financing and then the development opportunities and future prospects. Doesn't sound manageable, does it? This is exactly what the business plan is about, someone should get to know you and your business idea quickly and easily. Everything else is done by you in a personal conversation.
The next question is, do you need a financial plan?
FIV: Exactly! Do you need it and how do you create a financial plan?
Planning one's own financing is particularly important because one must have an overview of how one's own business is changing, e.g. as a result of increasing turnover but also fluctuating purchase prices, new business premises or expansion. The financial plan helps you to get a quick insight into your own company, even for third parties. A classic financial plan is usually drawn up for three years, and business figures can still be realistically forecast here. Financial plans over three years are far too speculative, especially in times of digital trading.
FIV: Pitch – What is a pitch?
Those who have internalized all the principles as founders, developed their own business idea, business plan and financial plan, will sooner or later find themselves in the situation of having to hold their first pitch. You have to pitch in front of customers, e.g. to sell your own product or service. But you also have to pitch in front of bankers and investors, e.g. to obtain financing, credit or investment.
The situation is always very different, some pitches are organized, five teams participate and each has ten or fifteen minutes. Another time you happen to meet a successful person at an event and only have 15 to 30 seconds to tell him about your business idea. Depending on the pitch it has to be prepared but also organized. Therefore there are two different shapes, the Elevator Pitch and the Full Pitch. The Elevator Pitch is especially about convincing someone quickly, e.g. to get another phone call or to get the contact data to send further information.
In a nutshell:
Time – 15 seconds to 15 minutes
Audience – Know your audience and contact person
Focus – business idea, profit and deficit (with investor)
What makes your business idea special? – USP (Unique Selling Proposition)
Who spends money on it? – Mental
How do we make money? – content
Story – Emotionalization
With that we are already at the end, at least in the ten minutes we had for the interview! Everything else you can read in my book.
FIV: What do you have planned next? Can you tell us anything yet?
I'd love to. I'm working on my new real estate portal right now. Currently we are available in two languages, German and English. My goal is to connect international customers with national providers. My favorite example of the time is an undeveloped plot in Beverly Hills for 540 million euros. Personally, however, I love an estate in Central Park. The previous owner furnished the entire property on 5 floors in the style of the French Sun King. Thus, one has an incredibly pompous property in the middle of the Central Park in New York, but it doesn't look kitschy at all but extremely luxurious. Sounds like fun, doesn't it?
FIV: Many thanks for the interview! These were many interesting insights. Starting your own start-up means too much work and too much diligence. That's what we learned! If you want to learn even more now, you can order the new book by Stephan M. Czaja online. The book is now available free of charge at Amazon: Buy The Business Book.
The Business Book – Book recommendation
https://fivmagazine.com/wp-content/uploads/2019/07/buch-empfehlung-stephan-czaja-autor-speaker-the-business-book-start-up-existenzgruendung-geschaeftsidee-lernen.jpg
600
1200
Lisa-Marie
/wp-content/uploads/2020/07/fiv-magazine-news-instagram-youtube-tiktok-influencer-fashion-interior-jewelry-real-estate-tips-help-logo.png
Lisa-Marie
2019-10-13 07:00:12
2021-06-23 10:00:01
The Business Book: Start Up Found, Business Plan & Pitch – Book Recommendation