Marketing internship: online marketing, advertising and fashion in Cologne
Marketing Internship – Are you looking for an internship where you can learn a lot? I just finished my 6-month internship and learned so much! Creating content, researching, Instagram and so much more. To give you a little insight into the internship, here you can get a glimpse of my great internship time in the fashion magazine. Virtually everything you learn in a classic advertising agency internship. Only that it is not dry and boring in a fashion magazine (keyword: making business cards or brochures), here it is all about fashion, travel and luxury!
Internship at an advertising agency: What is it about? How do I apply?
You just finished school and are looking for your first internship? You are in the middle of your studies, have a part-time job and will soon have to do a compulsory internship? Many who are looking for an internship often don't know how to apply. Here you are exactly right! Let me show you how I managed to get an internship at an advertising agency! A longer internship makes sense. This way the employer has more time to teach you more about the job. For example, you will not only learn how to write articles, but you will also gain insight into the world of customer acquisition and support, and you will be allowed to participate in individual projects.
What do you do in an advertising agency? What areas of the agency do interns gain insight into? What do you have to do to be accepted in an advertising agency? – In this article I will explain to you how varied this internship was and which tasks I was allowed to work on independently.
What is an advertising agency?
spectacular TV spots, the halftime show of the Superbowl and pretty much every third house wall carries an advertising poster: Advertising agencies attract attention. This is why the industry is so large and well networked. Advertising agencies are at the hotspots, in Germany cities like Hamburg, Berlin or Cologne and worldwide Shanghai, New York and London.
An advertising agency advises clients who need marketing support. Customers from the food, fashion, TV or beauty industry often need support to push the website on Google, to market a product or to publish a new app. This is where the advertising industry needs creative minds that can handle these customer requests. Since the topics of the customers are very different, the advertising agencies split into different areas, such as: Social Media Marketing, or Content Marketing. A marketing agency is a service provider who is the inspiration for the advertising for different customers. First of all, the advertising agency analyzes the situation of the customer and develops a solution to start the cooperation with the customer. This includes for example the creation of infographics and block articles. We also come into contact with influencers and bloggers or other relevant social media highlights that push the company's name by promoting it online. So we can check Step at Step, when the turnover and the number of visitors have increased and much more. At the end of the project we document and archive everything for the client and present the results. The creative advertising agency thus provides classic advertising. This means advertising in the mass media.


FragranceTip.com by FIV
What does an advertising agency do?
Website, SEO and Online Shops
Adverts Advertising and outdoor advertising
Public relations for a strong brand
My internship: model agency, content marketing and fashion magazine
I did a six-month internship in an advertising agency. I applied online with my CV and letter of motivation. The design and marketing industry has always interested me. During my schooldays and studies, I had no opportunity to gain practical experience. So I was happy when I was invited for an interview and two weeks later I was allowed to start as an intern. 
During the first weeks I learned how to write articles for the fashion magazine. So it became my daily task to learn how to research, write and publish articles. At that time, it was very exciting when my texts were published, today it's part of my everyday life! A little tip: You should also practice writing with 10 fingers! Little by little I was allowed to accompany the first customer projects. I learned how to write e-mails, maintain customer contact and conclude contracts. I was also shown how to use WordPress, Photoshop and search engine optimization. With Photoshop I learned how to compress images and embed them in articles. It was exciting to learn which rights of use apply to images. For content marketing I was trained in search engine optimization. Here I learned how keywords were analyzed and how to use them in articles in a meaningful way.
Back then everything was very exciting and new! Today I pass on my knowledge to interns and work on many more new projects!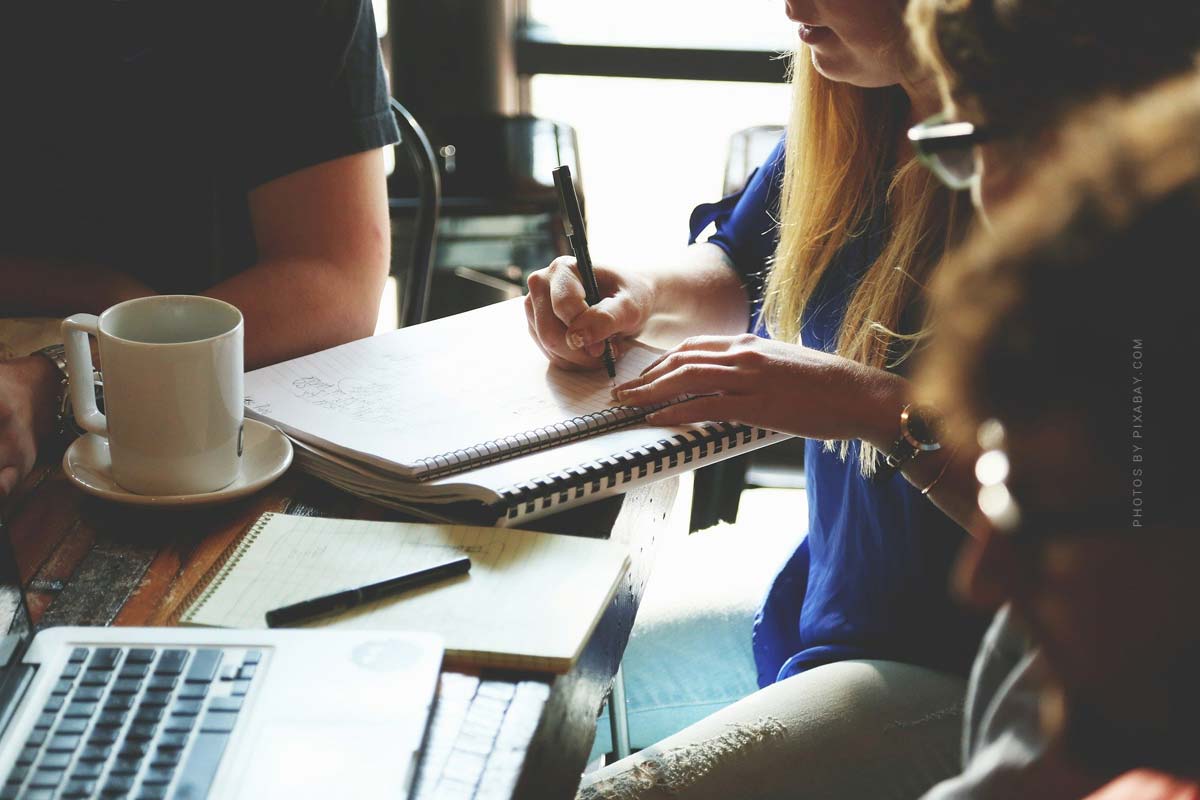 What did I like best?
Today I would say that everything was an enrichment. I was allowed to get a taste of every marketing department and take on projects independently. Once you have grasped the basics of marketing, the industry becomes much more creative. Since there are always new projects and you get in contact with new people, you learn to work in a team and also independently. The responsibility you have for your own articles, pictures, planning and customers gives you a good feeling!
The best experiences at FIV Magazine:
Customer contact via e-mail, telephone calls, meetings, video calls
Create and execute content plans
search engine optimization for high rankings
Image editing with Photoshop
Through the different sections (models, magazine, social media) one gets astonishingly many insights into very different areas of the media world. Starting with research up to the independent conception and publication of articles. But you also learn how to handle the most important software. For example with Photoshop to create graphics. You'll learn how to analyze websites, evaluate customers and develop new strategies, and create creative content for social media.
Content Marketing: Search engine optimization for higher ranking on the Internet
Marketing is important for the success of a company. In contrast to advertising which aims for a moment, content marketing is long-term oriented. The task is to provide potential customers, partners and employees with relevant topics. The aim is to support customers with valuable content in the form of blog posts and thus to rank them high in search engines.
I have written various articles. In some topics I was more informed and in others I also did research and delivered the best possible content. Step by step you become a professional in certain topics!
What is content marketing?
Content Audit: Inventory of the previous contents
Strategy Development: Content Strategy
Camagne planning: planning of the steps of the implementation with time schedule
Implementation: Implementation of the planned contents
Content Distribution: Distribution of the contents
Monitoring & Reporting: tracking and monitoring of the content and measurement of success
Optimization: Evaluation and optimization of the content strategy
Internet marketing or online marketing summarizes marketing strategies & -measures, which are realized online. If companies, organizations or private people place an Internet presence online, they usually want many visitors. These can be users who find the page via a search engine, but also those who are addressed via various other online and offline measures and are convinced by a visit.
Application: Tips for cover letter and CV
From my experience with job applications, I would like to give you some tips. Applications are different in every industry. Some companies pay more attention to the CV, others to your cover letter, others attach more importance to personality and finally decide with an interview. Whether it's a resume or a cover letter, you should make sure you write truthfully. Don't forget that these pages decide whether they want to hire you or not. With a little practice and tips from experts, you will be sure to be invited for an interview the next time you apply.
What must be in an application?
Nowadays applications are sent online. Check the website first to see what the company wants to see from you. A creative cover page and lots of certificates and diplomas are not much use if your cover letter makes little impression. Therefore you should make sure that you only send such references, certificates, work samples if they are close to the job and show your previous experience.
testimonies: School and university certificates
writing: the first impression
Your cover letter should give us a first impression of you! This is not about a lot of text, but about a convincing letter. The employer wants to get to know you.  Try to limit your letter to one page, one A4 page is sufficient! Make sure that the text is without spelling mistakes. Since you will spend most of your internship in the online editorial department, correct German spelling is extremely important. A little tip: Family members and friends can read over your article.
Tips for your cover letter:
Convince with the content, not the length
Resume: important data
Your curriculum vitae includes your personal data as well as your full name, date of birth, address, etc. In addition, your telephone number and e-mail address are required so that you can be reached. You should enter your school career and professional experience. This is not to say that you have necessarily worked in the marketing, advertising or media world, but it is always a plus if you have had a job, such as temping at a café! You speak other languages? Then let us know! Have you already gained experience in editing, fashion and marketing and have you got certificates or other references? Then please add them.
What belongs in a resume?
Good luck with your application!
Your marketing internship in Cologne?
Now I sit in the agency and tell you how it could be with you. You want to do a marketing internship? Do you want to explore the world of marketing, magazine and design? Then you are exactly right with us. We are looking for young, motivated interns who are interested in further education, in covering topics they didn't learn at school or university. Uthe longer your internship lasts, the more we can teach you and show you what it is like to work in a motivated team. Besides the beautiful view of the cathedral in our office and delicious coffee we will show you the world of marketing junkies. >>/p>
Apply for a job with us!
We look forward to your application and hope to welcome you soon in our Cologne office!
https://fivmagazine.com/wp-content/uploads/2020/04/praktikum-mode-arbeiten-online-marketing-content-creation-team-job-uebernahme-bewerbung.jpg
800
1200
Lisa-Marie
/wp-content/uploads/2023/08/fiv-magazine-logo-news-influencer-fashion-interior-travel-real-esates.svg
Lisa-Marie
2020-05-04 12:00:56
2020-11-11 10:58:30
Marketing internship: online marketing, advertising and fashion in Cologne