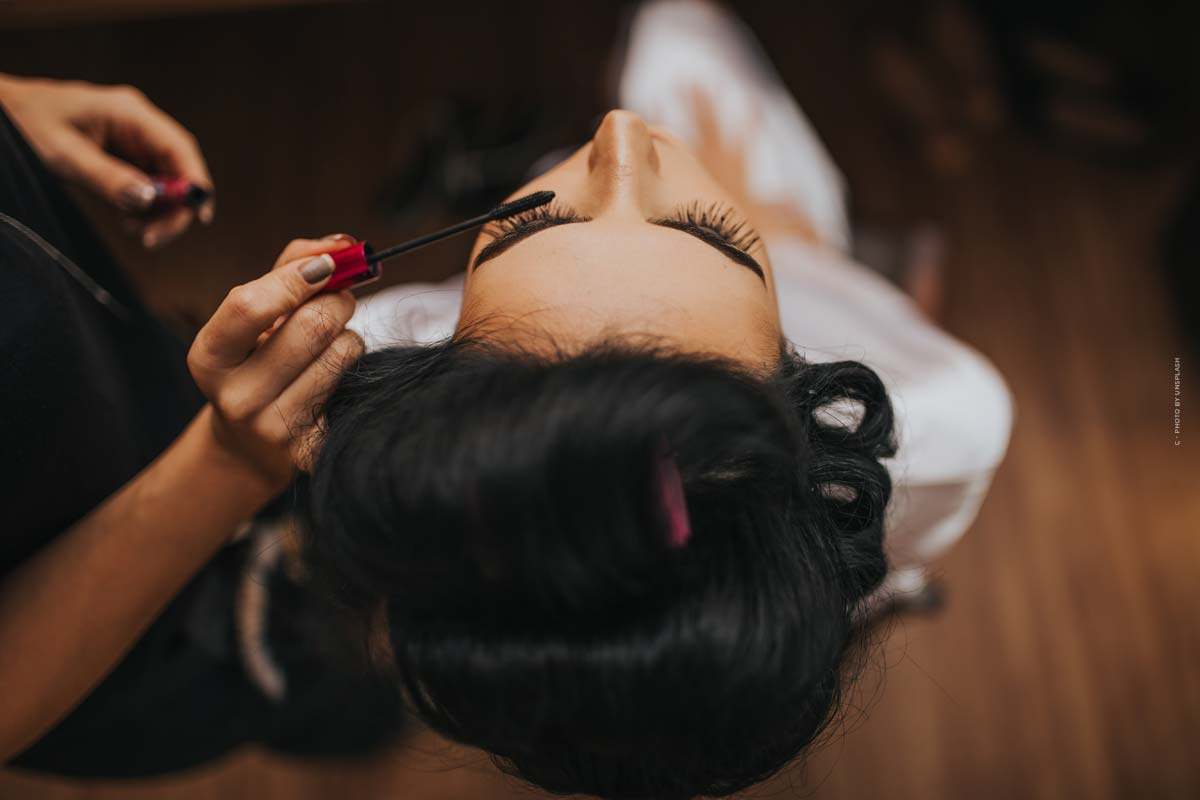 Glue on eyelashes perfectly: proper care, magnetic eyelashes & helpful tips
Your own eyelashes are too thin and short? Then start using artificial eyelashes, a great mascara or an eyelash lift – and of course good care! With simple tricks and the right care, you can conjure up a great result in no time at all, turning your once thin and short lashes into beautiful and strong ones.
Highlight eyelashes through simple tricks
Beautiful and full eyelashes are a very important part of our face for many women and men among us. If you have a great lash, you look directly fitter. To create such a result, a few tips and tricks can help you. Despite a little cheating, it's only half the use if your base isn't right. With good care, your lashes are well taken care of and you can highlight them with fake lashes, mascara or even an eyelash lift.
Artificial eyelashes: Not without the right care
Even though you can cheat with fake lashes and make your own lashes fuller, your own lashes still need good care. You should feel good even without artificial lashes! Thin and brittle lashes can be mascaraed or glued over with artificial lashes – but this is by no means more beautiful than a natural and healthy lash line. In the evening you should always make sure that you remove your make-up thoroughly – this is not only important for the eyelashes so that they do not thin out and fall out, but also for the skin, which regenerates itself at night. There is not much that can be done naturally to prevent the eyelashes from thinning out with age. However, eyelash serums can be used against this.
Moisturizing eye creams are also good care. They not only prevent signs of aging – they also care for the eyelashes. It's the same with mascaras: more and more manufacturers are focusing on mascaras that care at the same time. This way, you can wear a mascara all day long that will highlight your lashes and do something good for them at the same time – if that's not a good combination!


Germany - Spain - USA
Healthy and full eyelashes can best be achieved through extensive and careful grooming.

Fake Lashes: How to set the scene for your eyes
You dream of full and thick lashes, but can't achieve such a result with your own? Fake lashes are a wonderful way to highlight your lashes and make them eye-catching in no time. But there are big differences: long, short, single, continuous – you can choose the ones that suit you. Popular fake lashes are those like those from Red Cherry or Ardell, which like to be attached with Duo 's popular glue. These often look quite real, which is why they are so popular.
Artificial eyelashes help you achieve a full and expressive result.
Magnetic eyelashes: The gentle method for long eyelashes
Another variant to the normal fake lashes are the so-called magnetic lashes. These are artificial eyelashes that are attached to the lash line with small magnets – without any glue. This way you protect your eyelashes because you don't have to use glue and you don't pull out your own eyelashes when you remove the artificial eyelashes. Magnetic lashes do not consist of only one lash band like conventional fake lashes, but have two rows that are attached to the lash line – one is placed above your own lash line, the second underneath. Due to the integrated magnet, both rows are attached to each other, the natural lashes then lie exactly in between. The magnetic lashes can even be mascaraed afterwards. Because you don't have to apply glue and place them correctly, you save a lot of time, which is why magnetic lashes have become the new trend!
Glue on eyelashes: Quite simple to do yourself at home
When gluing on the lashes, there are a few things you should pay attention to: do they sit properly and close to the lash line, is the glue evenly applied, have I cut them correctly? To help you check off and learn all these things, there are some tutorials to help you out. With the following tips and tricks, you can easily glue on your Fake Lashes at home and not always have to ask someone to help you! This will save you a lot of money and you won't have to go to an eyelash studio in the future.
How do I stick them on properly?
What am I doing right & what am I doing wrong:
https://fivmagazine.com/wp-content/uploads/2020/11/wimpern-aufkleben-fake-lashes-kuenstlich-dicht-frau-dunkelbraun-haare.jpg
800
1200
Lisa-Marie
/wp-content/uploads/2023/08/fiv-magazine-logo-news-influencer-fashion-interior-travel-real-esates.svg
Lisa-Marie
2020-07-30 13:44:22
2020-07-30 13:44:22
Glue on eyelashes perfectly: proper care, magnetic eyelashes & helpful tips