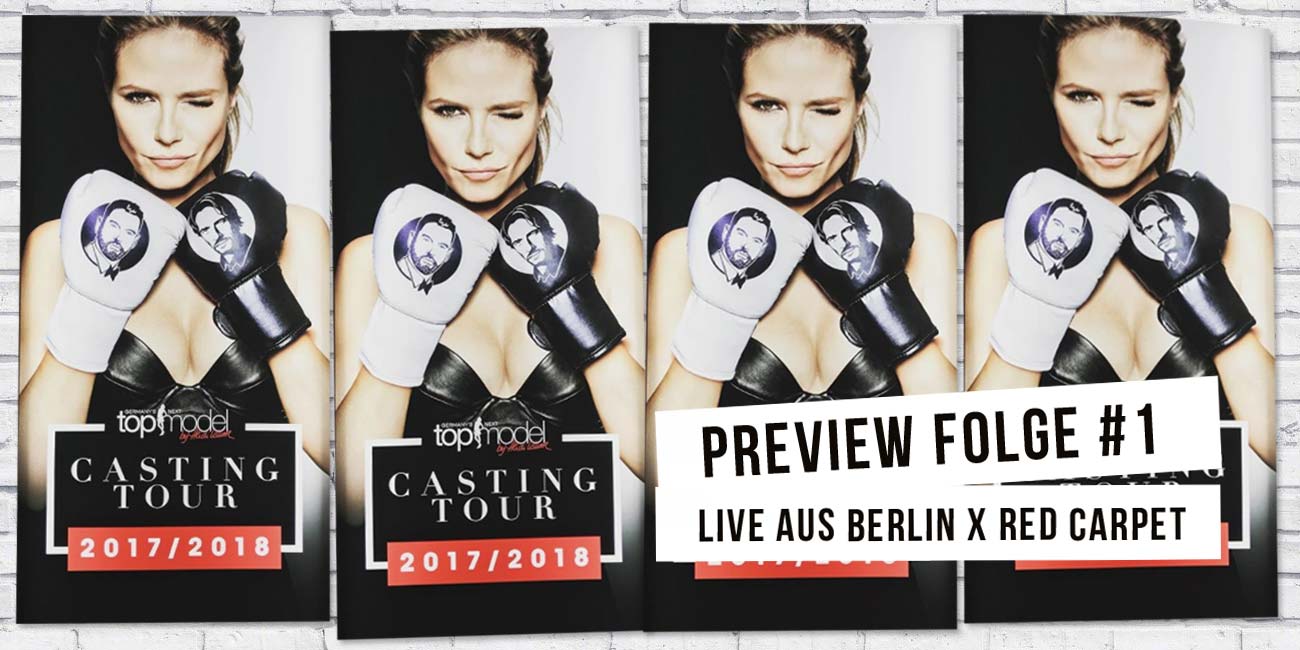 Germanys Next Topmodel season 13: All episodes, jury, contestants & Co!
Germanys next Topmodel starts on 08.02.2018 in the 13th season. But this season not only has a lot to offer, among the new Kanidatinnen, the jury and the beautiful location are always surprises to expect! We at FIV Magazine, are invited to the preview of the first episode on 06.02.2018 in Berlin and have the most important info, news and more for you, so that you are up to date and fully informed for the start of the 13th season! Get in the mood with us for the start j. of GNTM 2018. Like maybe you, I (Hanna from FIV) have been following Germanys next Topmodel for years. Whether it's in front of the TV or the laptop screen there is never anything to miss.
This year we at FIV have a GNTM special again and even better, we are taking you to the press preview of the first episode of GNTM! With hopefully a lot of drama and exciting new models, we will watch the first episode for you in Berlin. With special guests like Nikita Johnson & Papis Loveday, red carpet and glamorous highlights, the first episode will be shown on the big screen two days before it airs. FIV Magazine will be getting you ready for season 13 here below you can already get a taste, as well as watch our Youtube Throwback Germanys next Top Mopdel Special on Youtube. Also follow our Instagram channel to be live as we show fashionistas and highlights of the night(@FIVMAGAZINE ).
Here you can find all the new GNTM contestants 2020
Red carpet, VIPs, bloggers and FIV Magazine live in Berlin
If you want to join us live on the premiere of the first episode, check out our exclusive vlog of Hanna here:
https://fivmagazin.de/germanys-next-topmodel-2018-gntm-folge-preview-berlin/


FragranceTip.com by FIV
Heidi in Paradise: First episode – Who's on the jury?
This year GNTM starts with Heidi Klum as a seductive Venus! Standing in a shell with a big pearl and the dreamlike sea of the Caribbean in the background, Heidi presents herself upper body free for the 13th season. Under the motto "Welcome to Paradise" you can also see on Heidi's Instagram already small glimpses and Behind the Scene pictures of her and the jury in the Caribbean, which of course make us excited for the upcoming season and even more for the first episode! The jury of the new season is again composed of Heidi Klum, Thomas Hayo and Michael Michalsky, as in the voherigem year.
News & Preview of the new season
The jury has remained the same. But there is a lot of news about the 13th season! Since the beginning of Germanys next Top Model the winners were shown on the cover of the Deutshcne Cosmopolitian. But 2018 is over – the cooperation of GNTM and Cosmopolitian was terminated because there were changes in the concept on both sides. But don't worry, the next winner will be featured on Germany's Harper's Bazaar, a well-known and respected fashion magazine, instead. Among others, Harper's Bazaar belongs to the fashion giants with Vogue and Elle, which is why the models can look forward to the winning cover.
What can you expect in the first episode?
We at FIV Magazine, are invited to the preview in Berlin of the first episode of GNTM and can tell you we are more than excited. Among others, cat-walk coach Nikita Thompson is a special guest. In the first episode it will be revealed in three hours which girls made it into the Top 50 of this year's GNTM season. An evening of highlights with red carpet and glamour, the preview of the first episode will be presented on the big screen at Zoopalast Berlin. There will even be a live feed with Heidi and the two judges Thomas and Michael, straight from the shootings in the Caribbean! Be curious to see what will be in the next FIV post, or follow our Instastory and be there live!
Candidates of the 13th season – first pictures
With GNTM you always expect beautiful and great girls. But who are the candidates of the new season? We have picked out a few of the most interesting for you.
Born as a boy – Beauty Soraya
Soraya was born a boy! Transgender models are more and more in demand in the industry, famous models like Andreja Peric, give good role models and examples of the ever-growing variety of the top model world. Especially for contestants like Soraya or season 12 contestants Giuliana and Melina, both of whom have also come out as transgender.
Beauty surgery? Gerda got surgical help

Participant Gerda, 24 years old, has changed her measurements with a visit to the plastic surgeon. She tells us what she did in a preview video. Will this change get her through the season? We'll find out soon enough. She already did well in the Playful GNTM shoot!
Toni & her faith – Becoming a top model with obstacles?
The 17 year old Toni has a strong faith. Bible, prayer and God is everything for her. Whether this will cause her problems? Whether she is allowed to do a nude shooting she had to clarify with her pastor, what came out we will soon get to see.
Germanys next Topmodel Special – The most striking candidates of the last seasons!
Here below you can watch our GNTM Youtube Special. We have dared a typical Throwback and remembered back and thought about which candidates have remained in our minds. Whether by quarrels and slander or by convincing performances, model Marie Dahmen and her booker Jessica have made a video about the last seasons for you on Youtube!
Here you can find all the new GNTM contestants 2020
https://fivmagazine.com/wp-content/uploads/2018/02/germanys-next-topmodel-ganze-folge-1-vorschau-kandidatinnen-jury-michalsky-hajo-heidi-klum-preview-exklusiv-magazin-interview-instagram.jpg
650
1300
Lisa-Marie
/wp-content/uploads/2023/08/fiv-magazine-logo-news-influencer-fashion-interior-travel-real-esates.svg
Lisa-Marie
2018-02-10 14:10:36
2018-02-10 14:10:36
Germanys Next Topmodel season 13: All episodes, jury, contestants & Co!