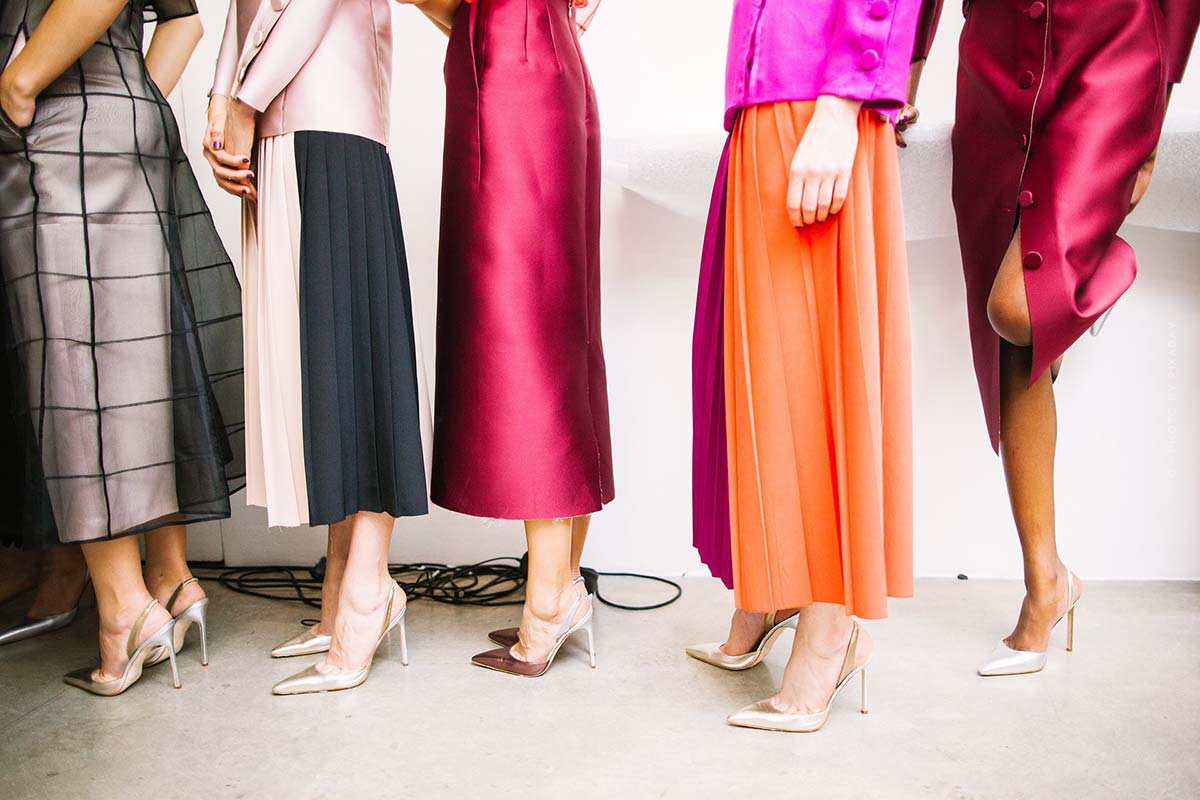 Runway Highlights from Dolce & Gabbana: Innovative Men's Collections, Dresses & Accessories
Sparkling dresses. Extravagant handbags. Fruity fragrance combinations. There is hardly anything that the Italian designer duo consisting of Domenico Dolce and Stefano Gabbana cannot do. Their collections are always cleverly thought out. Just like their fashion shows. Sometimes these take place in ancient ruins, sometimes in royal rooms. Sometimes there are 70 -year-old supermodels on the catwalk, sometimes aspiring influencers. Each Dolce & Gabbana fashion show always tells its own story. Check out the highlights here.
Dolce & Gabbana – dazzling success story
It all started in 1998 at the Italian fashion house Gabbanas in Milan. Originally, Domenico Dolce wanted to apply for a job there. However, Stefano Gabbana immediately recognized Dolce's talent and so the official fashion brand Dolce & Gabbana was born. The first classic fashion line was followed by collections of sporty jerseys, lascivious underwear and later even the first perfume. Since then, the creative designer duo has won countless awards.
Learn more about the luxury brand Dolce & Gabbana here
Elegant women's collections and tear-jerking runway shows
Every women's collection from Dolce & Gabbanas is always an ode to emancipated femininity. The dresses are always sparkling and elegant and the accessories cleverly chosen. The models walk up and down the runway like queens of modernity.


Germany - Spain - USA
Ready to Wear in typical Italian tradition
The autumn collection for women 2020/21 was all about Fatto a Mano. Italian tradition and perfect craftsmanship are not only combined but also celebrated in the style of Dolce & Gabbana. Watch the entire fashion show here.
Avant-garde dresses against a divine backdrop
In July 2019, Dolce & Gabanna hosted one of their most spectacular fashion shows ever. The who's who of the fashion industry gathered in Sicily. The ensemble of dresses that the invitees found was inspired by the goddesses of Roman and Greek antiquity.
Diamond-studded evening gowns and majestic jewellery
The 2018 women's autumn/winter collection was a royal affair. Sequins sparkled with rhinestones, here and there transparent fabrics gave a touch of sensual elegance and glittering tiaras and accessories made the models look like the queens of the modern age.
Emotional anniversary show with Carla Bruni, Eva Herzigova, Ashley Graham
Domenico Dolce and Stefano Gabbana are not only known for their designs, but also for their always perfectly thought-out runway shows. This time the beauty and individuality of each person was in the foreground. Models of all ages could be found on the catwalk. Among them were also celebrities from Hollywood and politics.
Innovative menswear and spectacular fashion shows
For decades, designers Dolce &Gabbana have been praised for their collections. They even received the infamous "Woolmark Award" for their original men's collections. Check out the highlights here.
Knitted coats and berets for autumn
Similar to the women's ready-to-wear collection, the men's collection also featured a lot of knitwear in opaque colours. The models here were somewhat reminiscent of a teenage paperboy from a Charles Dickinson novel. Oversized coats and heavy knitted hats were increasingly used.
Gilded shirts and royal prints: A fashion show for the gods
The men's haute couture collection was also presented in Sicily. This time at the Palazzo dei Gesuiti. Surrounded by awe-inspiring statues of Zeus and other gods, the models exuded a touch of ancient romance. Here is the video of the fashion show.
Boxer shorts, high knee socks and fanny packs for summer
The two Italian designers provided enough eye candy for the rest of the year when they unveiled their 2019 men's collection: the male models were always half-naked, dressed in nothing less than a little underwear and the hottest accessories of the season.
Fashion Show of Opposites with Cameron Dallas, Nash Grier and Nam Joo Hyuk
At the fashion show of the men's collection 2019, many a familiar face from the entertainment industry could be found among the models. The men's looks were almost contradictory. Besides gold-plated jackets and baroque crowns, there were also short tracksuits and swimming trunks.
Creative & unique – in front of and behind the cameras
A fashion show must always be well thought out. After all, months of preparation are behind it. But what is behind the floral prints and spectacular shows of the designer duo Dolce & Gabbana? We have an exclusive insight for you here.
Behind The Scenes With Emily Ratajkowski And Ashley Graham
Excited models, busy make-up artists and last-minute changes – Here, top models Emily Ratajkowski and Ashley Graham take you behind the scenes of a Dolce & Gabbana fashion show.
Honest and open: Stefano Gabbana in an interview
What do fairy tales have in common with Dolce & Gabbana? What inspires Stefano Gabanna? And what are the two greats of Italian haute couture planning next? Tim from the Youtube channel The Business of Fashion gets these questions answered in this video.
https://fivmagazine.com/wp-content/uploads/2020/06/Dolce-Gabbana-Modenschau-Runway-Highlights-Herrenkollektion-Kleider-Frauen-High-Heels-Schuhe.jpg
800
1200
Laura
/wp-content/uploads/2023/08/fiv-magazine-logo-news-influencer-fashion-interior-travel-real-esates.svg
Laura
2020-06-27 07:15:30
2020-06-27 07:15:30
Runway Highlights from Dolce & Gabbana: Innovative Men's Collections, Dresses & Accessories