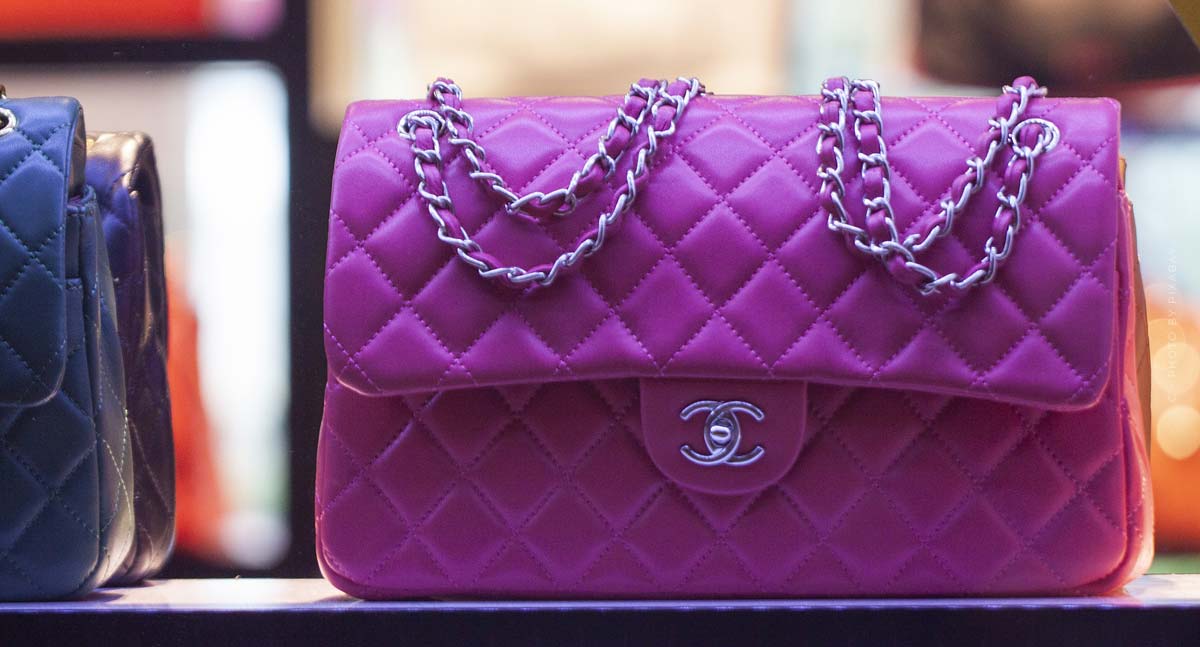 Chanel's bags: Chanel's Gabrielle, Chanel 19, Boy Bag and Co.
No other product at Chanel is as popular as the Chanel bags. The different models like Chanel 19, 2.55 or the Boy Chanel make the hearts of women around the world beat faster. You don't own a Chanel handbag yet but would like to change it? Or you already have one and are looking for a new handbag? Then you've come to the right place! We present you the Chanel bag universe: from calfskin with sequins to multicoloured wool tweed.
Bags, bags, bags! Classics & Novelties
Everyone knows it and everyone wants it – a bag from the French traditional house Chanel. But what models and designs does Chanel actually have to offer in its range?
Currently, Chanel offers its customers five different design lines: the classic, 2.55, Chanel 19, Chanel's Gabrielle and Boy Chanel. Furthermore, Chanel also offers individual collector's items, the price of these exclusive haute couture pieces is on request.


Germany - Spain - USA
Especially the high quality calf and lamb leather and their small stylish details in gold, silver or ruthenium give the flap bags, backpacks and beauty bags their unforgettable, timeless look. In our article we show the small special features in each design, which designer created the bags and what is behind the names of the bags!
Want to check out the different designs of Chanel bags? Pinterest is where you'll always find the latest inspirations and the most beautiful looks on the streets. FIV is now on Pinterest too! Check out our pinboard on Chanel bags!
Chanel's Gabrielle: Hobo Bag & Backpack – presented by Cara Delevingne
Chanel's Gabrielle, named after the company's founder, is one of the luxury fashion house's most popular bag styles. The Gabrielle made its first appearance on the catwalk of Chanel's Spring/Summer 2017 show in Paris in autumn 2016. The big launch of the bag, designed by Karl Lagerfeld, followed in April 2017 with a major campaign featuring stars such as Kristen Stewart, Cara Delevingne and Pharell Williams.
The Gabrielle convinces with its contrasting structure. The light body of the bag gives the wearer a comfortable feeling, but the utensils in the bag are still optimally protected by the solid body of the bag.
The adjustable shoulder straps ensure perfect wearing comfort: the bag can be worn over the shoulder or as a crossbody bag across the body. Hobo bag or backpack? Vintage calfskin or a denim look? Chanel has the right look for you – adorned with the double C logo, of course.
Chanel x Pharrell Williams: The Gabrielle Bag – also for men
Pharrell Williams is the first male model in a Chanel bag campaign! See for yourself in this video that Chanel bags don't just look good on women:
Boy Bag: Metallic or pearls – find your style!
Boy Chanel – How did this bag get its name? The name of this bag was given to it not only because of its masculine design. Like Chanel's Gabrielle the Boy Bag is also dedicated to a person, namely Boy Capel, Chanel's childhood sweetheart.
For almost 10 years now, it is impossible to imagine the fashion market without the handbag: The design convinces with simplicity, a rectangular body with clear lines radiates pure elegance. The design is completed by a large-link chain and a striking clasp in a gold, silver or ruthenium finish with double C logo.
When it comes to colour, you can choose between a bright green, a metallic navy blue or a yellow grained leather. For an extra-special look, choose a black calfskin bag with costume jewellery beads and a silver clasp. Chanel offers the different models in a price range between 4,300€ to 5,700€.
Chanel 19: Goatskin, wool tweed, velvet – from small to maxi
The chick among the Chanel bags is the Chanel 19. As you can already see from the name, the design line was just launched in 2019. It is considered the successor of the 2.55, which was designed by company founder Coco Chanel in 1955.
The collaboration between Karl Lagerfeld and Virginie Viard, Chanel's successor, was first presented at the prêt-à-porter shows for autumn-winter 2019/20 and has since proved popular with Chanel's customers. Why. The bag novelty combines two qualities: it is playful, yet timeless and that is what customers love about it!
Practical and full of attention to detail, the modern diamond quilted look is seen on numerous materials – goatskin, lambskin, knit, tweed in every colour of your dreams. Each and every design is crowned with the filigree, double C-clasp in gold.
Versatile carrying options make the Chanel 19 perfect for everyday wear: Crossbody, worn straight over the shoulder or loosely on the handle, the metal chain intertwined with leather can be worn. Whether small, large or maxi: This bag gives us women what we need!
Chanel 19: Bright, colorful, playful – the new must-have Chanels
Check out the different variations of Chanel's novelty here! Sequins, black velvet, knit – no other Chanel bag is as versatile as the Chanel 19!
https://fivmagazine.com/wp-content/uploads/2020/12/chanel-taschen-handtasche-leder-pink-silber-schaufenster-luxus-blau.jpg
647
1200
Lisa-Marie
/wp-content/uploads/2023/08/fiv-magazine-logo-news-influencer-fashion-interior-travel-real-esates.svg
Lisa-Marie
2020-12-08 15:13:45
2020-12-08 15:13:45
Chanel's bags: Chanel's Gabrielle, Chanel 19, Boy Bag and Co.