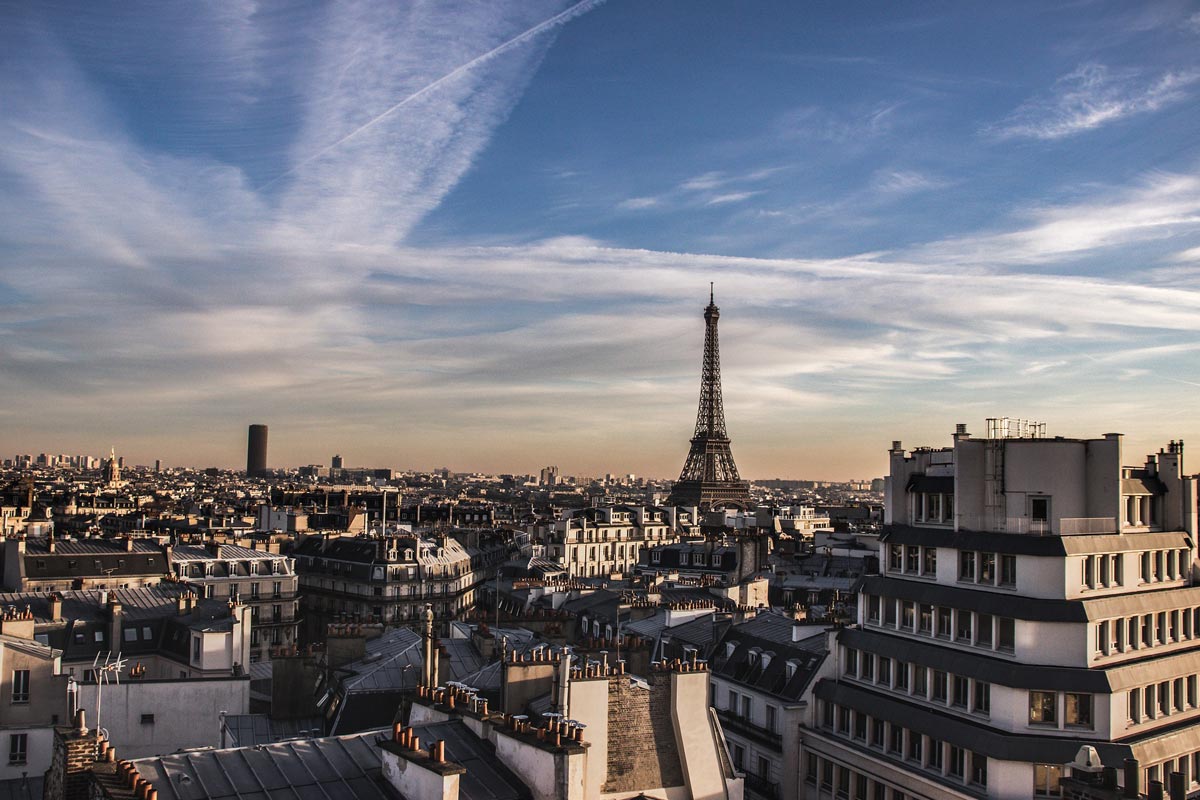 The 11 best rooftops in Paris to hang out this summer
Rooftops in Paris – This summer, rooftops are in vogue! All Parisians meet up with friends or family on the rooftops of Paris to enjoy cocktails and good food. These spots are the perfect place to relax while having an incredible view of the capital of love.
FIV Magazine has selected for you the 11 best rooftops in Paris to absolutely test this summer.
PERRUCHE PARIS
On the roof of the famous department store on Boulevard Haussmann, Le Printemps, a 500sq meter garden-style rooftop with elegant white chairs and pretty benches accompanied by yellow striped cushions. The menu is rich and of high quality with a taste for Italian and Mediterranean cuisine. We have spotted for you the pasta selection (25 to 28€), the risotto of the day (17€) as well as the choice of plates to share (14 to 22€). You will enjoy the breathtaking view of the golden dome of the Printemps and the rooftops of the Paris Opera.


Germany - Spain - USA
PRINTEMPS DE L'HOMME 9th FLOOR – 2 rue du Havre, Paris – Tel: +33 (0) 1 40 34 01 23
Every day from 11am to 2am: Lunch from 12pm to 4pm (except weekends from 12.30pm to 4pm), Dinner from 7pm to 2am, Bar from 4pm to 2am.
CREATURES, Julien Sebbag
Still on Boulevard Haussmann, on the roof of the other department store, Les Galeries Lafayette, a lush terrace on the most beautiful rooftops in Paris. In a retro atmosphere, yellow and orange notes dominate like a Californian sunset, pretty objects, books and vinyls accumulate like in a cabinet of curiosity. Julien Sebbag, chef-sensation of the moment in Paris, passionate about Israeli cuisine, offers Mediterranean and vegetarian food. We have selected for you strawberries with mozzarella di Buffala (19€), Focaccia of courgettes and black olives (15€) and for dessert a salted butter Crumble with lime mascarpone.
8th floor of the Galeries Lafayette Paris Haussmann – 25 rue de la Chaussée d'Antin 75009 Paris
7 days a week from 12:00  to 1:00 am – No reservations for dinner
PERCHOIR MARAIS
And three! Here's another rooftop on the roof of a department store: the favorite of Parisians, the BHV MARAIS. The Perchoir Marais offers a panoramic view of the Eiffel Tower, the Seine and the Paris City Hall.
This establishment offers a "Bistrot Marseillais" decor with an OM pennant, card games and petanque balls. You will live a summer moment in the heart of the Provencal atmosphere and the festive spirit of Marseille, the city honoured by the BHV MARAIS this season. The Terrace Menu is composed of varied and quality aperitif plates with charcuterie from the Bydehesa house and Tristan Seguin cheeses.  The cocktail menu is very attractive unless you prefer a "petit jaune" to match with the Marseille atmosphere!
33 rue de la Verrerie, 75004 Paris
Monday to Saturday from 8.15 pm to 1.30 am and Sunday from 7.15 pm to 1.30 am – Reservation from 8 persons onwards.
PERCHOIR MENILMONTANT
Located on the 7th floor of an industrial building, the rooftop of Le Perchoir consists of a large bar and a snack hut. You will enjoy a view of the Sacré-Coeur and the roofs of Ménilmontant.  An original decoration with aromatic plants, tomato plants and vines around a pergola with drapes, cosy benches and soft cushions. The terrace menu is oriented towards aperitif plates, finger food and "pizzettes" from Tuesday to Saturday (12€).
14 rue Crespin du Gast, 75011 Paris
Monday to Thursday from 6pm to 2am – Friday and Saturday from 4pm to 2am – Sunday from 4pm to 0am
PERCHOIR GARE DE L'EST
It is on the floors of the Gare de l'Est, under the Eiffel rose window, that you will find a large terrace usually inaccessible in an industrial and romantic setting. The terrace dotted with flowered arches is home to a large bar and snack bar where you can dance to a fine selection of music. Le Perchoir de l'Est is an ephemeral bar open from June to October. Same principle as in Ménilmontant, the bar's menu offers "pizzettes" (12€) and plates of tapenade, tarama, houmous …, the favorite dishes of Parisians!
Place du 11 Novembre 1918, Rue du 8 mai 1945, 75010 Paris
Monday to Friday from 6pm to 2am and Saturday from 4pm to 2am.
MAMA SHELTER PARIS EAST
The famous chain of hotels and restaurants has 2 rooftops in Paris. The one in Paris Est, close to the Père Lachaise cemetery, offers a holiday atmosphere with table tennis, table football, parasols, hammocks and mattresses with plaids. You will only admire the stars in the sky once night falls in a cosy atmosphere because the rooftop is surrounded by an elegant wooden fence. The 3-course lunch menu only on Saturday is 39€ and dinner every day except Sunday is 49€. Quality ingredients for dishes prepared with the complicity of Guy Savoy.
109 rue de Bagnolet – 75020 Paris – Tel +33 (0)1 43 48 45 45
Bar : Monday to Saturday : 12h to 23h30 – Sunday : 16h30 to 22h (no reservation)
Dinner: Monday to Saturday : 7pm to 11.30pm (reservation) – Lunch : Saturday from 12pm to 3pm (reservation)
MAMA SHELTER PARIS WEST
Building on its success in the 20,Mama Shelter opened a new complex at Paris Expo Porte de Versailles. It offers a large rooftop with bar and finger food that offers a general view of Paris. The decoration remains in the same spirit of holidays and relaxation close to the eastern Parisian establishment. The cuisine is of Italian inspiration with the classics : Aubergines Parmagiana (16€), Lasagne (18€) but also a dozen Pizzas to choose from (11 to 16€) and desserts including Tiramitsu de la Mama (9€).
20 avenue de la Porte de la Plaine – 75015 Paris
Rooftop open from 7am to midnight
IMA SUMMER CLUB
From July 21st, the panoramic terrace of the Arab World Institute will be transformed into the IMA Summer Club! Every evening, come and have a drink, chill out and enjoy the unique view on the 9th floor of the Institute, transformed into an ephemeral club by Casabey, a specialist in concerts and rap events. On the program, sunbathing, mixology at the bar, and in your ears, the sound of IMA's emblematic evenings, Classics Only and Arabic Sound System, for a journey between rap, R&B, electronic music and music from Arab countries. On the turntables, a clever mix between emerging talents and big names of the night, with surprise guests every week. This rooftop offers only a cocktail and drinks menu, no catering.
1, rue des Fossés-Saint-Bernard, Place Mohammed-V 75005 Paris
Information Institut du Monde Arabe : + 33 (0) 1 40 51 38 38
From Tuesday to Sunday, from 18H (17H on Sundays)
AU TOP
Be careful this roof-top is only accessible by reservation! The access is surprising, you go through the door of a garage then take a lift at the end of the courtyard, cross a wine corridor and go up another floor… And there you discover a breathtaking view of all Paris. A place with an original decoration with plantations giving a taste of nature and a playlist signed Nova which invites you to dance. Au Top offers Mediterranean cuisine with dishes cooked by Christophe Rousseau and Loïc Clee. The menu proposes grilled sea bream, Angus beef rib or roasted artichokes. Also note an exceptional breakfast on Sunday from 9am.
93 rue vieille du temple 75003 Paris – Reservation required – Tel +33 (0)1 43 56 50 50
Open every day from 6pm to 1am during the week and on weekends from 9am to 11.30pm continuously.
43 COCKTAIL BAR (43 Up the Roof)
Located at the 9th floor of the Holiday Inn Notre Dame, this Bar offers an exceptional 360° view of Paris and in particular Notre Dame nearby. Reservation is required. Restful atmosphere. Classic Bar menu with aperitif board.
Holiday Inn Notre Dame – 4 rue Danton – 75006 Paris
Open every day from 17h to 22h30
THE TOP: THE EMPHEMEROUS POINT ROOF
The ephemeral point is a place not to be missed for social and artistic life on the banks of the Canal St Martin. On the roof of this former concrete and brick materials store, Le Top is the ideal concept for relaxing all summer long. A refreshment bar where all the young people meet and relax in the deckchairs of this green terrace. The Top is indeed the cool spot of this summer. You can also enjoy the Afro-Caribbean cuisine restaurant and eclectic concert halls.
200 Quai de Valmy 75010 Paris – Tel : +33 (0)1 40 34 04 06
Monday to Friday from 6pm to 11pm – Weekends and public holidays from 3pm to 11pm – no reservation necessary.
https://fivmagazine.com/wp-content/uploads/2020/08/paris-france-tour-weekend-travelling-travel-romantic.jpg
800
1200
Clemence
/wp-content/uploads/2023/08/fiv-magazine-logo-news-influencer-fashion-interior-travel-real-esates.svg
Clemence
2020-08-05 07:00:31
2020-08-13 11:14:35
The 11 best rooftops in Paris to hang out this summer