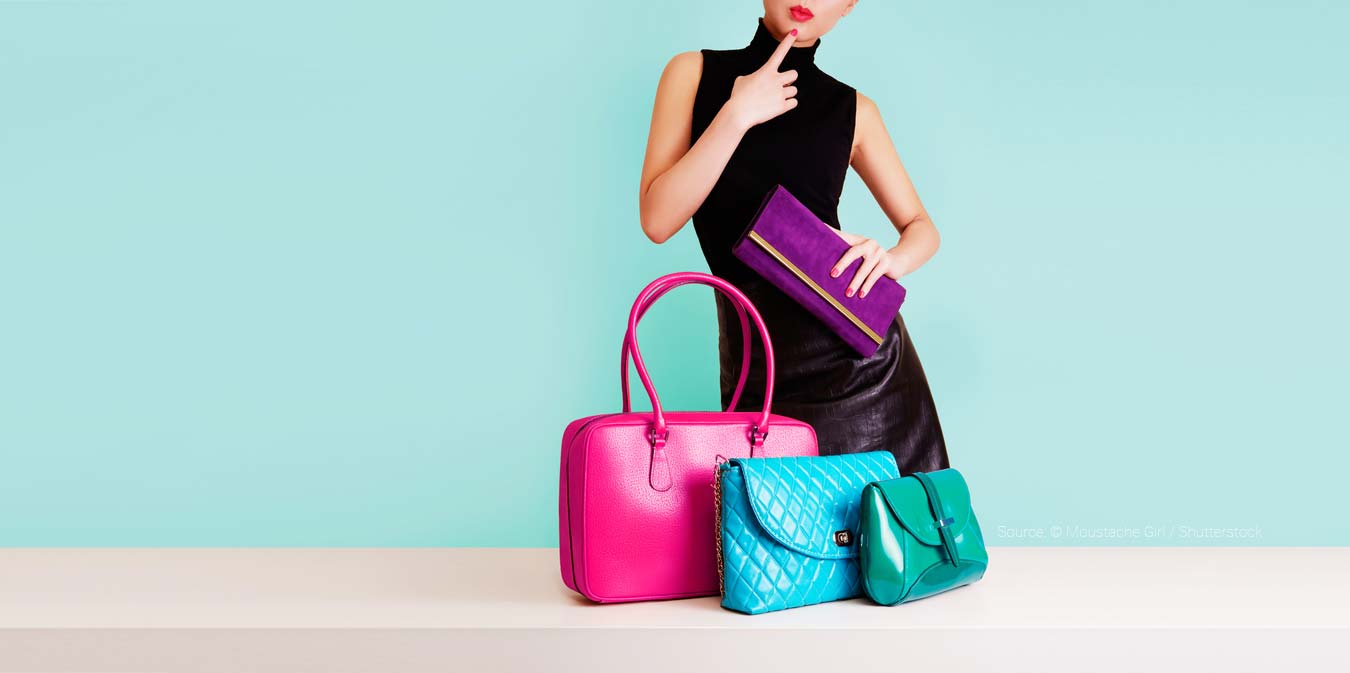 Handbags – These are the Trends 2018: Bucket Bag, Micro Bag & XXL Shoppers
A coherent and modern outfit needs the right handbag. Whether chic mini bags, practical XXL shoppers or casual fringed bags – the handbag trends in 2018 are very varied. In addition to some old acquaintances in a new design, there are also many stylish novelties.
Which handbags are trendy in 2018?
The current handbag trends are characterized by variations and variety. Small, tall, colorful, simple, chic or casual, this handbag guide lets you easily decide which model suits you best. You are definitely up-to-date with the following bags:
Bucket bag
Thanks to their round shape, bucket bags (or pouches) offer plenty of storage space and are therefore a very stylish everyday accessory. For example, fabric bag bags are great for casual casual outfits and city outings. Leather variants even fit into the office. You can even wear mini-size models – as an alternative to the classic clutch – to send events. Because they are an elegant it-piece, with which you are guaranteed to draw the attention to you.
XXL Shopper
These maxi bags are much more than just spacious shopping bags! They offer a lot of space: inside for important everyday objects, outside for patterns, colors and logos. Bags made of raffia or cotton are casual and suitable for leisure. With them you are perfectly equipped for the next shopping trip. But there are also very elegant variants made of high quality leather, with which you can complement a festive evening dress.
Micro-Bags
This year it's going to be extreme: in addition to XXL bags, mini-models are also very popular. The small accessories with great effect only provide space for the most important utensils such as lipstick, credit card or smartphone. Practical: Often you can attach micro bags to other handbags or clip several models together. So the little bags become an eye-catcher and you can take them with you at every opportunity.


FragranceTip.com by FIV
Fringe bags
Bags with fringes radiate happiness and pure zest for life. The difference to the previous year, in which these hippiesken models already conquered the catwalks: The fringes are no longer just at the hem, but cover the entire bag. These bags are a perfect match for retro looks, rock outfits and boho style.

Old familiar reinterpreted
For a long time, it is indispensable for chic events, parties and elegant evening events: the clutch. This also applies to the year 2018, but the trend bag is now bigger. The clutch is now just as elegant, but with much more storage space.
There is also a revival of the fifties bags known from the 90s. Since her appearance on the catwalks of many star designers this year, her bad name is gone. They are now mostly made of leather or imitation leather. These bags are extremely practical, because you have your hands free and at the same time everything at hand – perfect for dancing in the club or in the cold winter. Fanny packs are so popular among other things because they are very variable. You can wear them in different ways (you can find more ideas here):
At the hip or waist height
Under or over the jacket
Crossbody
These are the trend designs 2018
Red, red and red again
Small, big, round or square – handbags in red are definitely in fashion. This signal color dominates this year's season. It peps up any of your outfits, expresses power and brings the vibrancy of the summer already in your wardrobe. They come into their own when you wear red handbags to dark outfits or looks in plain colors. Because then they immediately jump in the eye and act as a stylish eye-catcher.
Transparency is in
Whether clutch, shopper or bucket bag – transparency is announced! This has several advantages: The clear plastic that makes up most models is super easy to clean. Water rolls off and stains you can just wipe off. In addition, the translucent or translucent trendy bags have a lightness that fits perfectly with summery outfits. In 2018, the secret of the content of a women's handbag will finally be revealed – of course only if you want! Because the stars are doing it and sometimes carry an opaque bag in the bag.
Large logo imprints
In 2018, there are large, present-day logos on the handbags. True to the motto: Show what you have. The brand names are usually strikingly placed on the front or on the shoulder straps – a trend with which you definitely make a fashion statement! In order to preserve the high-quality look of such models for a long time, you should maintain the bags regularly.
Varied wearing variants
By the way: in 2018, fashionistas will be wearing their handbags in very different ways
You can throw shoulder bags over your shoulders in a classic way. This season, the focus is more and more on the handles, which are often decorated very conspicuously.
Small bags are often provided with a short handle, for example with a metal-look ring. These you carry directly in the hand and thus have everything important at hand.
If you no longer just want to carry your handbag by the handle, just take it in your hand. This looks extremely cool and modern – no matter how big the bag is. Long straps are allowed to hang down. Many designers therefore provide the straps of shoulder bags with eye-catching patterns or bright colors. In addition to a practical, they also have a style function.
Pictures: © Moustache Girl / Shutterstock © Creative Lab / Shutterstock
https://fivmagazine.com/wp-content/uploads/2018/03/handtasche-trends-xxl-shopper-micro-bag-fransen-transparenz-2018-damen-herren-geschenkideen.jpg
673
1350
Lisa-Marie
/wp-content/uploads/2023/08/fiv-magazine-logo-news-influencer-fashion-interior-travel-real-esates.svg
Lisa-Marie
2018-03-26 15:32:27
2020-11-11 14:00:05
Handbags – These are the Trends 2018: Bucket Bag, Micro Bag & XXL Shoppers