Buying in Wuppertal: Prices & best locations – Real Estate Agent Interview
Real estate agent interview in Wuppertal – the Wuppertaler real estate market is various and above all one: Large. This leads to rapid overload and quickly raises many questions. If you should be on the search for your dream house or dream dwelling in the Wuppertaler region, then you are exactly correct here. First of all, it is important to find the right type of real estate, whether apartment or penthouse, you must be satisfied in the long term. You can expect exciting topics about additional costs, recommendations and popular districts in Wiesbaden. Back to the overview: Real estate agent Wuppertal. Also in Germany in our article: Realtors Germany.
Rent, buy, live in Wuppertal
Our interview partner specializes in the brokerage, sale and rental of real estate in Wuppertal. In an interview talked about attractive districts, financing options and the current real estate market. Here you can learn everything about the first apartment purchase, different types of houses and types of apartments.
Wuppertal at a glance:
Wuppertal from close up:
Rentals: Service charges
You have decided to rent or even rent a house or apartment? Then you should definitely know more about bedroom furnishing and exclusive terrace design.
Purchase: New construction to old building
Find your new home in attractive neighborhoods of Wuppertal and avoid serious mistakes in your purchase! What you should know before your purchase you will learn in this article! Are you also interested in other cities? We have selected other interesting cities for you, such as Düsseldorf, Aachen and Duisburg.
Interview about Wuppertal real estate
Are you looking for a suitable property in Wuppertal? But are you wondering which are the most popular districts to live in, whether it is better to rent or buy now, or how high the ancillary costs and taxes are in Wuppertal? Then you have come to the right place. Because we have talked to a real estate agent who will answer all your questions about real estate in the region.
Oertel real estate team about the real estate market
FIV: Before we talk about Wuppertal and its real estate market and your recommendations for tenants and buyers, we would like to know a little more about your agency Oertel Immobilien. Could you briefly summarize for our readers what your agency does and what you specialize in?
Oertel Immobilien: We are primarily specialized in investment properties such as multi-family houses as well as commercial properties. However, we started our brokerage activities with condominiums and one/two-family houses. We now have a separate department for this and it receives equal attention from us. From time to time we get inquiries from owners whether we can use our marketing strategy also for renting – of course we help with such a request.
Our marketing strategy is modern and process-oriented. We value fairness with sellers and buyers and our cleverly devised processes mean that there is no room for dubious brokerage. At the end of the day, we live primarily from referrals and are delighted when buyers and sellers alike are happy to sign the contract.
Bathroom in a Wuppertal apartment:

Mediation from land to houses
FIV: As an agent in Wuppertal, which properties do you personally prefer to broker?
Oertel Immobilien: Buyers of commercial and investment properties are experienced in buying real estate and know exactly what is needed for their own decision and for the financing bank. In this respect, buyers demand a very good service and we naturally meet this requirement. It is fun to see convinced customers. It is even better when this leads to new contacts in one's own network. However, we can by no means limit ourselves, as every property has its own charm. We build up high sympathy with every property.
Neighborhoods in Wuppertal with opportunities for the future
FIV: Neighborhoods for Singles, Families & Co. – For those who do not yet live in Wuppertal and want to move to Wuppertal, which neighborhoods have a future? Where should you move to in Wuppertal if you want to live nicely?
Oertel Immobilien: One of my employees moved to Wuppertal from Düsseldorf with his partner, and since then he has never wanted to return to Düsseldorf. He feels diversity and cohesion in Wuppertal. He is convinced by the architecture of the buildings as well as by the natural leisure facilities. All districts have their own charm. In the Briller Viertel or on the Cronenberg one lives exclusively, in Barmen the rents are relatively inexpensive, in the Nordstadt it is particularly communal, in the Südstadt one is quickly at the university and in Beyenburg one lives in the country. As you can see, there is something for everyone.
Neighborhoods with charm:
Brill quarter
Cronenberg
North City
South City
Beyenburg
Briller Viertel at a glance:
Rental price development in recent years to date
FIV: Rents are a big topic, all over Germany. How has the real estate market and rental prices in Wuppertal developed in recent years and how will they develop in the future?
Oertel Immobilien: Wuppertal has been developing at breakneck speed for a decade and, due to its good transport links, is also becoming increasingly interesting for people from surrounding cities such as Cologne, Düsseldorf or Dortmund. Compared to the aforementioned cities, the rent here continues to be lower, which is why people decide to move to Wuppertal. However, the demand for real estate offers is also very high here and the rents have not been as cheap for a long time as you might remember from the past.
It is likely that rents will continue to rise. The old properties are gradually being renovated, turning them into very nice old buildings with high ceilings and large windows, which is why the price per square meter is also rising. New construction projects are also not being finished fast enough so that the demand could be satisfied.
Here you can see a wardrobe in a granny apartment:

Broker assessment: rent or buy
FIV: In Germany, more people rent than buy. What would you recommend to a young couple or even a single person, renting or buying in Wuppertal?
Oertel Immobilien: That's a very individual question that everyone has to answer for themselves.
If someone has the opportunity to purchase a property, he should do so.
Real estate prices will not fall so easily and with the favorable loans currently, it has not been so appealing to become the owner of a property for a long time. If single people or young couples at some point the property becomes too small, they have made an investment for the future at a young age and benefit from it when you want to buy a larger property.
Home and condominium: buy or rent
FIV: Anyone who rents in Wuppertal is relatively flexible and can move if necessary. Anyone who buys a property, whether a home or a condominium, is at least tied to the property for the long term by the loan or financing. What are typical first-time buyer mistakes from your experience as a real estate agent and how can you avoid them?
Oertel Immobilien: First-time buyers like to make the mistake of not getting enough advice, but at the same time, a property is usually sold quickly, so you don't have the opportunity to think long and hard about a purchase offer. The lack of knowledge makes it so difficult, which is why it is advisable to observe the market beforehand. Only when you feel confident and you know exactly what kind of real estate you want to buy, you should take the first steps to buy real estate.
It makes sense if the financing is already clarified with the bank in advance. In case of questions, an open and honest communication with the real estate agent is helpful, because this avoids doubts and wrong decisions.
Living and dining room area in family house: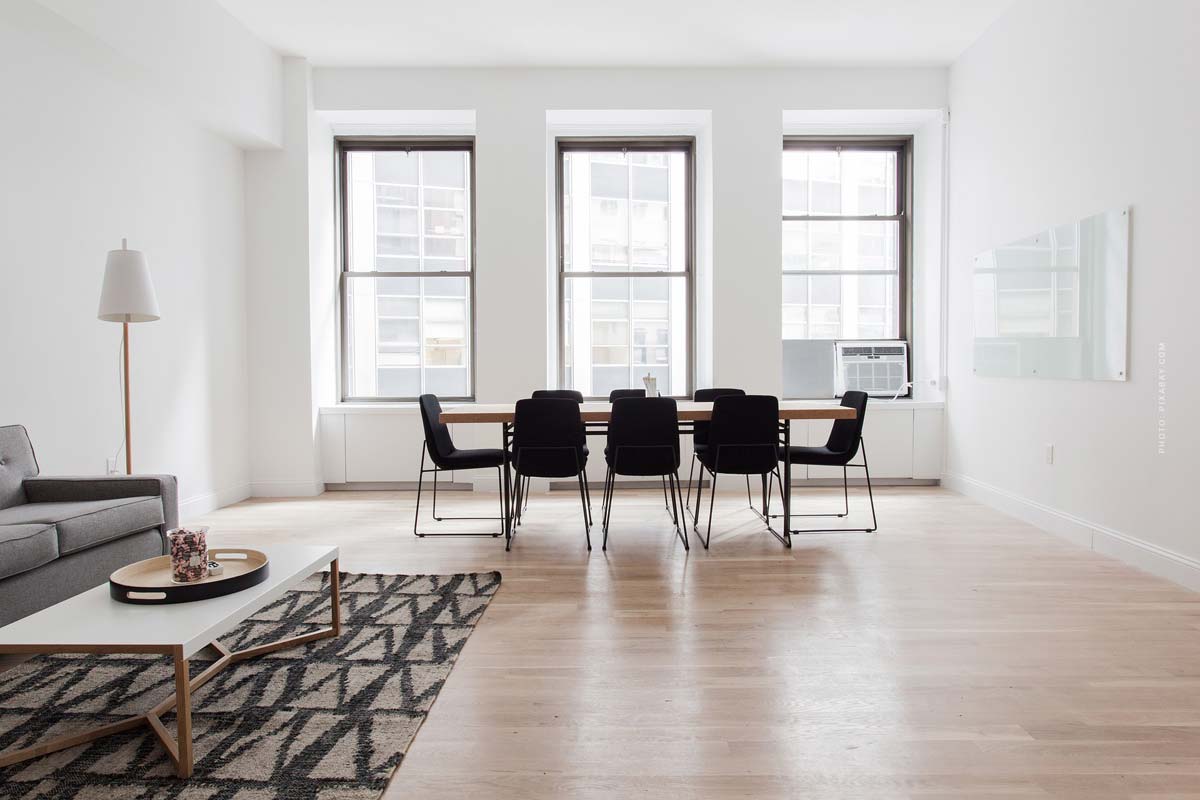 Service charges and taxes in NRW
FIV: The purchase price of a property is one thing, but what ancillary costs and taxes must buyers in Wuppertal expect?
Oertel Immobilien: A real estate buyer is usually aware to include the brokerage fee and incidental purchase costs. Depending on the broker, the commission can range from 0 to 10%. The land transfer tax for Wuppertal is 6.5% and the notary takes about 2% for the notarization.
Broker commission: 0 – 10%
Real estate transfer tax: 6.5%
Notary: 2%
Often the cost of renovation and relocation is underestimated and not factored in.
Investment: Wuppertal districts with a future
FIV: Wuppertal neighborhoods for real estate investment – Let's move on to real estate as an investment in Wuppertal, for those who want to buy and rent. If our*r reader*in for the purchase, with subsequent letting, decides: Which 2 districts or satellites around Wuppertal would you recommend to a buyer for their capital investment in Wuppertal? In your opinion as an expert, where do the most future opportunities lie?
Oertel Immobilien: That varies from project to project. If you want to take a certain risk and invest in an inexpensive property, which may increase in value in a few years, you are probably served with the district Oberbarmen & Heckinghausen. If you want security, you buy an expensive investment property in Elberfeld-, in Barmen or in Vohwinkel-Zentrum.
Districts that increase the value of the property:
Oberbarmen
Heckinghausen
Elberfeld
Vohwinkel
Heckinghausen at a glance:
For those who bring time and do not necessarily pay attention to securities and quick profit, are probably better served with Oberbarmen and surroundings. But beware, it is up to the property whether it is worth the investment or not. It is important to have a close look at the property and to know the history behind the house. Thus one avoids bad investments in allegedly promising locations. If one is not careful, one buys too expensive a building plot with a demolition object.
Real estate types with future opportunities
FIV: In your opinion, what type of real estate has a future in Wuppertal, what should one invest in? Small, large, existing, new construction?
Oertel Immobilien: Wuppertal stands out with its old building charm and lovers of such properties appreciate this. Due to the fact that there are still enough old buildings and hardly any space for new construction, people are forced to invest in existing properties. Some of these are in need of renovation or are already up to date and ready for the first move. Both with the one and with the other one stands on good ground.
Suspension railroad: landmark of Wuppertal
The suspension railroad in Wuppertal is the city's trademark. It runs a 13-kilometer route and stops at a total of 16 stations. With 80,000 users per day, it is an everyday means of transport for the city's residents, but is also a popular attraction for tourists.

Typical myths in the sale of real estate
FIV: Lastly, one more question – you had mentioned the typical mistakes when buying a property. Many buy, but some also want to sell. As an experienced broker in Wuppertal, what tips can you give to those who are selling a property for the first time? What are the first steps and how do you successfully sell a property in Wuppertal?
Oertel Immobilien: Three fatal myths exist among many sellers.
Typical myths:
Myth: "I set the price higher and I can always go down".
Myth: "I have time and do not have to sell directly".
Myth: "I'll try it myself first. I can always call in a broker".
With each seller, we address these myths during a consultation and help avoid the worst mistakes. Apart from that, self-sellers can pick up a free guide from us, in which we explain in seven steps how to sell at the best price. But to be honest, very few people manage to do that. The very fact that the owner usually has a full-time job and can't answer the high number of inquiries fast enough, he loses serious prospective buyers.
We are specialized in this. It is our job to sell the property successfully. We do this every day and know what buyers want, what measures are necessary and what must be paid special attention to when selling.
Thanks to Oertel Immobilien for the interview!
Rent, buy, live in Wuppertal
The real estate market in Wuppertal is large and for this reason it is important to find the best real estate agent for you. In our overview you will find the best real estate agents from Wuppertal, who can make your dream of your property possible.
First apartment? Step by step to capital investment
Buy your own apartment – As soon as you move into your first own apartment, for most people it's rent, rent, rent. Every month you go to work many hours, to spend the largest part ultimately for the next rent due at the beginning of the month. It's no wonder that many young people are considering buying a condominium as soon as possible.

https://fivmagazine.com/wp-content/uploads/2022/03/immobilien-immobilienmakler-verkaufen-mieten-kaufen-wohnen-familien-junges-paar-altbau-neubau-7-1.jpg
606
1200
Noemi
/wp-content/uploads/2020/07/fiv-magazine-news-instagram-youtube-tiktok-influencer-fashion-interior-jewelry-real-estate-tips-help-logo.png
Noemi
2022-01-11 11:03:49
2022-04-14 16:03:45
Buying in Wuppertal: Prices & best locations – Real Estate Agent Interview