Real estate market in Frankfurt: Bockenheim, Gallus & Sachsenhausen-Nord – Real estate agent interview
Rent or buy in Frankfurt – Whether in Hausen or Bockenheim. In Frankfurt you are sure to find the right property for your ideas. The real estate agent Rainer Ballwanz tells you everything important about Frankfurt in his interview with us. Should you rather buy and rent? How good are the returns in Frankfurt and the surrounding area? And which districts are the most beautiful in all of Frankfurt to live in? You can find out all this and more here in this article. More broker recommendations for Frankfurt. Also in Germany in our article: Realtors Germany.
Rent, buy, live in Frankfurt
A good start in the real estate world is always the purchase of the first apartment. Rainer Ballwanz explains in his interview with us their experiences with real estate in a good A-location. The yield here depends on the type of house or apartment. For example, microapartments have different exploitation possibilities than single-family homes. The meso location is also decisive in pricing, whether in Hausen, Bockenheim and other districts such as the Gutleutviertel or Eschersheim.
Here Frankfurt is located in Germany:
Frankfurt up close:


FragranceTip.com by FIV
Rent: Contract & Settlement
After the successful purchase of the property and the execution of the purchase contract, you naturally want to furnish your newly acquired property according to your individual needs. From the living room furnishings, to the garden design, nothing stands in their way of your creative imagination.
Buy: Return on investment through real estate
In our interview, you will learn everything about real estate and returns in Frankfurt. Should you buy a property in Frankfurt or is it more worthwhile to buy nearby, for example in Offenbach or Wiesbaden?
Real estate agent interview about real estate in Frankfurt
The first condominium or real estate as an investment? In this interview you will learn the most important tips & tricks. Buy, rent, live in Frankfurt but also tips for capital investments. We ask the questions, he provides the answers.
The real estate agent team from Frankfurt: Ballwanz Immobilien
FIV: Before we talk about Frankfurt and its real estate market and your recommendations for tenants and buyers, we would like to know a little more about your agency Ballwanz Immobilien. Could you briefly summarize for our readers what your agency does and what you specialize in?
Rainer M. Ballwanz: Ballwanz Immobilien has been specializing in residential tasks and challenges in Frankfurt-Rhine-Main for 30 years. With a highly specialized team, we advise cities and municipalities on concepts for planned construction areas as well as property developers and project developers on product concepts for new construction projects. Of course, we also handle the marketing of these new construction projects on the basis of marketing and communication strategies developed in-house.
We are just as happy to advise private sellers and landlords of residential real estate and to broker purchase and rental agreements. In all our activities, the focus is on the individual. Our aim is to meet their wishes and requirements.
Rainer M. Ballwanz and his real estate agent team from Frankfurt in the meeting: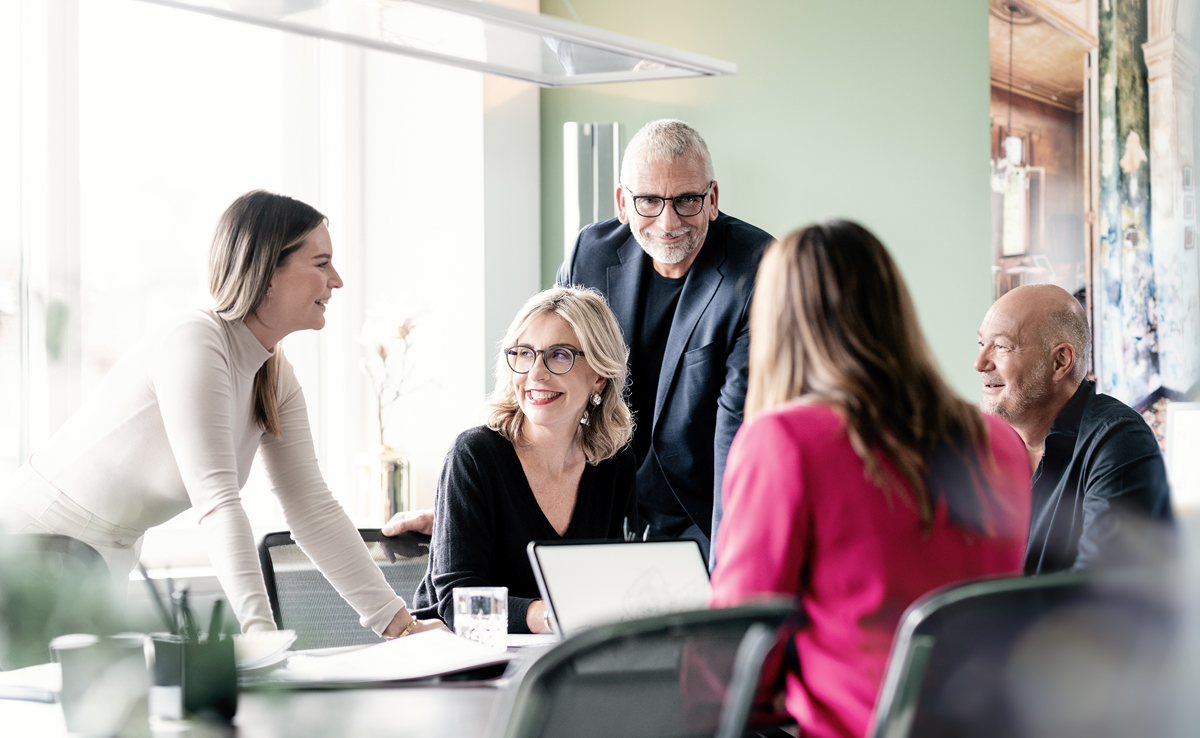 Real estate with potential in Frankfurt
FIV: As a broker in Frankfurt, which properties do you personally prefer to broker?
Rainer M. Ballwanz: We prefer to broker properties where the price/performance ratio is right from the point of view of demand. In the case of new construction projects, there is also the requirement that the buildings integrate organically into the urban development through their architecture and quality and fulfill their responsibility for the public space.
Popular districts with a future: Rents in Frankfurt
FIV: Neighborhoods for Singles, Families & Co. – For those who don't live in Frankfurt yet and want to move to Frankfurt, which neighborhoods have a future? Where should you move to in Frankfurt if you want to live nicely?
Rainer M. Ballwanz: Frankfurt is rather small in terms of its geographic extent compared to other major German cities, so that actually all districts have a very good infrastructure and good connections to the core city.
Property in Sachsenhausen, Bockenheim or Frankfurt Ostend?
There are the established residential locations such as Westend, Nordend or Sachsenhausen, where it is somewhat more expensive, but fully satisfactory to live. Those who prefer more urbanity should look around in Bornheim, Bockenheim, for example. In addition to the Gallus and Gutleutviertel districts, Frankfurt's Ostend district has been one of the most up-and-coming in recent years. If you are moving to Frankfurt with your family, you should definitely check out the new construction areas of Rebstock, Riedberg or the Lyon Quarter.
Rent: Is it worth it? Frankfurt rents
FIV: Rents are a big topic, all over Germany. How has the real estate market and rents in Frankfurt developed in recent years and how will they develop in the future?
Rainer M. Ballwanz: Supply and demand naturally also regulate rents in the city of Frankfurt, which has been growing demographically by around 5,000 to 10,000 residents for years. Residential rents are rising sustainably and are already at a high level when measured against the national average. For existing apartments, average rents of €11 to €13 per square meter can be expected, but for new buildings, depending on location and quality, rents range from €16 to €20 per square meter. If you want to live in one of the modern and exposed high-rises in a central location, you have to calculate a bit more.
Rental prices in Frankfurt at a glance:
In summary, you can expect the following average rents in Frankfurt and the surrounding area:
Existing apartments: Average rent from € 11,- to 13,-/sqm
New buildings: Average rent from € 16,- to 20,-/sqm
High-rise buildings in central locations: average rent over € 20/sqm
Rising prices for new construction rental apartments: Alternatives?
Rainer M. Ballwanz: Due to the fact that the space reserves for new buildings in the Frankfurt urban area are very limited, it can be assumed that there will continue to be an undersupply on the market and that prices for rental apartments will therefore continue to rise.
We should learn that Frankfurt does not only consist of the actual city area, but that there are a large number of towns and surrounding communities directly adjacent and excellently connected, which "feel" as if they belong to the city of Frankfurt. These locations in Frankfurt-Rhine-Main, such as Bad Vilbel, Neu-Isenburg or Offenbach, certainly represent a good alternative for those looking for a home. And usually at a more favorable price level.
Manageable risk for capital investors in Frankfurt
FIV: In Germany, more people rent than buy. What would you recommend to a young couple or even a single person, renting or buying in Frankfurt?
Rainer M. Ballwanz: That depends on personal circumstances and financial feasibility. To answer this question, it always requires an individual consideration. Anyone who basically wants to invest in real estate, whether for personal use or as a capital investment, can do so quite safely with the right property in Frankfurt with a very manageable risk.
The probability of losing money on a residential property with an investment period greater than 10 years is rather unrealistic. Those who come to Frankfurt for work and know that they will probably only stay in the city for one to three years should rather look for a rental property that suits this current stage of life.
Dining room and living room area in a penthouse:
Home & condominium: avoiding buying mistakes
FIV: Anyone who rents in Frankfurt is relatively flexible and can move if necessary. Anyone who buys a property, whether a home or a condominium, is at least tied to the property for the long term by the loan or financing. What are typical first-time buyer mistakes from your experience as a real estate agent and how can you avoid them?
Rainer M. Ballwanz: The biggest mistake is to believe that real estate prices in the Rhine-Main region will fall again on a sustained basis. Assuming that the world remains more or less the same as we know it, prices will move sideways at most as a result of temporary external influences. It is unlikely to get any more favorable.
Tip. Assess investment risk correctly
Contrary to common practice, we recommend not only evaluating the current purchase price, which is often perceived as too high, when making an investment. In our opinion, it is more important to estimate the price that the property is likely to achieve at a later resale and with what probability. Only in this way can the buyer assess the risk or the possible success of his investment.
Attention: Take a long-term view of construction interest rates
Construction interest rates have been at a historically low level for some time, even though they are currently slowly starting to rise. This sometimes tempts potential buyers to underestimate the potentially significantly higher burden when the first fixed interest rate period expires. Financing should also fit the buyers' individual circumstances and life plans in the long term. We recommend seeking advice from independent financing experts in good time.
Apartment for rent in Omni Tower:

Do not do without expert knowledge
One big mistake is to believe that when buying a residential property, it is best to do everything yourself, without the expertise of a lawyer, financial broker or real estate agent, and thus save money. Digitalization has supposedly made the markets more transparent, at least on the supply side. We do not believe this and advise first-time buyers in particular to seek out trusted advisors who can provide expert guidance through the complex process of a purchase. The decision to buy a property is often rather emotionally driven. Assessing the expected value development, setting up individual financing or evaluating purchase contracts are certainly tasks for experts.
In short – so what you should consider
All tips on the subject of home ownership and condominiums from the expert at a glance:
Real estate prices in the Rhine-Main region will not fall again on a sustained basis
Assess investment risk in the long term
Construction interest rates slowly starting to rise
Financing must be considered in the long term
Do not do without expert knowledge
Buying in Frankfurt: Factoring in ancillary costs
FIV: The purchase price of a property is one thing, but what ancillary costs and taxes must buyers in Frankfurt expect?
Rainer M. Ballwanz: In Hesse, the purchase of real estate is subject to 6% land transfer tax, notary fees for the notarization of the purchase contract and, if applicable, the creation of a land charge, as well as fees for the land registry. If one adds the brokerage costs of up to 3.57% of the purchase price, which are to be paid in half by the buyer, for existing properties, ancillary purchase costs of 10 – 12% can arise.
However, the price trend for residential real estate in Frankfurt should also be taken into account here, which has risen by around 8% on average over the past 10 years for existing apartments and by around 9.5% for new apartments. This means that with a similar price development forecast for the coming years, the relatively high ancillary costs of acquisition would be compensated for relatively quickly.
Costs in the purchase of real estate summarized
Incidental purchase costs in Frankfurt and the surrounding area at a glance:
Real estate transfer tax –> 6
Brokerage costs –> up to 3,57 %
Notary fees
Total incidental purchase costs = 10 – 12 %.
Bedroom in the rental apartment Omniturm:

Buy and rent in Frankfurt: Tips
FIV: Frankfurt districts for real estate investment – we come still to real estates as capital investment in Frankfurt, for those, which want to buy and letting. If our*r Leser*in for the purchase, with following letting, decides: Which 2 districts or even satelites around Frankfurt, would you recommend to a buyer for their capital investment in Frankfurt? In your opinion as an expert, where do the most future opportunities lie?
Have clear goals as an investor – Tip 1
Answer: As in the stock market, this depends significantly on the investor's profile. What does he want to achieve? Is he prepared to take a certain speculative risk with perhaps a higher increase in value, or does he prefer to "sleep soundly" and go for a lower increase in value with the highest possible value stability at the same time? What time horizon is the buyer planning for his investment?
Priority Safety: Investing Westend & Nordend – Tip 2
A large or metropolitan city like Frankfurt always develops from the inside out. Those who tend to seek security are excellently invested in the established locations close to the city center, such as the Westend or Nordend. The city center and the Ostend of Frankfurt have developed exceptionally positively in recent years and have the potential to remain quite exciting for capital investors in the future.
District of Frankfurt with potential: Offenbach – Tip 3
If you are a bit more of a visionary and have some time to spare, you should take a close look at Offenbach, which is separated from Frankfurt only by the Main River. We assume that Offenbach could be one of the biggest winners in the Rhine-Main region in the coming decades.
All tips at a glance:
Have clear goals as an investor
With safety a priority: investing in Westend & Nordend
District of Frankfurt with future potential: Offenbach
These types of real estate have a future: new construction & apartments
FIV: In your opinion, what type of real estate has a future in Frankfurt, what should one invest in? Small, large, existing, new construction?
Real estate trend: micro apartments, student rooms & one-bedroom apartment
Answer: Investing in residential real estate will generally be a good decision in Frankfurt for the foreseeable future. Those who want to diversify their risk and are not looking for self-interest should perhaps rather buy two small apartments instead of one large apartment.
New construction, condominium or existing property?
New construction has the advantage that the buildings are built to the current state of the art and building regulations and one does not have to expect any subsequent investments in the first few years. If the location of the property is more important to you, you will find a broader offer in existing apartments. When investing in existing properties, however, we recommend checking in advance whether the legal requirements to be expected in the medium term with regard to energy efficiency upgrades will be feasible in principle.
Last but not least: Prices for condominiums in exclusive high-rise buildings have developed disproportionately well in Frankfurt and also represent an exciting sub-segment of the investment market for the future.
Selling real estate: Advisor for help
Finally, one more question: You had mentioned the typical mistakes buying a property. Many buy, but some also want to sell. As an experienced real estate agent in Frankfurt, what tips can you give to those who are selling a property for the first time? What are the first steps and how do you successfully sell a property in Frankfurt?
Answer: We recommend to the private seller of a property to take an expert advisor to the side, who understands the market/price mechanisms analytically and knows how to estimate the value of the property well-founded. Only in this way can the best possible price be realized in the time frame in which the seller would like to dispose of the proceeds.
Many thanks to Rainer M. Ballwanz for the interview!

Rent, buy, live in Gelsenkirchen
The real estate market in Frankfurt is large and for this reason it is important to find the best real estate agent for you. In our overview you will find the 10 best real estate agents from Frankfurt, who can make your dream of your property possible.
First apartment? Step by step to capital investment
As soon as you move into your first own apartment, for most people it's rent, rent, rent. Every month you go to work for many hours in order to spend most of it on the next rent due at the beginning of the month. It's no wonder that many young people are considering buying a condominium as soon as possible.

https://fivmagazine.com/wp-content/uploads/2022/01/immobilien-makler-bewertung-empfehlung-frankfurt-luxus-3-Kopie.jpg
579
1200
Lisa-Marie
/wp-content/uploads/2023/08/fiv-magazine-logo-news-influencer-fashion-interior-travel-real-esates.svg
Lisa-Marie
2022-01-05 16:57:39
2022-06-14 09:18:38
Real estate market in Frankfurt: Bockenheim, Gallus & Sachsenhausen-Nord – Real estate agent interview