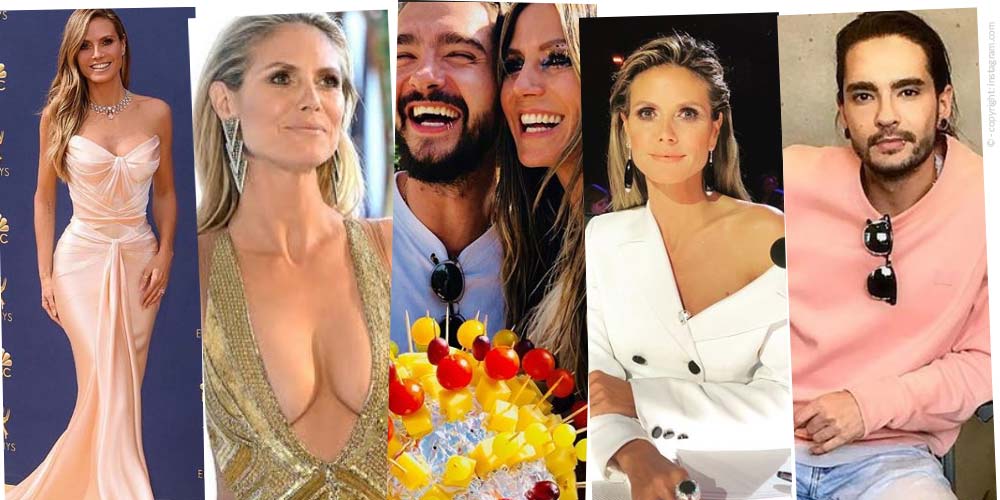 Heidi Klum – Model, Presenter, Juror & Producer
"Heidi Klum" that name says something to everybody. Not only in Germany the model is known, but also in all other parts of the world. She is especially known for her self-founded casting show "Germanys next Topmodel", where she acts as presenter, juror and producer.
Heidi Klum and her Career
The Development to a Supermodel
Heidi Klum was born on 01 June 1973 in Bergisch-Gladbach and graduated from a comprehensive school. In 1992, at just 19 years of age, Heidi took part in the casting show on RTL "Model '92" and won. Instead of continuing with an education after her high school diploma, she continued working as a model. One year after the casting show, Heidi Klum moved to the United States. In 1998 she was shown at the Sport Illustrated and became very famous. Under the management of her father Günther Klum, Heidi Klum became the cover of Vogue and Elle. At the same time she modelled for the underwear company Victoria Secret from 1997 to 2015. Her father founded Heidi Klum & Co KG and retains control of Heidi's model career. For the most part, Heidi Klum's successful streak consists of advertising. Some products are marketed through its name, such as jewellery, clothing or perfumes. Heidi Klum, for example, embodies Lidl and designs and presents her collection "Esmara by Heidi Klum: Heidi & the City on the catwalk and in photos. In the last season of GNTM, the candidates were even given clothes from their collection. Of course the joy was great.
Her Private Life
Such a beautiful, successful woman, but no man at her side? On the contrary: At the age of 20 Heidi Klum married the hairdresser Ric Pipino. After five years the marriage failed and the two got divorced. During a brief relationship with Flavio Briatore, Heidi became pregnant for the first time. She had her first daughter, then divorced. At the age of 32 Heidi Klum gave married life a new chance and she married Seal with whom she had three children, who adopted her first daughter and from whom she took the surname Samuel. After a 7-year marriage, the two separated. Currently at Heidi's side is the German guitarist of the band Tokio Hotel Tom Kaulitz. In her pictures on Instagram it becomes clear: Heidi is currently overjoyed with her love life! For those who already know Heidi Klum, it's particularly interesting to see how she behaved at the GNTM casting show at the age of 19 compared to how she performs today. To be seen very clearly: She's evolved enormously. At that time rather shy and very polite and today she is a real appearance with a huge self-confidence!
View this post on Instagram

FragranceTip.com by FIV
Her Casting Show "Germanys next Topmodel"
Heidi Klum with her 1,76m is not one of the biggest models today. At her own casting show "Germanys next Topmodel", which runs on Prosieben, there are the requirements to be at least 1.76m tall and 16 years old. For 13 years, the 45 year old girl has annually chosen the most beautiful girl in Germany. A season always consists of 15-16 episodes in which the girls have to cope with different tasks. From big client presentations for jobs to exciting photo shoots, everything is included. The girls experience a very exciting time there. Every year Heidi put together a jury of three people. Each time it consisted of her and 2 additional famous men, such as Thomas Hayo and Michael Michalsky. The upcoming fourteenth season will be a little different. More about the jury in the fourteenth season and the latest news can be found here: GNTM News 2018.
US Casting Show: Project Runway
Heidi Klum has hosted sixteen seasons of the US casting show Projekt Runway. The casting show aims to select the best fashion designers. Participants must produce clothing in a limited time on a given theme and limited materials, which they then present. After sixteen years of moderation by Heidi Klum, she is now replaced by Karlie Kloss, who is very happy about the takeover.
The Star's Children
The first daughter of Heidi Klum, whom she got from her lover Flavio Briatore, is called Leni. She is now 14 years old and you can already see a bit more of her in public.
Three children of Papa Seal followed from their seven-year marriage. Henry (13), Johan (12) and Lou (9).
Heidi Klum doesn't seem to have finished her family planning yet. Since she and Tom Kaulitz, who is 16 years younger, have been floating on cloud 7, the two of them seem to make friends with the idea of having a baby together. Heidi wears a fertility chain during her holidays together. Again and again it becomes clear that Heidi is a family man.
Here are some more articles that might be of interest to you.
https://fivmagazine.com/wp-content/uploads/2018/11/heidi-klum-tom-kaulitz-gntm-tokiohotel-model-familie-kind-usa.jpg
500
1000
Lisa-Marie
/wp-content/uploads/2023/08/fiv-magazine-logo-news-influencer-fashion-interior-travel-real-esates.svg
Lisa-Marie
2018-11-21 12:00:47
2021-07-07 10:24:30
Heidi Klum – Model, Presenter, Juror & Producer